As the name implies, the very shape of this stool is created out of the power of gravitational force that controls all things in nature. The brainchild of Jolan van der Weil, it is shaped out of the concept that magnetism combines things and coordinates with a variety of materials, and this combined and calculated magnetic effort gives it a unique and interesting form which is in accordance with nature and rusticity.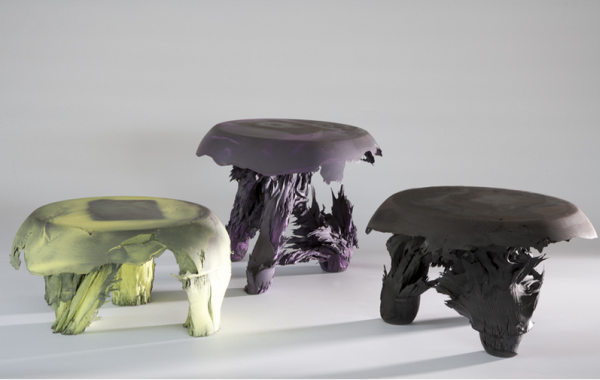 The very natural shape of the Gravity Stool comes from the power created by gravity and the magnetic field created by its metal core. The stool is a specialized structure created with plastic particles that have been fortified with a metal core. The magnetic fields in the stool are so positioned that they create opposing and attracting fields at varying angles, making the plastic bend and twist as per the natural magnetic pull that is put together specially for this purpose.
The final outcome will be a unique twist and twirl of plastic particles to form a stunning stool with spikes, branches, abstract forms, dips and mounts that are very unique, every time your create a design with this concept. The Gravity stool is equipped with wooden frames on to which the plastic particles with the metal core are shaped to form the organic forms that are very soothing to the eye and soul.
The plastic particles are very malleable and take a natural form as soon as they are joined to the wood. The stools can be shaped into beautiful shapes based on how the magnetic and gravitational force work on them. The design is freakish, in line with modernism and at the same time oozing of a rustic charm that is very enthralling and beautiful. The Gravity stool is slated to be displayed at the D3 Talents Exhibition in Cologne.
Via: Jólan van der Wiel