The idea of bathing in the open under a beautifully designed outdoor shower is without doubt refreshing and pleasing. These days many companies are manufacturing outdoor showers which are stylish in appearance and can be placed outside your home. These outdoor showers are designed to withstand the harmful UV rays of sun as well. Here is a list of stylish garden showers to beat the heat outdoors:
1. Emoe Solar Shower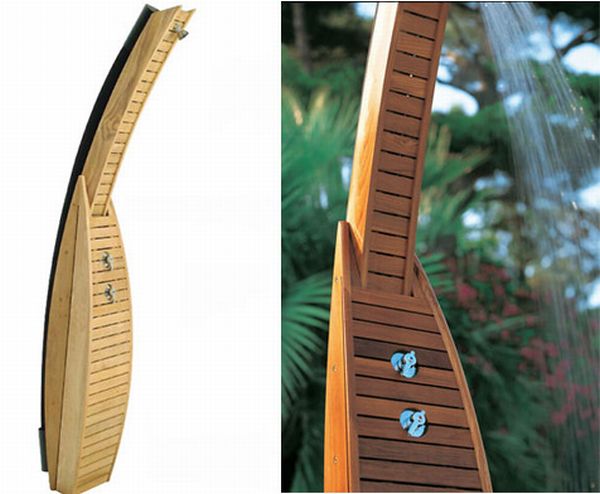 The trend of using outdoor shower is becoming popular these days. There is no denying the fact that an outdoor shower is a very refreshing experience and the Emoe solar shower is a garden shower which can help you experience this magical feeling. The base and frame of this garden shower is made up of teak. You can operate this garden shower using a garden hose. This garden shower can also be connected to hot and cold water supply directly. The sensor of this shower is cylindrical in shape and this sensor accumulates sun's heat. With a 25 L reservoir this shower can be used by whole family.
2. Wicker Garden Shower by Garvida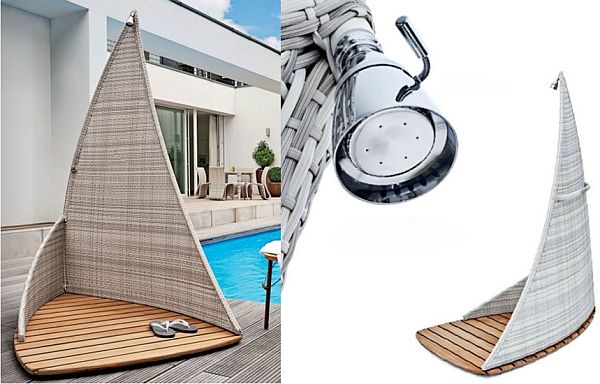 Designed by German firm Garvida, Velaro is a wicker garden shower that can be fitted in outdoor space. Exclusive materials called gardan are used in this modern garden shower. Gardan is a handcrafted wicker fiber which is very flexible. The flexibility of this futuristic fiber allows us to design the materials as per our needs. The garden is also easy to maintain and it is strong and sturdy. This garden shower provides a natural undertone. This shower is completely private and it has aesthetically rich design. This garden shower adds to the beauty of outdoor space and you can place it anywhere in your garden as per your convenience.
3. Outdoor showers from Designerzeit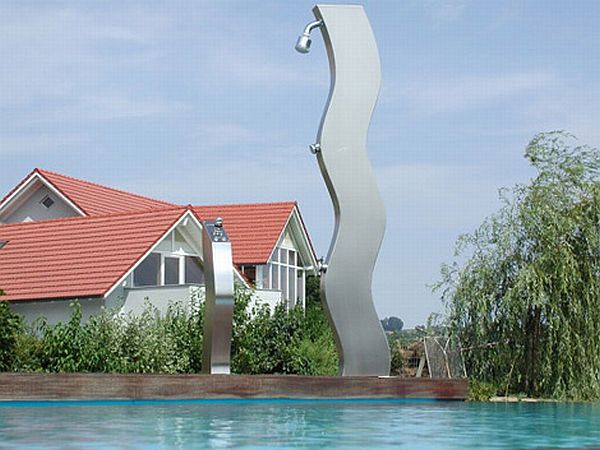 Created by Designerzeit, this outdoor shower has a stunning design which looks like a wonderful piece of modern art. This beautifully designed outdoor shower is available in two designs: the Ocean and the wave. The design provides a natural undertone. The Wave has a design similar to ripples of water, while the ocean is sickle-shaped. You have the option to buy either the sanded surface model or polished surface model. The best thing about the outdoor showers designed by Designerzeit is that you can get the showerhead of your choice in these showers. You have the option to choose from the standard and Overhead Shower. The sprays are of three types: soft, normal and massage. You can get this shower fitted in your outdoor space by getting in touch with the Designerzeit.
4. DYNO shower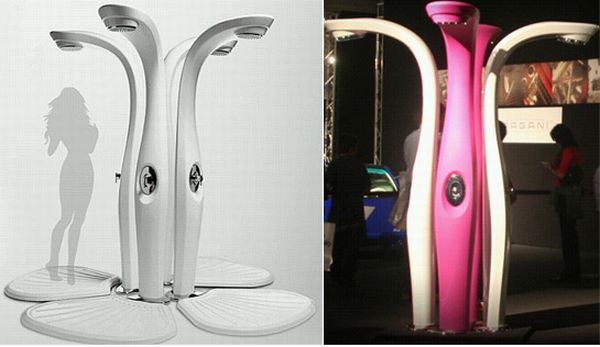 Designed by Allesandro Morello and manufactured by MyYour, the DYNO shower is a beautiful outdoor shower which can be fitted near swimming pool or backyard. Self-colored polyethylene is used to make this shower. This shower is 100 percent UV-rays resistant. The shower head of this stunning shower has silicon nozzles. The taps are made up of chromed brass. ABS has been used to make the touching parts in order to prevent the shower from getting overheated due to sun rays. You can customize the color of this shower as per your choice. The DYNO shower is waterproof. The polyethylene used in this shower is strong and tough from inside. Chromed metal are used to make the handle of this shower.
5. Cascade outdoor shower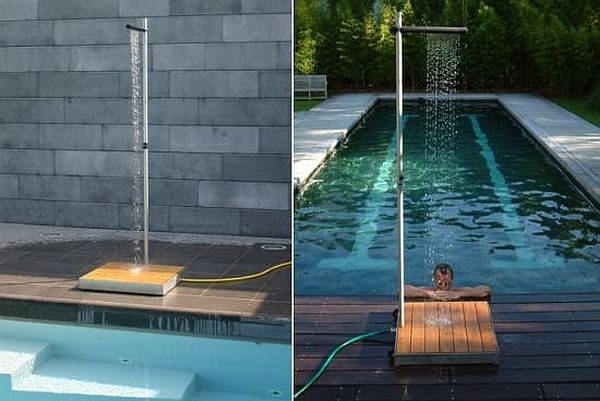 Designed and manufactured by Tradewinds, the Cascade outdoor shower is a beautiful piece of art which can add to the beauty of your outer space and it can be used for having a refreshing bath in the open. The form of this shower is soft and clear making it very fashionable and attractive. You can use this outdoor shower in garden, backyard or terrace. Hot galvanized steel is used to make this outdoor shower. The base plank is made up of acacia wood. The pressure of the shower is regulated by a tap fitted on the vertical tube and the water falls from a horizontal tube fitted overhead. The price of this outdoor shower is still unknown.
6. Proidee Solar Powered Shower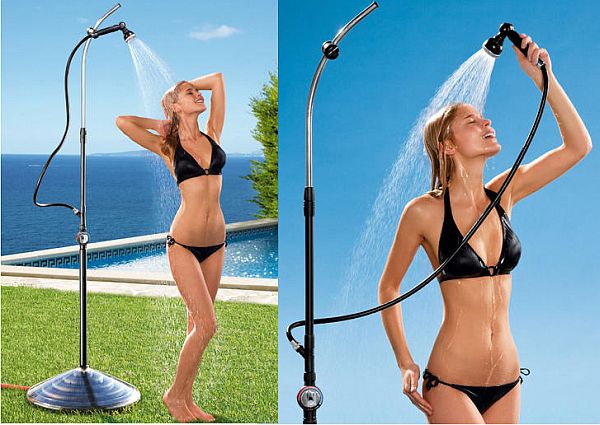 Proidee outdoor shower is powered using solar energy and it can be placed near pool, garden, terrace or backyard. This shower can operate from garden hose or it can be connected to the direct water supply. The reservoir can store 1.7 gallons of water and this water can be heated to up to 60°C using the solar energy. The base is transparent and it allows the sunlight to heat the water up to 60°C in around 2 hours. This shower features mixer tap allowing you to mix the hot and cold water.
7. Viteo Garden Shower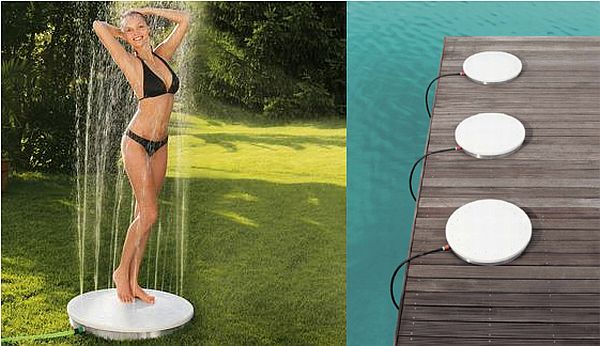 The Viteo Garden Shower is different from the other showers because it is upside down means the water comes from the base and not from the top which we see in normal showers. The shower has around four inches high platform which is used for standing while bathing. This unique outdoor showed won the 2007 iF Product Design Award. The frame base of platform is made up of stainless steel. The tread is slip-resistant and this shower is UV-resistant. This shower is priced at $930.