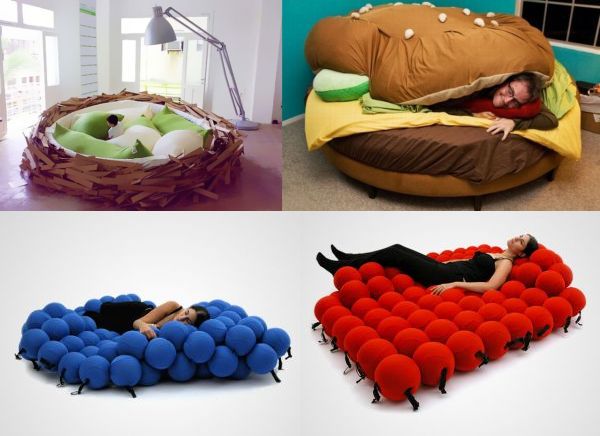 We all want a luxurious, comfortable life and dream of a charming house with a super bedroom that can make anyone envious. A superb, comfy bed will not just amaze your friends or relatives, but will also make you feel like a possessor of extravagant furniture. Therefore, an ordinary bed is just not for you. What you need is a creative, stylish and outrageous bed that can make your room a super trendy bedroom and not just a normal room!
And when you decide to spend a huge amount of money on your interiors, make sure that you spend it wisely. Here is a list of some modern beds you would love to own.
1. Book Bed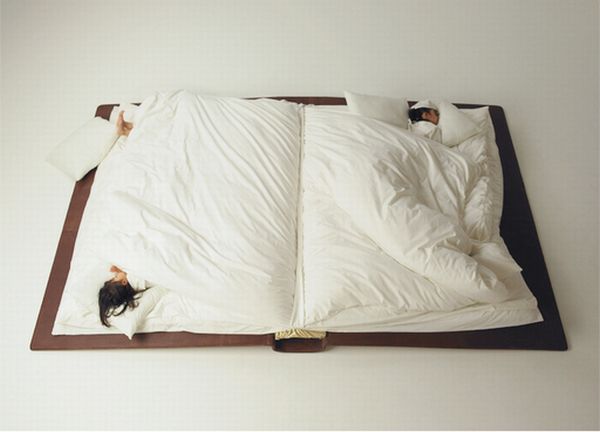 Do you have big dreams but a small house? Well, if yes then this bed is a suitable option for you. Designed by the innovative photographer, Yusuke Suzuki, this is a 'fold-up' that incorporates the idea of luxurious utility. When opened, this bed has mattress in form of pages which have various illustrations like a story book. The pillows have different cuts and designs to make it look like a picture in the book. While this is a fairy tale bed during night, it can be used as a playmat during the day. All you need to do is fold up or open up the easily accessible flaps as per your convenience.
2. Sonic Bed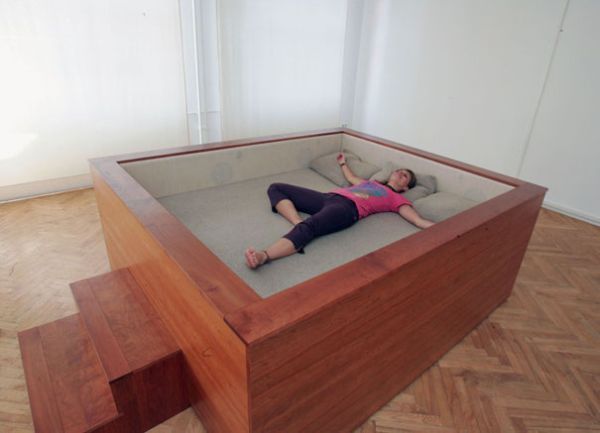 Fascinated by sounds? Then this is the bed especially designed for you. This portable bed commissioned by Electra is a portable venue that plays music. You can lie here alone and listen to soothing music or invite your friends as an audience and have a gala time. It is a subtle instrument that also allows the user to create music and compositions. Its 12 channel sound system is worth appreciating as it helps people to develop sounds through software interface developed in collaboration with David Muth. This award winning bed is a must have for true music lovers.
3. Hamburger Bed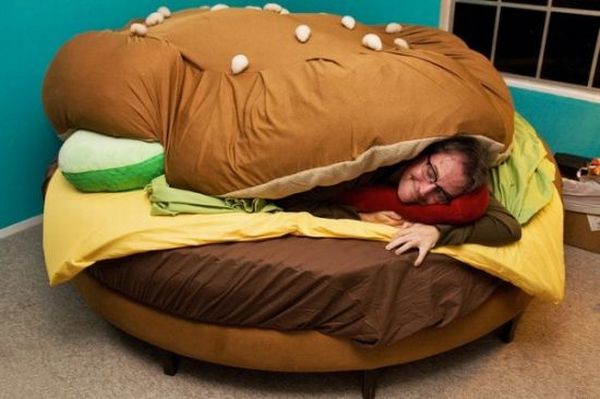 For foodie lovers as well as tired professionals, this bed offers respite from work and soothes your body through its playful structure. This cozy, comfy bed is so cool that you don't want to get up from there. Moreover, it would not decay within hours like a real hamburger. Just like food, this bed would surely curb your depress feeling after a hard day. Jump on it whenever you feel like. A chirpy bed for a cheerful you.
4. Giant Bird Nest Bed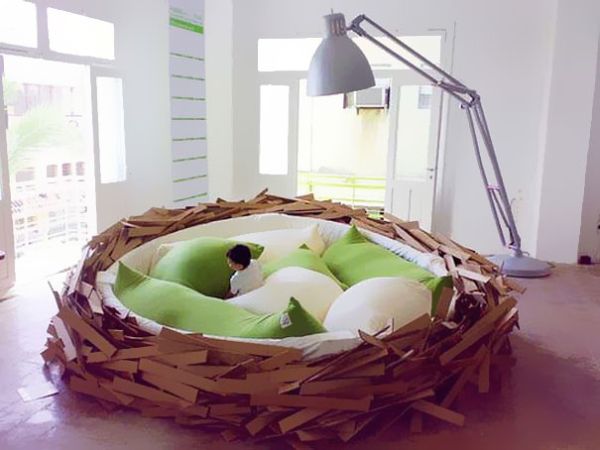 Ever wondered how small, little birds live in a nest! You can feel the warmth of a nest in this Giant Bird Nest Bed. Designed by Merav Eitan and Gaston Zahr, this bed allows you to appreciate natural beauty in the comfort of your bed room. The pillows are the eggs, while the design is a nest. This is a unique, stylish and lovable bed for your kids. In fact, you should also jump into this nest once in a while and have fun time with your little chickens.
5. The bookcase bed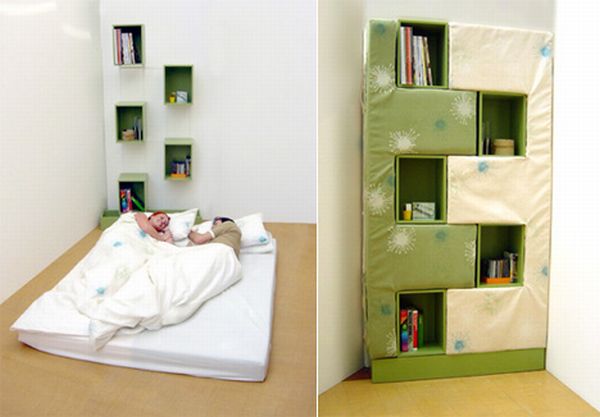 If you are living in a small urban apartment, then you surely realize the need to save space. This is the bed that understands your demand. Designed by Karen, this bookcase transforms into a bed. The shelves have an integrated mattress that can be easily pulled and put together on the floor. A wall mounted frame supports the shelf when the mattress is pulled out.
6. Feel Seating System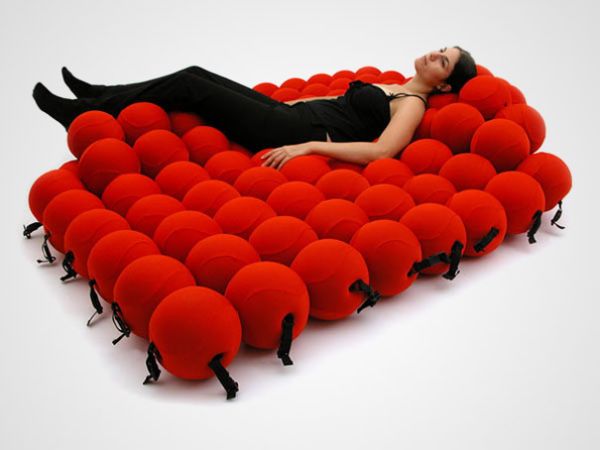 Want an unusual design for your bed? Then go for the feel seating system. Designed by Animi Causa, the bed is inspired by molecular structure of basic elements on earth and allows you to explore various dimensions of bed. It has an elastic fabric in form of sofa balls that can be molded in innumerable ways by the user. Ladies, you can change the shape of your bed according to your moods. So, get creative and feel the change.
7. Sosia Bed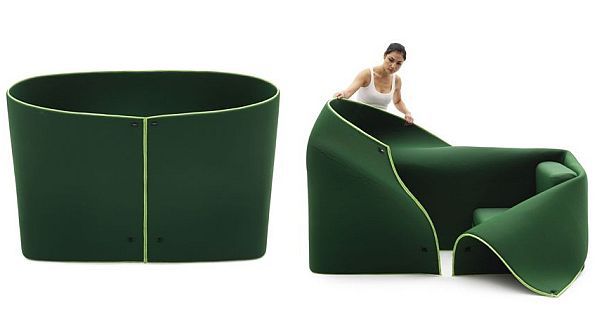 This one is again for the people living in shrunk homes. This piece of furniture is designed by Emanuele Magini and has a sofa, bed and a chair integrated together. The sofa can be made into a bed. But this is not like the normal ones available in market. It has a sheet of fabric that envelops the furniture like a crenelated wall. And the best part is that you can always integrate this furniture with the rest of the interiors.
8. Letto Zip Bed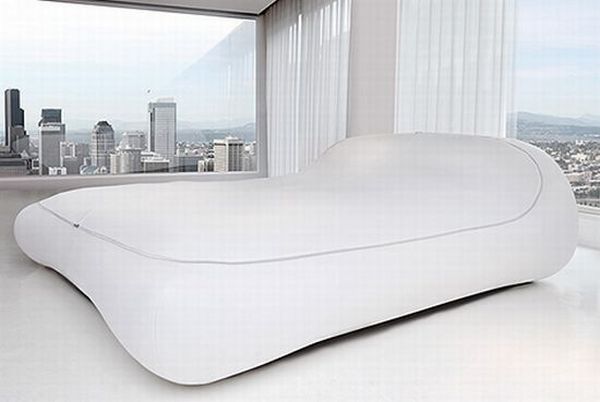 Do you despise making your bed after getting up every morning? Then, this bed might be the answer for you. Designed by Florida Furniture, this bed is zip bed! The bed has a rounded frame with an upholstered zipper around the perimeter. Unzip the pad for comfortable bed and zip it back to hide the bed. Now nobody is going to ask you to even up crumpled bed sheet!
9. Enignum Canopy Bed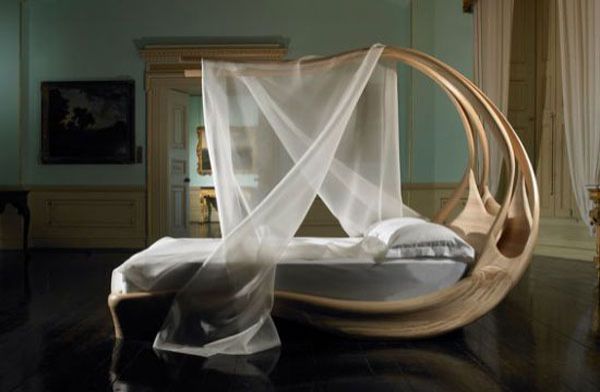 This bed will transport you in the fairy tale land where you can be the prince/princess. Designed by Joseph Walsh, this bed has eternal beauty and elegance of historic times with a touch of modernity. It's a glamorous beauty that seems tailor-made for the user. The extravagance is breathtaking while the decor is royal. Its design makes it stand out in the rest of your interiors. A sure buy for those who love beauty and elegance. With this bed you don't just go to sleep, you retire in your royal chamber.
10. Private Cloud Rocking Bed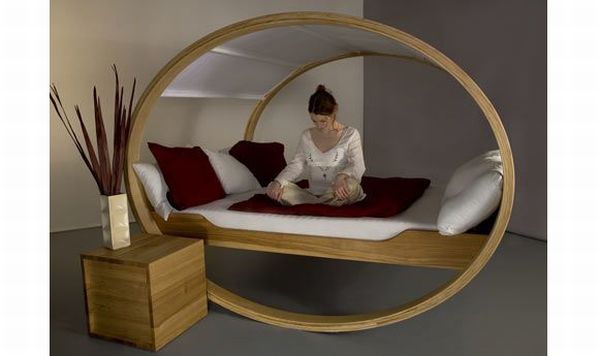 Many of use love rocking chair, but that is certainly not the furniture you want to sleep on. Therefore, this bed is designed like a private cloud that sways like a rocking chair. And if you ever get bored of the rocking then use the back plates to adjust your angle of tilt. This is no normal bed, but a revolutionary item for your bedroom. But before buying this, make sure you have some extra bedroom space to accommodate the swinging actions of your rocking bed.