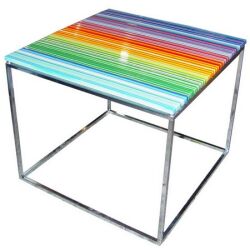 Check out this table…isn't really jazzy? I simply love the multi-colored glass tabletop for the simple reason that it looks loaded of life and liveliness.
The stripped top is attached to a stainless steel frame with magnets, so removing the top for cleaning is easy and highly convenient.
A product from Orfeo Quagliata, is designed in a way to make the table break-resistant, thanks to the stripes that are made of fused sheets of glass.
This funky table can make even the dullest corner of your home cheer up with delight and ecstasy with its bright colors.