When summer comes around, few things beat the sheer bliss of cooling off in your very own pool. There are a few things however that can detract from the sheer pleasure of spending time in the pool – unclean water, unwanted critters that couldn't find their way out of the pool and the lack of entertainment.If you are looking for a way to enjoy your pool to the max while exerting minimum effort, you are sure to love these five swimming pool accessories.
#1 Pool Critter Escape Ramp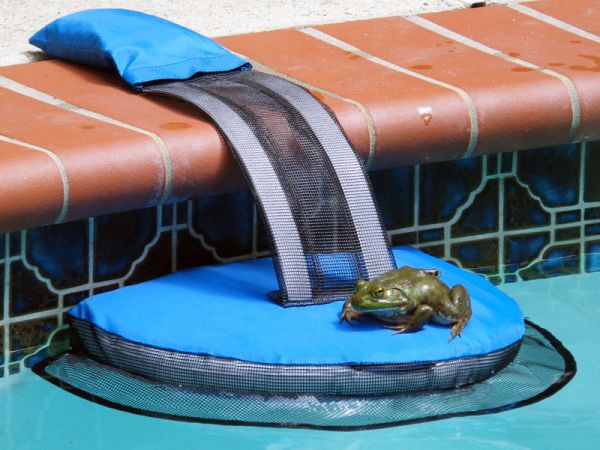 Nothing is worse than getting to your pool only to find critters of all types dead in the water. Frogs, possums and lizards that stray too close to the pool can accidently fall in and drown because they cannot find their way out of the water. By providing them with an 'escape route' not only do you save them from drowning but you also save yourself the unsavoury task of having to fish dead animals out of the pool.
Dead animals in the pool also meanan increased risk of some type of bacterial infestation. By making it easier for them to get out of the water, you simultaneously reduce the risk of water contamination. A win-win situation.
A pool critter escape ramp is an ingeniously designed floating device that allows small critters with a landing space from where they can climb or hop out of the water. These ramps are inflatable, easy to set up and child-friendly.
#2 Dolphin Nautilus Robotic Pool Cleaner
All robotic pool cleaners are designed to clean the pool automatically with minimum effort from you. The Dolphin Nautilus has a few innovative features that make it the go-to pool cleaner for anyone looking for a hands-off pool cleaner.
The most notable feature is its IntelliScan technology that enables the cleaner to customize its cleaning cycle after quickly analyzing your pool's dimensions and filtration requirements.
Other features you are sure to love in this cleaner are the advanced filtration system with easy to clean filters, tangle-free 60 foot cable and its ability to climb the walls easily and clean up to the water line.
The easy-fix modular technology is another advantage as it means replacements are easily available and will not cost a bomb.
#3 Floating Pool Couch
Planning on spending the whole day in the pool? Trying to stay afloat for 5 to 6 hours or even more can be tiring, defeating the whole purpose. A floating pool couch offers you the perfect solution. When you've had enough of the water just climb aboard the couch, sit back and relax, sun bathe or read a book while the couch floats around on the water.
You can find floating pool couches in several sizes, from snug single-seater couches to larger ones that seat more people. Some models come with attachments to hold your refreshments while others have inbuilt cooler-boxes so you can keep a stock of cool drinks to sip through the day.
#4 pHin Smartphone Based Pool Monitor
The pHin Smartphone Based Pool Monitor helps minimize your pool cleaning and maintenance even more. This innocuous looking device monitors the chemistry of your pool water 24/7 via an inbuilt Bluetooth sensor. When it senses that the chemicals need to be replenished, the pHin app sends a notification to your iOS or Android device and places an order for new chemical pods, which are delivered to your door.
The newly ordered chemical pods are water soluble and pre-measured so that the exact amount of chemicals is released in the water. You simply drop a pod into the pool and get into the water confidently knowing that it is safe for use.
The pHin Pool Monitor takes away the worry about adding too much or not enough chemicals into the water, and the doorstep delivery service means you do not have to stock up on chemicals or drive out to replenish your stock.
#5 Eco Terra Waterproof Stereo Boombox
Not everyone loves the sound of silence when they are spending time in the pool. If you prefer the sound of music, the Eco Terra Waterproof Stereo Boombox is for you! This rugged boom box has plenty of features that make it perfect for use in the pool.
Unlike most other players that are water resistant, the EcoTerra is completely waterproof and is compatible with almost any digital MP3 player. Place the player on the water and enjoy your favorite music as the player floats around on the surface.
You can submerge it fully under water and nothing will go wrong. It will simply rise to the surface and keep playing. 8 AA batteries will keep the music playing for over 25 hours.
Article Submitted By Community Writer