Bored of everyday designs when it comes to narrowing down on a stool? The give a chance to Tembo and Bolt, created by Note Design Studio to add some touches of vivaciousness in your dull décor. The creations come smothered with a contemporary aura, which makes it a perfect fit for today's modern living. The unusual creation is a part of Jekyll and Hyde, the brand's very first collection.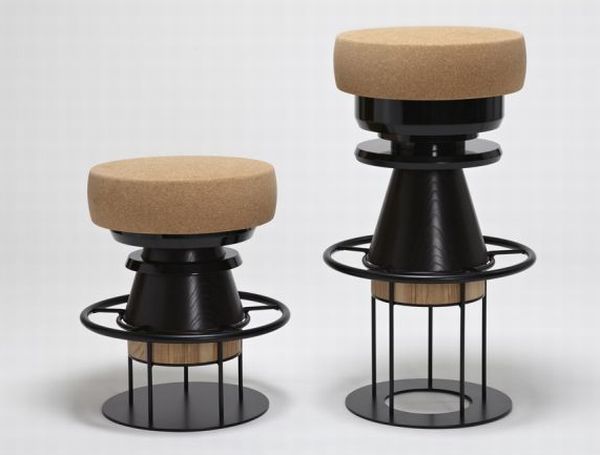 The cute creations will enliven any environment with their cheerful designing in a wink. Both, Tembo and Bolt, differ in styling and finishing. Darker colors have been used for creations placed under the Hyde version, but if you are particularly fond of bright things then the Jekyll version will surely steal your heart. The designing for both the versions is poles apart, but still they form a great pair when placed together.
Apart from designing, color and finishes the material used to craft these two creations also varies. Minimalism rules the designing of Bolt stool, which features four cylinders that are held together by a metal ring, adding a little glamour. The stool can also serve as a side table because of its unique styling. On the other hand, cork, stackable wood and metal have been used in combination to come up with the brilliant style of the Bolt stool.
Tembo and Bolt come in various styles, which can be either placed together or separately as per a user's whims and fancies. These will give a very modern look to your home and spill some freshness with its fascinating and exceptional patterns.
Via: Homedit