The restaurant's atmosphere is influenced by the upholstery fabric and other interior decorations highlighted by the restaurant. The upholstery fabric for the restaurant booths adds a sense of luxury and comfort beyond just visual appeal. The clothes we are talking about are used in the pieces on which the restaurant's customers sit. Therefore, it is essential to select the exact type of upholstery fabric to match the look of your restaurant.
Which is the best upholstery for restaurant booths?
Whenever you have time to visit a restaurant, take a look at the seating area, and you will see an abundance of vinyl furniture. Vinyl Upholstery has long been a favourite of restaurant furniture with various vinyl seating options such as bar stools, chairs, and booths. Vinyl is an attractive, versatile, easy-to-use option available in a wide range of colours and complements most decor, making it one of the best upholstery options for restaurants.
What is vinyl?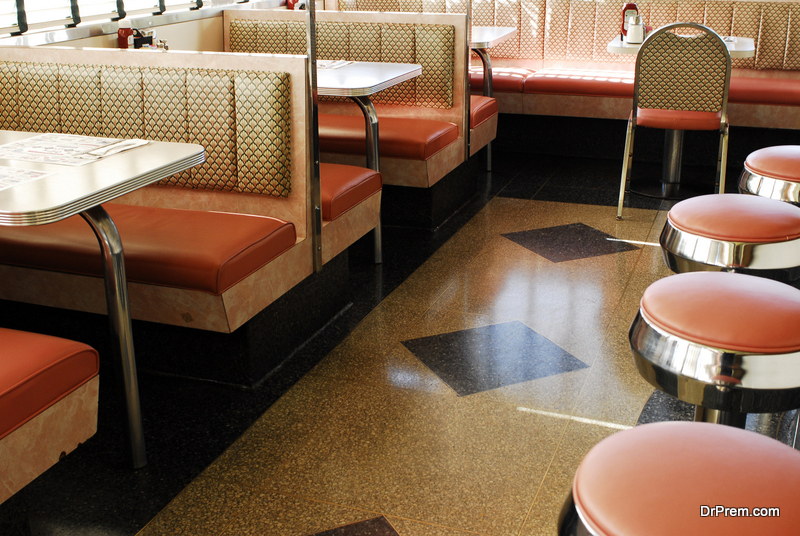 Vinyl is made from ethylene and salt, forming a kind of plastic. The word vinyl is shortened from polyvinyl chloride or PVC, which provides the appearance of genuine leather but is less expensive while durable enough to withstand the wear and tear of customer traffic.
Why is vinyl excellent for use in restaurant booths?
Vinyl is a perfect choice for restaurant booth upholstery and other types of restaurant furniture because they are easy to maintain. The most important reason is that you can usually clean it with soap and water. As a result, vinyl upholstered restaurant booths require less maintenance than other types of furniture and can be restored if damaged.
Vinyl is available in various colours and shades and can fit in almost any style of a restaurant booth. So whether you want to decorate cheap booths that match the fabric chairs or are looking for a way to combine your restaurant's decor, vinyl is a great option to help you achieve this according to your budget.
Cleaning and maintenance of vinyl restaurant booths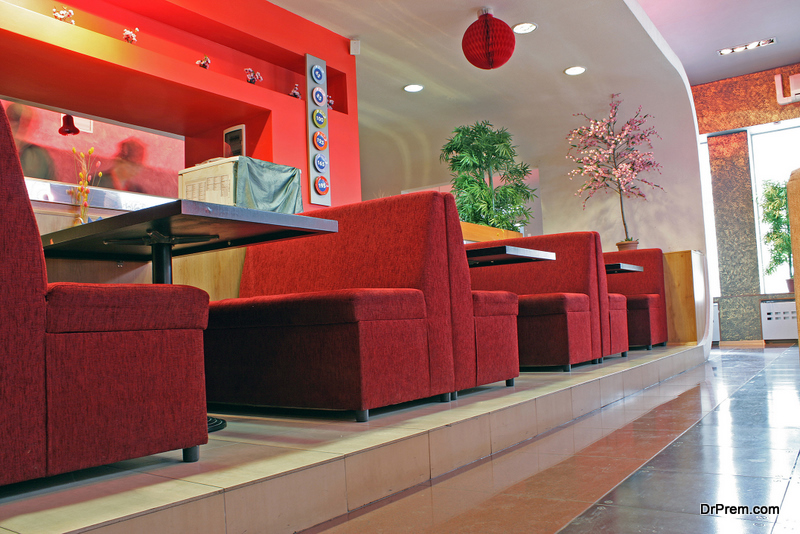 You can clean vinyl quickly with water and mild soap. However, if you find any stains on your vinyl upholstery, you must clean them as early as possible. If water and soap do not remove stains, try the mild professional vinyl cleaner recommended for vinyl restaurant booths. Dry the booth well after cleaning the vinyl thoroughly using water and soap. Excessive exposure to vinyl can cause water to soak inside and damage the booth.
By setting up a maintenance plan, you can inspect, clean, and condition your vinyl restaurant booths; you can increase their longevity and durability. Vinyl restaurant booths care tips include:
Rinse the surface of your restaurant booth material with mild soap and water if required.
If vinyl furniture is in sunny areas, use a vinyl conditioner to prevent sun damage.
Quickly wipe off chemical spills on vinyl and use only mild cleaners made for vinyl.
Finally, wipe off water and other leaks or dry quickly.
Tips for choosing upholstery materials for restaurant booths
Invest: If you want sustainable materials for your restaurant booths, you should invest in ones that may be more expensive but will last a long time. It will not be costly if it is not of high quality, and you can save if you buy in bulk!
Thickness: Thickness will help ensure the durability of restaurant booths. For fabrics, observe the number of threads. If the material of the restaurant booth is thicker, then it will last longer.
Embossing: Choose from various patterns and colours- This will help add more personality to your restaurant booths! In addition to the tactile texture, you can also play with the visual texture by choosing patterned fabrics to compliment the exterior.
In addition, you can purchase different booths of different lengths, widths, heights, and restaurant booths' back configurations. Your options for a booth back include:
Head roll
Top cap
End cap
Outside
Welt cord
Pillow back
Top-stitched seams
You might consider adding a wall bench with smaller tables, which allows for easy conversation between couples, but you can quickly convert it into a larger table for larger groups.
You can also consider single restaurant booths to suit your needs. This booth has a wide range of materials and styles, so you can choose the option that suits your aesthetic and functional needs.
Article Submitted By Community Writer