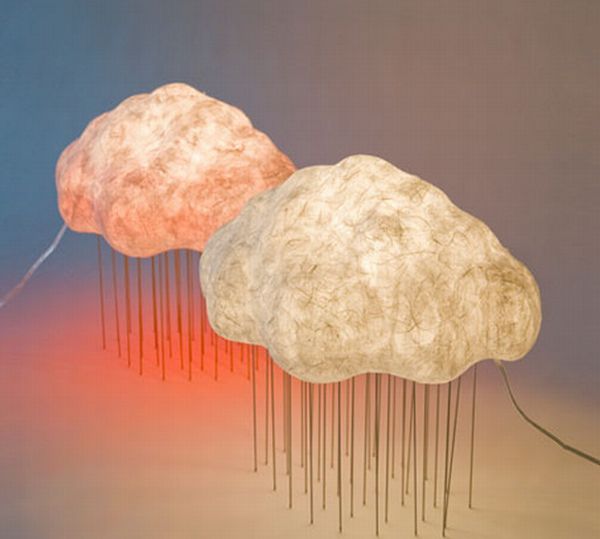 They say there is nothing more romantic than the rains. Well, I am not sure whether the 'Cloud Silver Rain' lamp inspired from the rain falling from clouds, is romantic or not. But, it definitely is different from the rest. Tadao Shimizu from Tokyo has created this unique lamp for Abovo, a Japanese manufacturer. This lamp imitates falling raindrops from clouds. Made of 3D washi paper molded in the shape of cloud, this lamp is sure to be a show stopper.
The design of the lamp is very simple. The washi paper is molded to look like a 3D fluffed cloud, which acts as the shade and metal rods are attached to it which imitate falling rain drops. These metal rods also collectively act as the stand on which the shade rests. Well, this is not all, the 'Cloud Silver Rain' lamp has the option of two shades – gold and silver. While the silver gives it a classic look, the gold definitely makes it more charismatic. This beauty is one of the items from the 'Cloud' series which includes pendants and floor lamps.
I am sure this piece of design will illuminate almost every modern household. The option of silver and gold shade makes it adaptable to any pattern of decor. This will be object of attraction for your guests, undoubtedly. What more can be said about this lamp – this cloud definitely has a silver, as well as golden lining.
Via: DailyTonic