The world of cute things just got cuter with the Tino Cupcake Baker and Toaster. Seter Wu, a product designer by profession, has clubbed great engineering with trendy style. Tino has been shaped like a baby elephant that will bow down to all your toasting and baking needs. The functioning is quite interesting and complements its unique designing.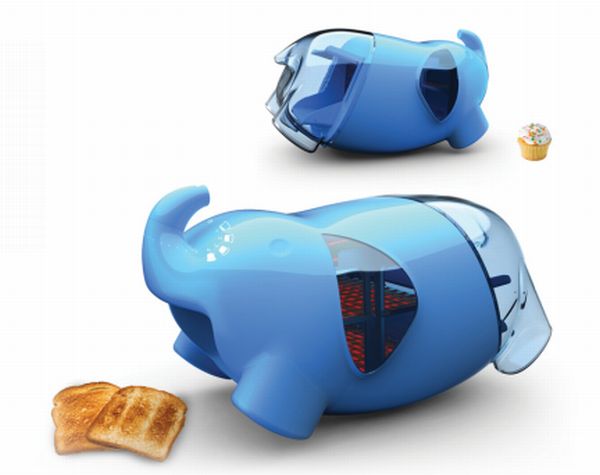 It features a transparent cap at the back, which when opened will shut the sliding doors and make sure that access to the heating components is denied. Now, place bread slices on the tray for toasting and close the cap. Closing the cap will in turn open the sliding doors. Simply rock the body of Tino in a forward direction to make sure that the bread slices slide into the toasting area.
Adjusting the toasting time will require the user to twist the trunk of Tino Cupcake Baker and Toaster. Rock the body forward once again, till the time the front feet of the design touches the ground, once the toast is ready. This will open the exit door and will let the toast slide out of the toaster.
Tino Cupcake Baker and Toaster, as the name suggests, will also make cupcakes for all occasions. Lift the upper tray, which will lift the upper heating wire and disconnect it from the power source. Now, place the mold at the bottom and bake yummy cupcakes for your kids and loved ones.
The design of Tino Cupcake Baker and Toaster is fun and will be loved by kids. It will encourage the involvement of children in the kitchen, who will get attracted to Tino in no time. The attention-grabbing kitchen appliance can be picked from variety of colors, which will pull users towards it.
Via: Seterwu