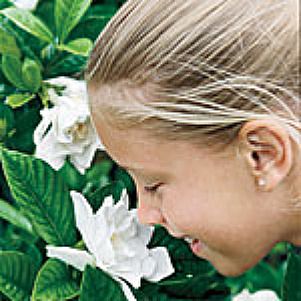 Nothing makes our day like a beautiful flower and its aura- capturing fragrance does. By creating a fragrant garden, in the backyard of our abode, we can make sure of soothing floral aroma entering our home every now and then. It requires a lot of planning and proper management to create a fragrant garden. Check out the following points, which will certainly help you to create your dream garden with the bliss of sensational floral aromas.
Choosing & Placing the Plants:
You need to choose the flowers that you need in your garden in a meticulous way to please you and of course yours visitors as well. Then you need to arrange them in a proper way. Remember, do not make it clumsy as this may vanish your garden's charm. If you want seating space right within your garden, you have to place it in a clever way so that the onlooker can have the most beautiful view of the whole garden.
Planting Flowers Around Your Walking Path:
If your garden is situated around the path that you pass by every day, then you have to place the most fragrant plants by the side of the path, so that you can enjoy the fragrance each time you pass through it. Certain plants releases fragrances, when something brushes against them, such plants are ideal to be placed around the path. You can plant Thyme, a kind of herbal ground cover, in your lawn. The most exciting thing about this plant is that when the plant gets pressed, it releases soothing fragrance.
Flowers for the Seating Place of Your Garden:
Plants which constantly releases, wonderful but subtle, smell are good to be placed around the seating area of your garden. Plants like Arbor and Gazebo are suitable to be planted around your seating space. Fragrant vine can also give a classy touch to this spot in the garden. It's a good choice to place some containers with flowers of full of bright color and fragrance, around this spot. As you are expected to spend more time with your family and guest at this spot, these flowers will certainly attract everyone around to have a closer look.
What to Plant Near Your Window:
The distinctive and charming scents of herbs evokes nice and tasteful thoughts, so its better to place them somewhere near the window of your house. So when they release fragrance, it can easily reach the living space of your house to refresh you all. If you want the fragrance of your garden to reach afar, then you must select carefully. There are some such plants that have a very strong and refreshing fragrance, for example, you can choose from jasmine, honeysuckle, roses, etc.
Selecting Plants for Your Garden:
Selecting the most suitable plants from a wide range available, can be a treacherous task. Here are some plants, which are widely accepted and suggested by plant lovers all over the world. These will definitely help you find the best pick for your garden!
Sweet Alyssum:
These are very easy to grow, as the seeds can be directly sown into the garden. Once they start blossoming, they adorn your garden with their beauty.
Stock:
It's an old fashioned and time tested plant. They are ideal to survive in the cold weather.
Four O'Clock:
They are well known for the sweet smell, which they release during the dusk, when the air is generally still.
Evening Primroses:
This pale yellow plant starts to release scent when the day starts to turn into dusk. These flowers have mind blowing aroma that can add liveliness in your tired soul all over again so that you can enjoy your nightlife.
Heliotropes:
They are known for rich and sugary smell. Heliotropes blooms with deep purple flowers in cluster.