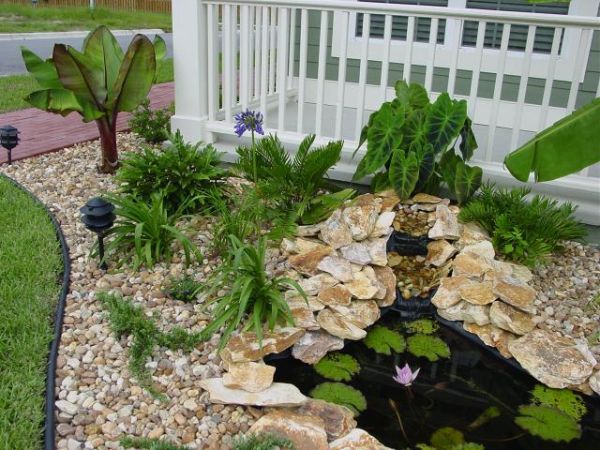 If you are serious about low maintenance of your landscaping, then you need to consider certain elements, which can help towards creating a more uniform maintenance balance. For instance, watering and mowing grass can take up a lot of your time and energy in the garden. Hence, you need to reduce the amount of watering required and growing the type of grass that needs less mowing. These are achieved by using alternative plants for grass and by being wise in the amount of water that is used. You can also go in for labor saving solutions as far as weeds, pests and annoying pets are concerned. Here are a few tips on achieving the right balance for a hassle free landscaping.
Xeriscaping as alternative for low maintenance
Not only are lawns difficulti to maintain as mowing can take up a good deal of time, but they are also expensive. Lawns, which have been affected by drought, have to be completely replaced which means the cost will be more apparent. You need not wait for the next drought to reconsider the possibility of having a less hassle free maintenance plan. You can take preemptive action by turning to xeriscaping as an alternative for conserving water and cost effectiveness.
Turn on the automatic irrigation system
By having this kind of irrigation system in your garden, you can be rest assured of having saved a lot on cost as well as being a water conservationist. Automatic irrigation system is easy to install and is most convenient for those who travel a lot. This kind of irrigation is easily programmed to discharge the required amount of water on a particular area. This certainly promotes water conservation and at the same time, saves you a lot of money on replacing dead parts of the lawn or garden.
Why not go in for clover rather than grass
Clover is not only low maintenance but competes well with grass and is insect resistant. They also make an attractive ground cover and are drought tolerant, in addition to being effective cost savings. Clovers are low maintenance as they do not have to be mowed often and are environmentally safe plants for a perfect landscaping.
Moss for the grass
Moss is the perfect alternative for grass particularly in shady areas where grass refuses to grow. You might have noticed moss in the midst of grasses and this in itself is a good reason to grow moss lawn in certain parts of the garden.
Drought tolerant perennials
If you really want to save on the water usage in the garden, then opt for plants that are drought tolerant, particularly in the areas where the sun blazes upon throughout the day. Having thirsty plants in such areas can really be a challenge as it would mean more watering and more time energy.
Deer resistant ground cover
There is not only the water saving and low maintenance aspects of the lawn but keeping them safe from pesky animals like deers. Deers can cause havoc to your lawn by gnawing into your well kept greens and therefore you need to have a proper strategy laid out to prevent the damages. Go in for deer resistant ground covers, which will definitely save you money, time and the trouble of having to constantly keep the deers at bay.
Create a rock garden
Now rocks themselves add to the decor and what is more, they do not need watering and constant care and attention. You can invest in a rock garden by planting in some drought resistant and low maintenance plants. You could choose the kind of plants that are best suited for a rock garden and create your rockery accordingly.
Mulching for low maintenance
Mulch is not only malleable but is portable and very effective in problematic areas of the landscape. Mulch not only suppresses weeds but significantly reduces the water requirement and is very low maintenance in nature. Try mulching as a quick and effective way of keeping your landscape more efficient and neat with less care.
Eliminate dog spots for low maintenance
For a more effective and dog friendly yard, which will also make less hassle for you, try to incorporate hardscape into your landscaping. This is the liberal use of crushed stone mulch around the plants. You can also go in for Kentucky bluegrass, which can withstand traffic, particularly when your canine friends pay nature's call visit in the yard.
Winter landscaping
Winter can be a problem for the landscape as it would entail mowing the snow out of the yard.
For a labor free winter, try installing snowmelt systems in the yard way before winter sets in. This will keep your landscape free of snow at the same time, save you a lot of time and energy on mowing out the snow.