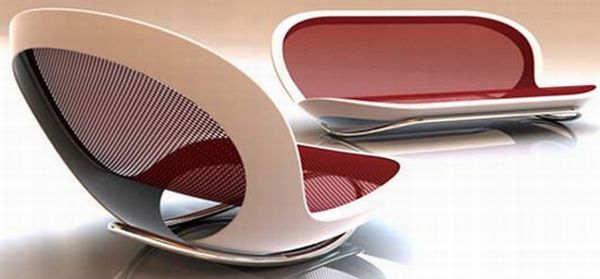 It is the popularity of the rocking chairs that have made the designers of furniture to sit and think and make them more stylish and innovative, targeting the young people. Now, modern rocking chairs, with unique styles and designs, are being launched in the market. The two most important factors that the designers are considering while making these rocking chairs more appealing are style and comfort. For instance, most of these rocking chairs follow design patterns that sit lower to the ground, are wider than average types of rocking chair and are heavily cushioned. These features make the chairs more comfortable than their traditional counterparts.
Comfortable modern rocking furniture by Shiner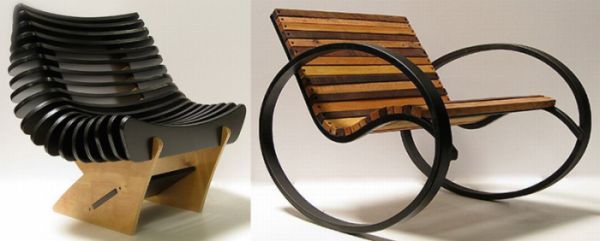 High quality woods, steel, brass, leathers, aluminum and fabrics are used for making this rocking chair. All these raw materials have been perfectly blended with each other which makes this chair truly charming. This chair follows modern contemporary style with rounded steel and the main base with woods and fabrics.
Lobule chair plastic by Vasiliy Butenko


The Lobule chair plastic has been designed by the Ukrainian designer Vasiliy Butenko. One special feature of this rocking chair is the cavity that is provided in it. It is basically a storage space for keeping books and other small things to make your leisure time of reading more comfortable. You need not bother to get up every time.
CNC rocking chair by Hongtao Zhou


This chair is named as CNC rocking chair and has been designed by Hongtao Zhou. The unique design and style of this rocking chair makes it stand out of the ordinary. One noticeable feature of this chair is that it is made from renewable materials. If you want your living room to look stunning and different from the others, then this is the chair for you.
Voido rocking chair by Ron Arad

The classic design pattern of the Voido rocking chair makes it an amazing piece of art work. You can easily identify the glimpses of the popular Ron Style. This chair is made from rotational-molded polyethylene and it is capable of delivering an amazing style to any space. You can chose this chair in either mate or glossy colors.
The Aviar rocker: Stylish modern leather rocking chair


This chair is the perfect fusion of regular rocking theme and classic wooden rocking chair. This comfortable leather also embodies the rocking motion that you will certainly enjoy while sitting in it. The most appealing feature is the sculpted arms made of chrome metal around the base which gives you the impression of futuristic contraption shown in movies.
Italian style rocking lounge chair

Franco Albini is the designer of this cool and modern rocking chair. This chair follows the modern Italian style and is truly a treat for the eyes. The removable cushions make it look more stylish and at the same time makes it very easy when it comes to maintenance.
Voso-voso 3 multifunctional rocking chair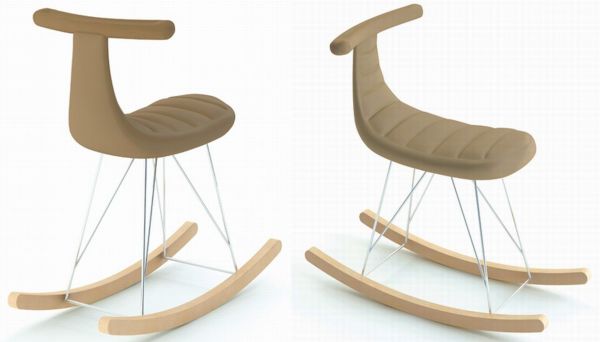 This chair is definitely one of its kind because of its multi-functionality, that is, it can be used as a rocking chair as well as a stool, horse chair for children, or and waist exercise tool. It can easily accommodate two people because of the narrower and longer seat component. In other words, Voso-voso 3 rocking chair turns your sitting experience into a great deal of fun and surprise.
Rocking cube by Jessica Nebel


This chair which follows the Jessica Nebel pattern is definitely a perfect match for the rocking chair fans. The storage space in the form of a hole is also provided which serves the purpose of storing different stuff into the chair. The foam used in the exterior provides you with complete comfort that you deserve after a hectic schedule of the entire day.
Antique rocking chair by Wenshuai Liu


This rocking chair is the perfect example of what we call a true piece of art. This one provides your living room a luxury and antique impression. It stands apart not only in its looks but also the comfort level. This chair can be a perfect place to relax.
Modern rocking chair placentro by Batti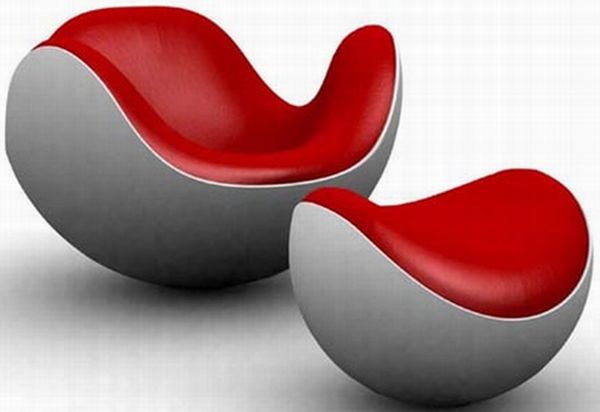 Batti, an Argentinian designer, has designed this marvelous combination of style and comfort. This egg shaped chair is different from the others in many aspects. This chair is hollow at the top which allows it to sway in all the directions, and the balance in shape makes it very unlikely to fall. This rocking chair is equally liked by adults and children.