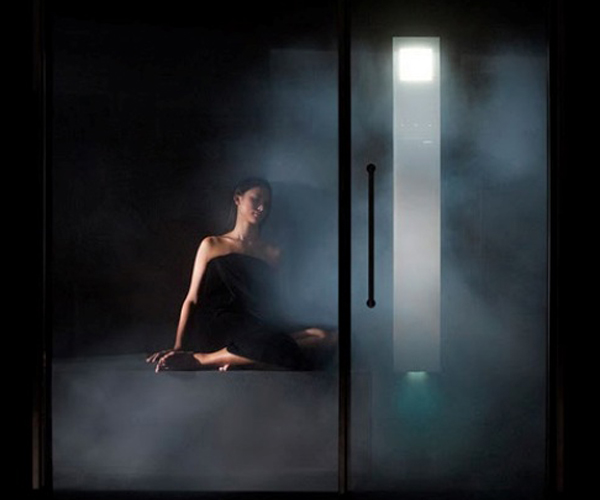 A monthly spa visit on the last Sunday of every month often excites me. The reason, I get a long deserving break from my daily busy schedule. But I am excessively tempted by the special steam shower bath the spa ladies offer me. It makes me rejuvenating and bids all my worries adieu. The problem is I have to wait a month long for it as my pocket doesn't allow me. But now, this problem has been sorted out by the new unique cool steam showers that easily fit in your bathroom making it all the more stylish and saves you from the pocket pinch every month. Some of the unique cool steam showers are listed below:
1. Steam shower cabin from Wellgems: It is a unique, designer steam shower cabin which gives your bathroom the deluxe touch and totally converts it into a relaxing zone. A range of shapes, colors and designs await consumers as they are free to have their pick. Fully automated, it gives its users a classy experience and is specially preferred for those who have a knack of class and design in them. But apart from the compact version, it also offers a full spa version with the bathtub being converted into a whirlpool and a storm of comfort is ready to take your tensions to bay.
2. Spa steam shower: It is designed to steal watches. The praise and admiration is guaranteed from all the visitors. It is designed by a renowned designer for a leading bathroom brand. Simple yet elegant is the most important feature of this steam shower and its uniqueness is reflected in its design. Clear glass walls adorned within an aluminum frame and a soothing white color to calm your senses is what will impress you the most.
3. Modern steam shower: Fantasy meets reality in this case. It's a steam shower designed keeping in mind all your bodies' needs. Modern mechanism and technology upgradation have resulted in the design of this wonder. The automatic adjustment of seat enables you to enjoy the 'wow' feeling while taking a shower. A backrest is also provided for the extra lavish comfort and available in a range of three modern colors – sand, anthracite and bordeaux. This modern steam shower unit has chic features to take you to a world of classic comfort and great relaxation. Indeed a modern experience.
4. Hammam spa: The original definition of comfort is found in Turkish bath. The Turkish changed the concept of sauna by introducing Turkish steam shower, popularly known as Hammam. The founders of bathroom comfort and style made sure their products are well appreciated in the market. Indulge yourself in luxury and gift yourself a perfect bath every morning to keep you fresh and active daylong. Comfort at fingertips is the most amazing feature of this steam shower. Digital display and touch features make it all the more techno cool. Apart from this, other features as sinks, seats, tiles, fixtures are all inclusive and of course, a wide range of colors is on spread. A truly magical escape is on offer for you every day.
5. Steam bath with shower: Last but not the least, the steam bath with shower is the choice of today. It is ideal for those who are new on this concept and at first want to get their basics cleared. It is an introductory steam shower with a full spa experience. And added to it is an MP3 player which will bring on the vibes by playing your favorite tune. A built in illumination facility is also provided to gift you chromotherapy through its wonderful lit spa. Again comfort at your fingertips. A panel allows you to regulate all the controls of this spa. Dip yourself into the 'light and sound' water.
Steam showers are slowly capturing the market with their small footprints and with the necessity to add an element of comfort in a busy individual's life, it is all the most necessary to welcome this new concept home and treat yourselves to this lavish luxury, which you'll never get tired of.