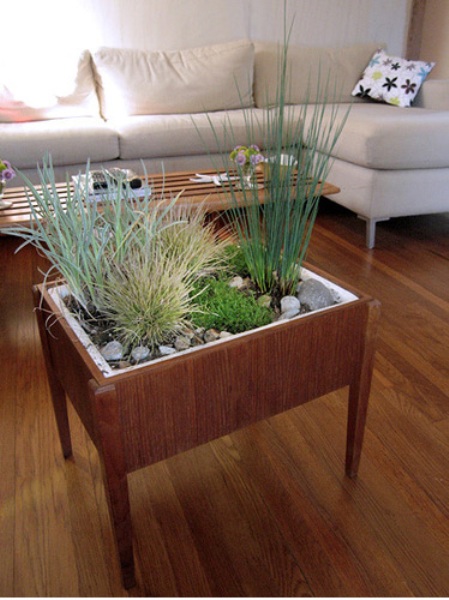 Now you can stylishly show off your green thumb by displaying your colorful plants inside a decorative planter that enhances the overall look of the room. These days, planters are being made to add an aesthetic appeal to your interiors. Planters come in various forms such as antique pots, vases, modern shapes etc. They also come in various colors, sizes and materials such as terracotta, fiberglass, wood, metal etc. If you are one of those who enjoy to change the positioning of your plants then you can opt for the lighter weighing planters like those made of glass-reinforced plastic. Planters are extremely vibrant and the greenery along with elegance adds a certain style quotient to your interiors and makes it more interesting. Here are ten such unique indoor planter designs for enhancing your living spaces. Check out.
1. Terrazzo floor urns, square/round decorative planters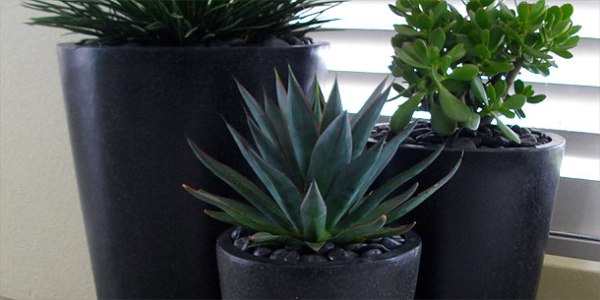 These planters by Terrazzo are rotationally molded and come in the form of pots and urns. These are lightweight but are extremely durable with an exterior that makes them look like original black granite, terracotta or sandstone. They would provide a soothing effect to your interiors.
2. Indoor hanging and wall-mounted baskets
There are an assortment of coconut fiber and wire planters to choose from as Austram offers a variety of hanging planters that are perfect to decorate inside the house. The Euro line of indoor planters are vinyl coated along with a UV inhibitor which makes the basket easy to clean. The wire used in the baskets is basically rust-free and the baskets will last for a very long time. The wall-mounted and hanging baskets are perfect to contain your new blooms and brighten up your house with nature.
3. The Rustic Planter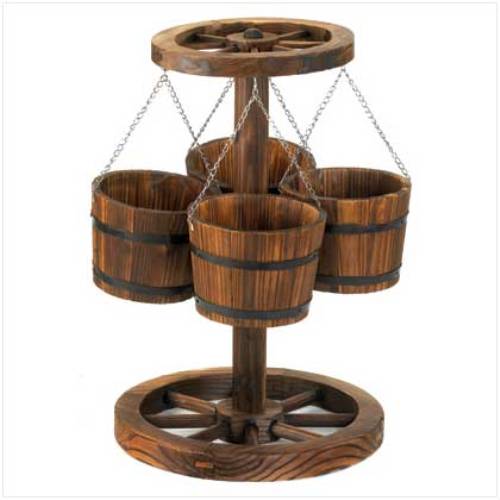 This delightful planter will add the charm of the countryside to your interiors as Rustic Planter comprising of four buckets will hold your precious plants. The four buckets are suspended from an original-looking wagon wheel that has been given an antique finishing. Made out of wood and metal, this amazing Rustic Planter is the perfect thing to buy for completing a cozy look.
4. A 'page-turning' indoor planter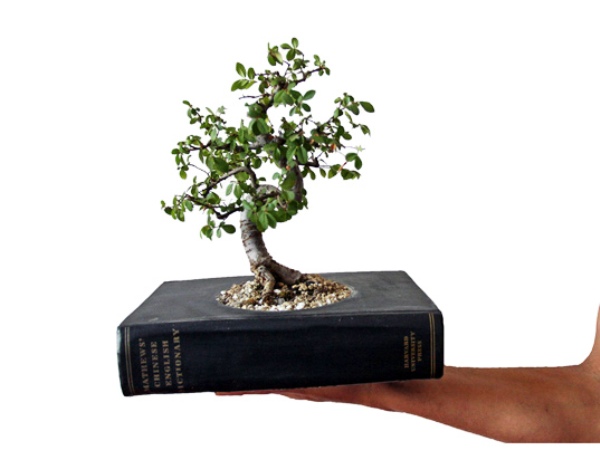 This one-of-a-king indoor planter by Gartenkultur turns old books into pots. This novel concept gives old books a new purpose by carving holes through the middle of big fat books and filling them up with soil to accommodate a small plant. You do not have to worry about causing spillage when watering the plants as the 'pot' is covered with insulating material. These amazing recycled book-planters are great to keep on the window sill!
5. Tea-riffic planter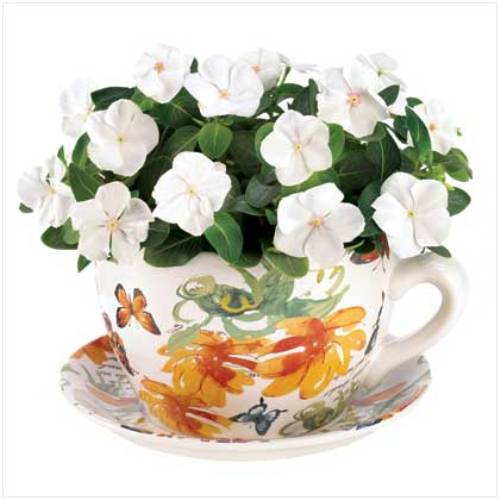 This cute design is perfect to keep in the dining room as this 'tea-riffic' planter comprising of an oversized teacup and saucer that will add charm and greenery to any space indoors. Made out of dolomite, this planter comes in a bright colorful butterfly print.
6. Tall Vases, round/square planters by Horizon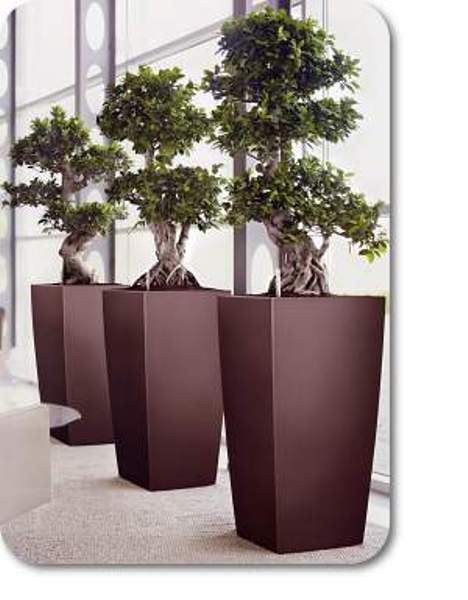 The assortment of planters by Horizon are suitable for all interiors as the modern and aesthetic appeal of the entire range is extremely appealing and elegant. Apart from its exterior look, the planters are very easy to maintain and are lightweight, unbreakable, weather-resistant and also durable. The new collection of planters includes the latest trapezoid European design that is crafted out of vulcanized tech-materials.
7. Roman art planter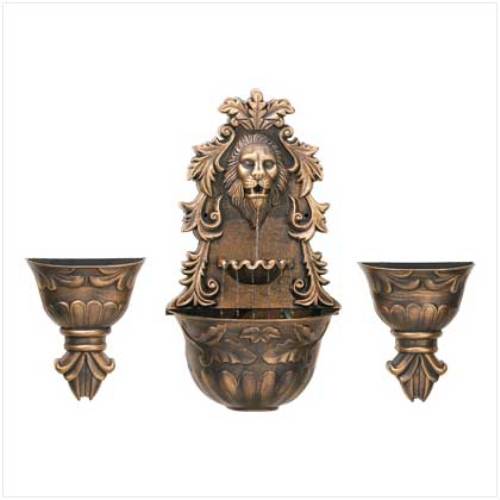 The Roman art planter is a classic design which is made out of fake bronze and is wall-mounted. The elegant tiers can be filled with green plants and if you add water, the center of the planter turns into a beautiful fountain. The planter is made out of plastic and is therefore light in weight and has a cast bronze finishing.

8. Boots planter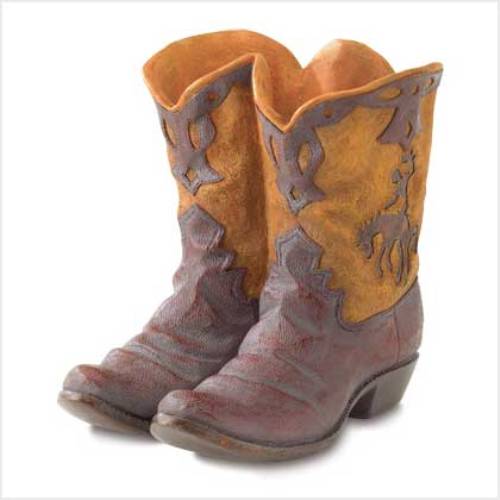 It looks like a wearable pair of boots but is not meant for walking as it is a pair of pots that can add a beautiful green touch to your interiors. Shaped like old rustic boots, this planter actually looks great with its dusty finishing and wrinkled form. A very unique planter indeed!
9. Giraffe planter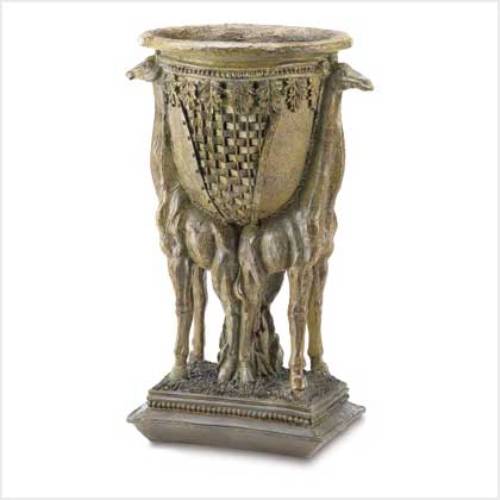 These pair of giraffes standing back to back, supporting a woven urn look very exotic and would provide a touch of African safari in your interiors. The planter, made out of polyresin, has a smooth matte finish along with earthy colors that makes it extremely attractive.
10. Deco Steel collection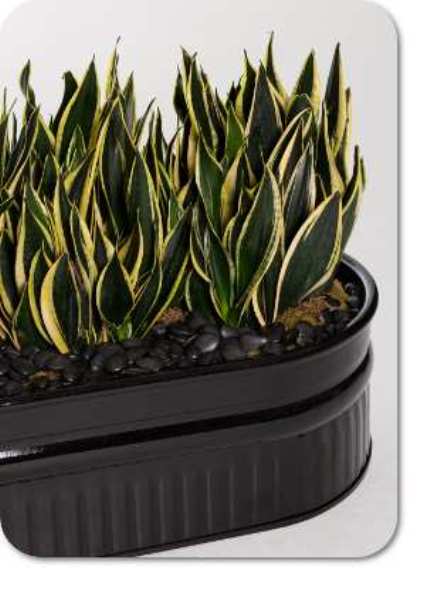 These modern-looking planters by Deco would add style to your interiors with their geometric metalwork that would shimmer in the sun. Available in round and rectangular shapes, these steel planters are impact resistant, corrosion-free and are also recyclable.