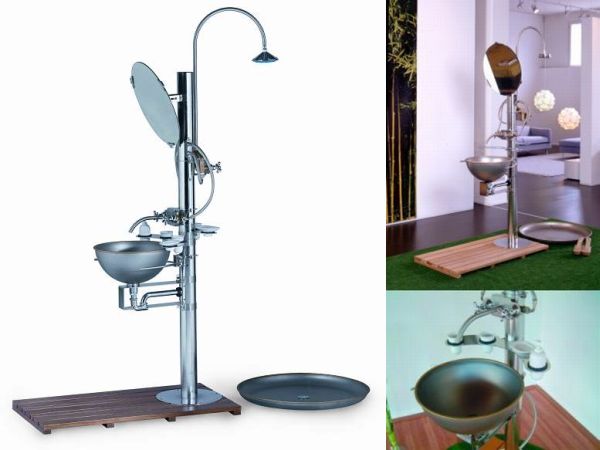 Do you dream of a designer bathroom with elaborate fitments and stylish products but face a shortage of space for making the dream come true? Don't you worry, there is hope for you. Emme Group Design has come up with a new shower which has many compartments like a shower, a mirror, a sink, a towel holder and small shelves for holding shampoo bottles, body wash.
The shower is named as Totem by its creators , Emme Group Design. Emme is a company that believes in designing innovative and yet user friendly innovative designs. Totem is one example of the same. The design of the shower is quite contemporary and so is its utility. It has a slender look and modern finish.
The shower is made from a wood called Iroko, which is an anti slip kind of wood, and stainless steel. Iroko is basically a large hardwood tree which is found in tropical Africa. It is sometimes also called as African Teak. Since the Iroko wood is very durable it is used in various ways like boat building, house construction, etc.
Another quality about this wood is that it does not require varnish or paints even when used for outdoors or bathrooms where water is supposed to fall on it. If you have a very small bathroom, then you can simply install this all-in-one shower. It doesn't take much of space and can immediately turn your bathroom from dull and boring, to bright and fun.
Via: TrendHunter