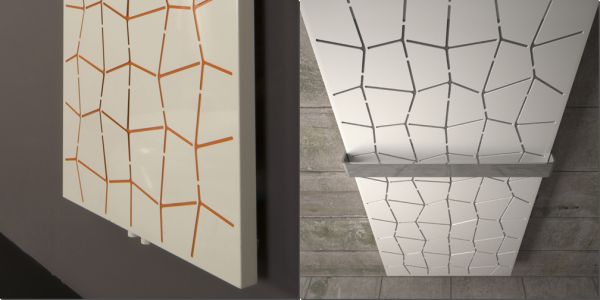 In the present scenario where we can see the gradual increase of designer interior decors as a trend in most of the big homes, now even small apartments are moving towards this space of living. And all thanks to our innovative creators that are turning such fantasy to satisfying reality. Same is the motto of K8 Radiators, an Italian based company, which basically deals with manufacturing innovative and decorative heating units for homes as well as working offices, etc. And so is their new product Trama, a unique creation in range of radiators that can be used in contemporary ambiances.
Trama is a unique heating unit for all types of homes and offices which can add the sense of modernization to the living space. It is one of a kind of minimal designed radiators. Trama comes in the form of a wall unit that can be attached to the ceiling or to the wall. It also features a new variant to the monotonous range of radiators that have an irksome existence. Trama has a colorful feature with its dynamic design that depends on the functioning of two parallel tops, where the external top is drilled to the wall surface. It basically comes in bright white color with dynamic embroidered fabric. The lower top showcases the fascinating modern patterns.
Thus, unlike other radiators, Trama not only acts as a heat transmitting device but it can also serve as a modern indoor decorative item. The main concept of this radiator is to enhance the modern ambiances and at the same time transmit the required heat to the surrounding. This outstanding creation of K8Radiators is worth applauding for its beautiful art of design and detail working on its vent cover. Trama is also available in different contrast colors and finishes.
Via: k8radiatori