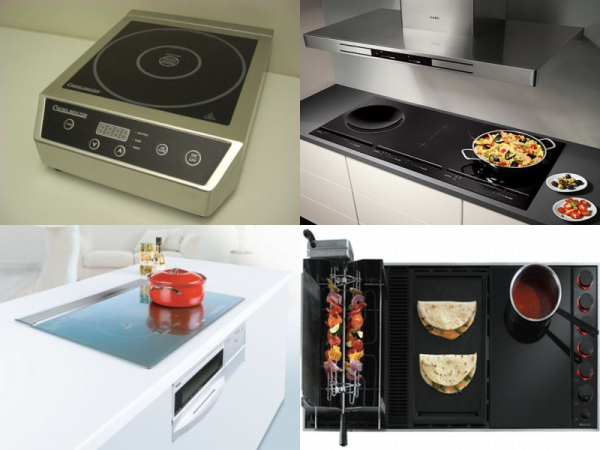 Cooking heaters, the most significant appliance that occupies the pride of place in any kitchen, is available in a range of varieties. An efficient cooking heater speeds up the time of cooking and makes the process of cooking an easy task. You will be bewildered by the extensive range of cooking heater offerings in market.
Cooking heaters are different according to the energy source. You can select any cooking heaters depending on your option of energy source, economic parameters, safety perceptions, and of course aesthetic sense. Listed below are ten unique cooking heaters to give you some basic idea on the same.
1. Built-in IH Cooking Heaters from Toshiba
Toshiba, the Japanese multinational conglomerate corporation that is reputed for making electric appliances, has come up with a new range of built-in IH (induction heating) cooking heaters.
Toshiba's new models – BHP-V731S and BHP-V631S – are dissimilar only in terms of size. The former version measures 75cm and the latter one 60cm. The top plate sports an innovative look by changing the position of hue. The left and right heaters are outfitted with infrared sensors. The built-in grill is equipped with hi-tech sensors, and is capable of fine-tuning program by detecting the presence or absence of water in the pan.
The demand for IH cooking heaters is on the rise since it is considered by many as a safer alternative to gas cooking stoves. IH cooking heaters are easier to use and easy to maintain also. Lower power consumption makes them an eco-friendly option of kitchen appliances.
2. IH Cooking Heater from Renesas Electronics
The high-end IH cooking ranges from Renesas Electronics are noted for its eco-friendliness and safety. They are designed specifically to accommodate all types of metal cooking equipments. This is enabled by high-performance MCUs that are capable of differentiating the substance of the pots or pans placed on them.
3. Biomass cook stove by SELCO
India-based SELCO Solar Pvt. Ltd specializes in manufacturing solar photo voltaic (PV) modules to provide electricity. SELCO introduced cook stove technologies in 2008, and offers enhanced cooking technologies to the households. The biomass cook stove is designed to be 40% more fuel efficient. Designed by Prakti Design Lab, the new cook stove releases 70%-80% less smoke.
4. Perfection Kerosene Cookstoves
Perfection Kerosene Cookstoves enable easy cooking without electricity or gas. Powered by kerosene, these cooking stoves are suitable for daily cooking needs of large families. The sturdy structure can support heavy stockpots and canners and features adjustable flame options.
5. Brown 20in. Gas Cooking Ranges
The new Brown 20in. Gas Cooking Ranges run without electricity. The cooking stove comes equipped with instant-on burners and there is no need for electric igniter. It features permanent standing pilot light and non-electric oven thermostat and controls.
6. Massive Masonry Soapstone Woodstoves
Vermont Marble, Granite, Slate & Soapstone Company has come up with Massive Masonry Soapstone Woodstoves. The European design is made of brilliantly crafted pure Soapstone veneer, and weigh between 1,600-2,000 pounds.
7. Bakers Oven Stove
Bakers Oven Stove is a unique cooking heater designed following antique design styles. This multi-functional appliance from Australia combines is a heater, typical wood oven and cook top in a single unit. This unique multi-functional cooking heater can grace any traditional home décor.
8. 15″ Induction Cooktop from Sub-Zero and Wolf
The renowned kitchen appliance maker Sub-Zero and Wolf has designed a best in performance induction cook top. The 15" Induction Cooktop features an integrated design that permits use with multiple cook top units or modules. It is equipped with a black ceramic glass surface, which is easy to clean and scratch, stain and heat resistant.
9. Rocket Stove
The Rocket Stove is an exclusive and environmentally-friendly wood-burning cooking stove. Built with low-cost materials such as debris, tin cans etc. the Rocket Stove works by smoldering small pieces of wood. The heater is widely acclaimed its efficiency and low emission of smoke.
10. Hi-Fire Cooking Stove
Designed by product designer Fernando Silva, the new Hi-Fire Cooking Stove is a unique blend of visual appeal, safety and ergonomics. The spacious stove features horizontally-opening transparent doors that enable the users to check the level of cooking without opening the door. The 'X' structure of the stove offers unique aesthetic appeal to any modern kitchens.
A daunting variety of cooking heaters with unique design features are available, and customers are free to choose the one that goes well with the interior decor of the kitchen.