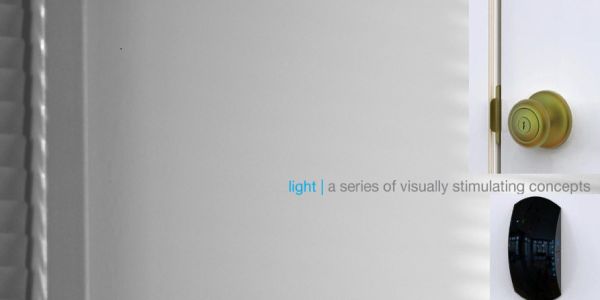 When Thomas Alva Edison lighted the first electric bulb it heralded a new era in the history of mankind. It lighted up our lives like never before. Today various objects are present to light up spaces where we live that we do not think about its importance at all. It has become a mundane part of our daily lives. The prime objective of a light is to get rid of the darkness so why not do it artistically? The following are a collection of various lighting tools which would decorate your home along with making life easier.
Benjamin Kiyoshi Guthrie, recent graduate of the industrial design program at the University of Washington created beautifully unique lights to add up glamor to your home. However, his prime objective was to create functional and thought provoking concepts and there he is all set with his new series of visually stimulating tools.
Doorknob
His unique concept is based on the carefully thought fact that the doorknob and the light switches are almost used in an immediate sequence. By placing the light control from the wall to the door is his idea of creating comfort and making the interactions between the two much more well-organized.
The top-button in the design controls the light in the same room whereas the bottom one controls the light on the opposite side of the door.
This way you can perform three tasks simultaneously. Firstly, turn the lights on in the room you are entering, secondly turn off the lights in the room you are exiting and open the door with one swift motion. All this makes the product completely incredible.
Illuminating Doorknobs
It is a doorknob that illuminates instantly when it detects darkness. It is retrofitted with a ring or adhesive glow in the dark style light. It can automatically turn on an internal light when it senses someone approaching the door with the help of a motion sensor or other devices.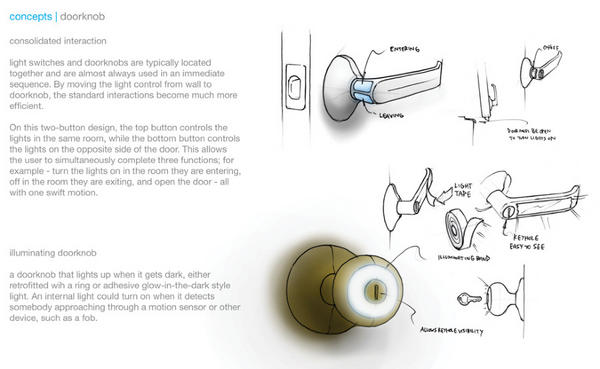 Leaf Lamp
It is portable lamp which runs on solar energy which can be held as a lantern or supported on its own for using it as hands free. A larger floor lamp "tree" holds multiple leaves and can light up the entire room. Using it you can also conserve electricity and save money also. It is an effective utilization of the solar energy.
Portable Control
This portable switch comes with a stationary base but can be isolated from it moved away wirelessly so that you need not carry batteries and the chances of losing the controller are eliminated.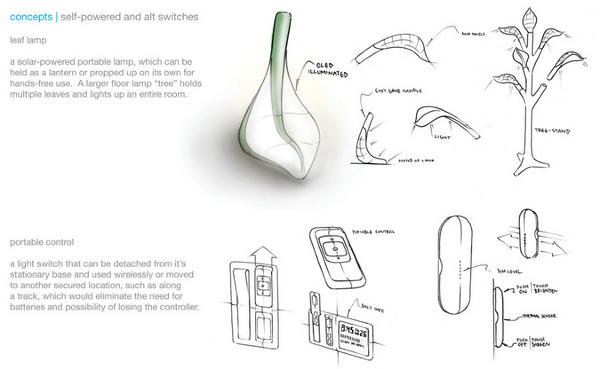 Light Switch
This automatic light switch is controlled by a thermal sensor and self adjusts the brightness as per the levels of illumination of the surrounding place. The knobs on either side allow manual power and brightness adjustment.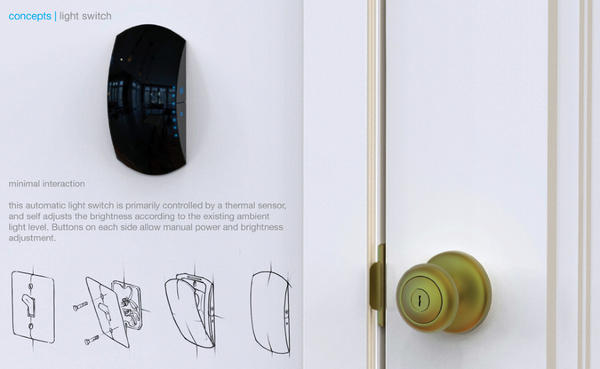 MIRROR
Televisions + mirrors + photos/arts/posters + speakers + light
The mirror serves all in the above line. Its digital bulletin board could serve as an interface for endless daily tasks. When in standby mode, it displays your favorite photos or artwork. Energy saving mode would engage integrated photovoltaic solar cells to start generating powers.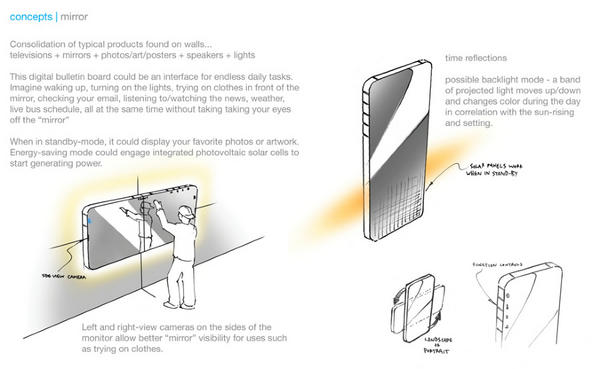 Modular Floor Lamp
It consists of sectional modules put together to form these standing lights. These can bend slightly in different directions to create interesting, sculptural forms which can further be modified by the user. Each and every module has an LED illuminated surface and a solar cell side that generates energy during the day. The solar energy is then stored in each module's internal battery. The module can be easily removed from the stacks with their integrated handles, and used as portable lights or to power devices 'off the grid'.
Small Flower Lamp
This is a perfect decoration piece and very useful. It is a self-contained lamp that blooms when it detects sunlight. At night, the lamp closes and can use its stored energy to be utilized as a lantern, play music with its integrated speakers or power small electronics.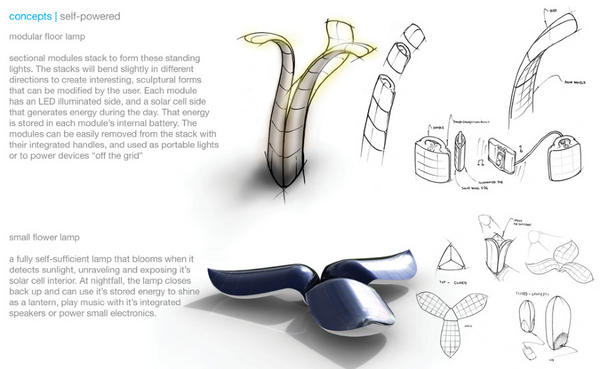 Via: Kiyoshidesign