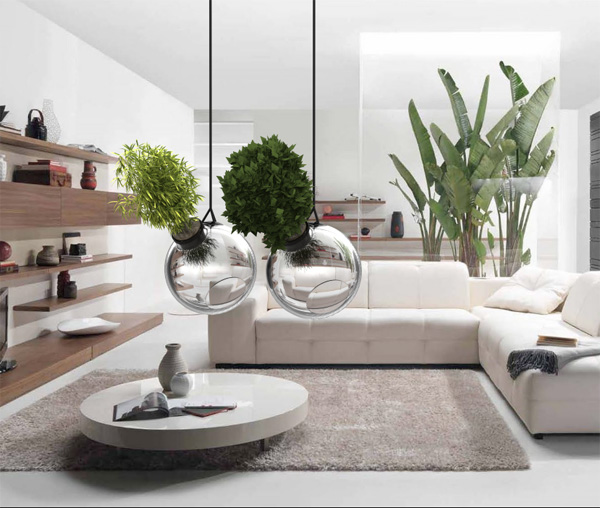 This is the era of urbanization and everything around us is changing, for betterment ofcourse. How can gardening be left behind in terms of urbanization? Gone are the days of geoponics and hydroponics, this is a new age and it's time to talk about aeroponics. We need to have a cleaner and better gardening solution with visual appeal a 'must have' criteria for indoor planting.
Designed by Singaporean designer Jerome Arul who is currently a student at the Rhode Island School of Design, Aeroponic is the new age farming and ultra efficient agricultural process where the soil and water become the things of the past. Aeroponic requires an environment that is 100% sterile to keep away from the bacterial infections to the plants and the traditional containers are prone to bacterial growth and algae. Urboponic is the domestic use of aeroponic method of growing plants which is based on electricity and water-based nutrient solution. Urboponic is the perfect solution to your indoor planting needs to match up to the high aesthetical quotient of your living room.
Urboponic is the dirt free and grit free way of growing plants where the roots of the plants are suspended in the sealed air-tight environment in a bulb made of electro-chromic glass to protect it from the bacterial growth, pests and diseases. Nutrients are vaporized and pumped into the bulb continuously in order to maintain the mist within the roots of the plant and the nutrients are supplied by the electricity through a cable plugged to the power point. The main cable holds three smaller cables for solution input, solution output and electrical current. The electricity also extracts the condensing moisture and activates electro-chromic glass. There is a foam separator to works as an air-tight and seal the bulb to act as a barrier to bacteria.
This sleek and beautiful gardening solution can either be suspended from the ceiling or can be placed on the table top, counter or on the floor. The electro-chromic glass can turn opaque when the power is supplied, however can also be switched to a clear look for all those curious glances of your guests. Urboponics is a breathtaking innovation that scores high on the visual appeal as it has very contemporary and modern look. Urboponic is sure to give your living room a glamorous touch and will definitely add up to your ultra modern living. A huge thumbs-up from our side to Urboponic.
Via: Jerome Arul