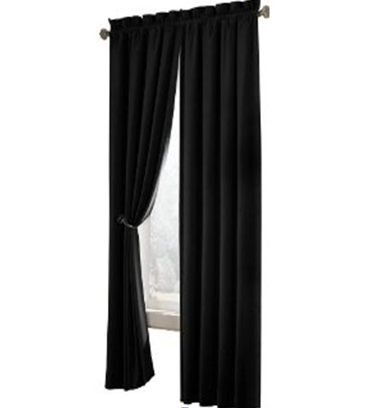 Most of us have one very simple utility of curtains: To add a dash of beauty on doors and window panes. However, this does serve the dual purpose of beautification and utility as well. Velvet curtains have significantly risen to become one of the most sought after. These curtains have a luxuriant and rich look, almost perfect to keep light out and heat in. The soft deep file gives a furry feeling when you brush your hands over it apart from setting a beautiful contrast between light and dark shades. We have selected some of the best and most beautiful velvet curtains for you. Let's have a look.

1. Maytex Velvet Blackout Panel
BRAND : Maytex
PRICE : USD 35.99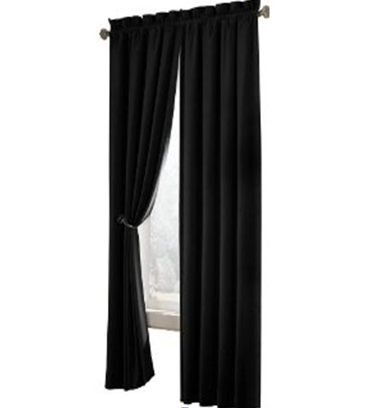 Black commands class, black attracts a considerable amount of attention. So how would it look like, if you decorate your living room with a gleaming black velvet curtain? Effortlessly elegant would be a mere understatement! This luxurious black velvet curtain has a solid color window panel along with an energy efficient rod pocket, which is quite effective in blocking heat, cold and light hence saving a few extra bucks from rushing out of your wallet. The panel measures 40×80 inches. Clean it dry for better care and durability.
USP
Gleaming & luxurious velvet touch makes this curtain add sheen to your living room
PROS
Comes with energy efficient rod.
Available in attractive colors: Black, red, chocolate, tan and olive.
2. Velvet Black Curtain w/Valance/Sheer/Tassels
PRICE : USD 39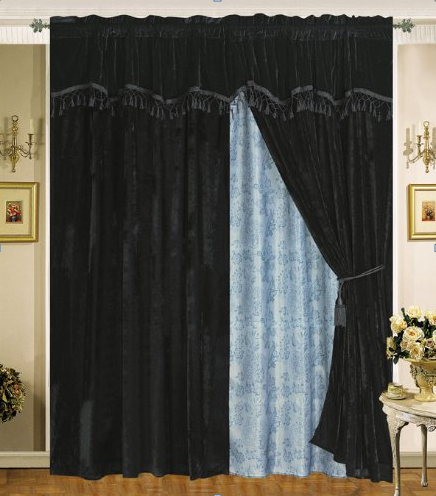 Ever looked out for a curtain which should complement along with your velvet or satin comforter set? If you answer is yes, then your search should come to an end here. This black velvet curtain with valance/sheer/tassels has been designed mainly along the pattern of comforter set. The fabric used is 100% polyester. The entire set of this curtain includes two curtain panels (60x84x2 inches), two attached valances, two attached sheer backing and two tieback tassels. Those having a fetish for fashionable living room will love this for sure.
USP
Polyester mixed with velvet gives a cozier and smoother satin touch making this curtain truly luxurious
PROS
Bright & gleaming color.
Easy to hang & maintain.
3. Brown Velvet Curtains/Drapes/Panel Rod Pocket
PRICE : USD 41.19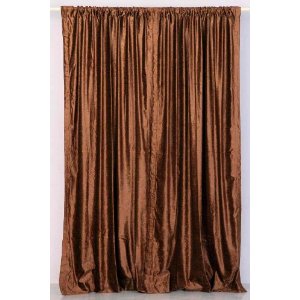 An immensely luxurious curtain, made of poly filament velvet fabric promises to add an impressive dash of class, elegance, glamor and beauty, wherever you would like to let it hang. One of the most neatly and tailor-made curtains for your living room, this shall attract attention of a number of eye balls, eventually letting hands feeling the softness and comfort. On top, it is supported by a 3 inch rod pocket. This smartly designed curtain will add a touch of warm welcome to your living room.
USP
The rich brown color comes with an element of class and handsomeness, making it a centrifugal point of attention
PROS
Made of poly filament velvet fabric.
Comes with 3 inch rod pocket for better support.
4. Charcoal Grey with Black Velvet Floral Flocking Window Curtain/Drape Set with Sheer Backing
PRICE : USD 29.99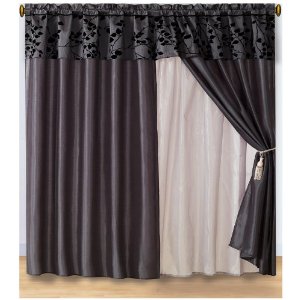 Introduce a new dimension of refinement and style to the otherwise dull and monotonous windows. Upgrade the décor of your house with this bright and gleaming charcoal grey mixed with black velvet floral flocking window curtain. Each set of this curtain includes two panels and two ties back, along with panel sizes of 60×84 inches and 18 inch valance drop. Made from 100% pure polyester, this machine washable curtain will definitely enhance the ambiance of your room in a beautiful and luxurious manner.
USP
Charcoal grey fused with black lend a glimmering effect to the curtains, magnifying your room's milieu
PROS
Easy to care, washable in machines.
Light weight: 3 pounds.
5. Navy Blue Velvet Curtain/ Drapes/ Panels 43×48 Inches
PRICE : USD 41.19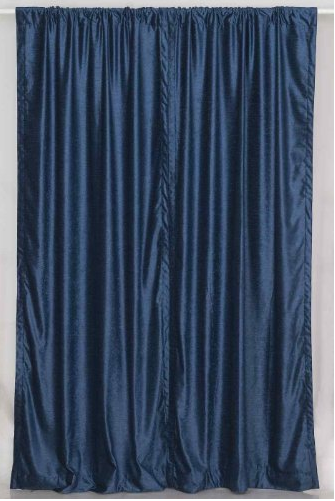 Splendidly tender to touch, this fuller and rich navy blue velvet curtain will fetch in that chic statement, something you always long to have in your living room. Ameliorate the facets of your window panes by treating it with this bonny curtain. It's made from polyester filament velvet having a dimension of 43 inches (width) and 84 inches (length). Also, it can take in rods up to 2.5 inches for an easy and comfortable fixture. Hand wash or dry cleaning is recommended for better care.
USP
The soft velvety material gives out an impression of deer's antlers making it a highly luxurious stuff for your windows
PROS
2.5 inches long rod for better fixture.
Easy to maintain: Hand washable and recommended dry cleaning.
6. Grommet Top Solid Purple Micro Suede Window Curtain/Drape Set
PRICE : USD 34.99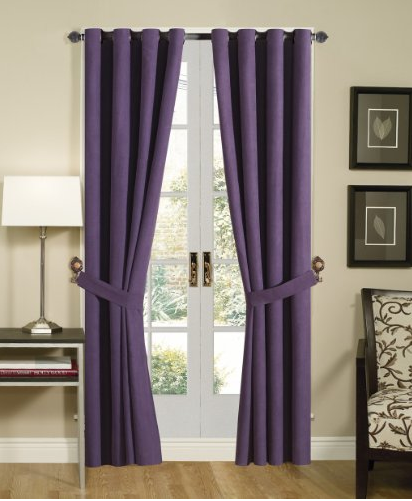 Don't you disburse adequate regards to garnish interiors of your house? Windows, being an integral segment can't be just left out for sure. With this Grommet Top Purple Micro Suede Window Curtain, you can easily augment the appearance of your living room. It comes with two grommet top panels along with two tie back. Made of 100% polyester, it can be easily washed in machines. This curtain has a panel size of 54×84 inches. Pick it up and affix a nick of elegance to your living room.
USP
Unflinching good looks, sedate color and an affluent texture make this curtain a 'must have' for your living room.
PROS
100% pure polyester made.
Comes with two standard rope tieback.
7. Signature Velvet Sand Curtain 48×96
BRAND : Signature
PRICE : USD 89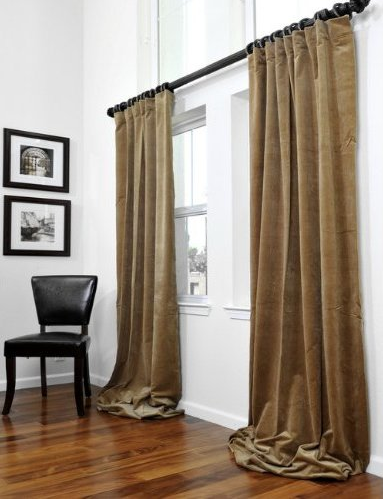 This velvet sand curtain, made up of cotton poly velvet, sports a complete natural glitter along with a profound color, creates a formal, polished look. Further, the soft heavy pile velvet draperies combined with 100% cotton lining makes it a curtain worth absolute elegance. It features a pole pocket header and drapery hooks for ease of fixture and hanging. The heavy fabric helps on keeping the light at bay and also provides for optimal insulation. It should be cleaned dry only for enhanced longevity.
USP
Cotton poly velvet along with superior quality cotton lining makes this curtain an assorted stuff
PROS
Comes with pole pocket header and drapery hooks.
Super fine fabric which provides optimal insulation and filters light..