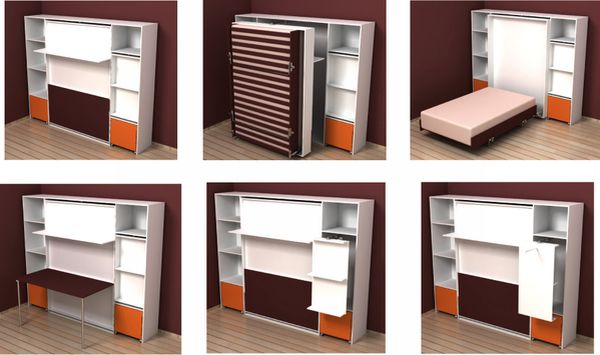 Modern designers are finding innovative ways to tackle space rigidity by maximizing utility of single furniture to multitask and save space enough to expand restricted urban home horizons. Working on these lines and stirred by the undersized scope in modern apartments, designer Thamyrez Aguiar has designed the Versatile Bookshelf, which appears as a single unit furniture but encompasses within itself a roomful of opportunities. The single wall unit will serve as a shelf, a clothes rack, a bed, a dining or working table and also provide seating for your guests and visitors. In all, it is a complete answer to contemporary living styles for modern men and women.
Amidst a series of clean-lined shelf systems, the Rio de Janeiro based product designer has created a solid structure of MDF unit that caters to all the basic living conditions that sometimes even a room full of furniture and fixtures fail to provide. This one unit wonder is a trustworthy and organized intelligent furniture unit that contains within itself a set of shelves to store necessities, a rack to house your clothes in neat order. There is also a fold-away table with stools that can be dismembered from the unit itself and fixed in order and a twin bed with mattress window too. This aesthetically designed modular unit appeals not only to your senses but also allows complete freedom of space modulation in limited urban living conditions. It is more of a road to gain complete freedom of space within your apartment without affecting its functionality and cramping your lifestyle.
It offers various configurations and adaptability to gift you the maximum benefit of it's multi-functionally trait. The color coded panels can be manipulated to help suit all your diverse regular needs. For example, when required the maroon fold away table in the center can be used for studying or working on your laptop. It can provide space for up to four people comfortably for dining and entertaining purposes too. Its retractable legs and top allows it to be folded off when not in use with effortless ease. The shelf above the table on the other hand can be rotated by swift movement about 180 degrees to reveal a hidden folded bed with a well endowed double mattress. When pulled down, the feet of the bed is locked to a 90 degree angle forming a secured base for allowing a good nightly sleep in its snug mattress. Following the same movement as the bed, the right side has a built-in rack can be turned 180 degrees to reveal a clothes rack to store your clothes and belongings or other personal stuff.
Furthermore, the orange fitted shelves in the bottom also enable extra seating area when your friends or other visitors come knocking at your door. It can be detached and dismembered to re-connect with each other and form two bases of a solid structure to look like the classic MDF ottoman seats. With its varied options, this product will not only enhance your space limitations but also prevent wastage of money and precious wood in making other fixtures around your small apartment further cramping up your style and home both.
This chic Versatile bookshelf project true to its name, was designed as a graduation project for the Desnho Industrial course at UFRJ by Aguiar and with this unit, the designer has brought to light the modern aspect of designing capacities that can provide fully functional solutions no matter how restrictive the environment is.
Via: Behance