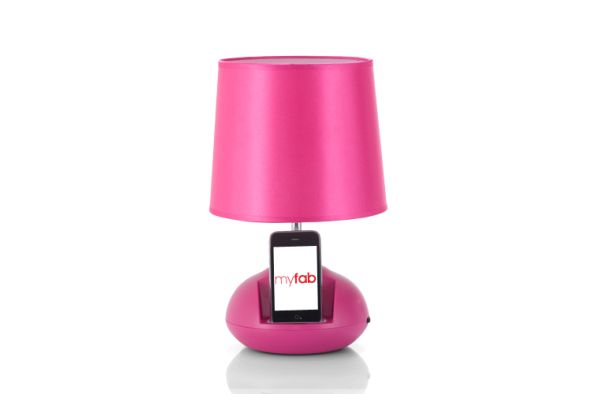 Do you like to listen to music when you're just hanging out on your bed but don't like to stick headphones into your ears? Then this flashy bedside lamp with a built-in iPod dock and speakers is just what the doctor ordered for you. The handy design combines the two things that are most likely to be found on bedside tables anywhichways i.e., a lamp and a petite music player of some kind. The design integrates the functionality of a table lamp and extends it to fit an iPod dock that also charges the player and speakers that hide neatly in the lamp's design and do not need any extra space on the table.
The iPod compatible lamp has a plastic base and polyester shade offered in vibrant colors. With 6W speakers neatly housed at the back of the lamp and a volume control knob on the side, the lamp is compatible with most audio players thanks to an auxiliary input jack. An Apple universal dock and jack allow users to power up their players via the lamp itself.
The 32 cm tall lamp spans 20 cm in diameter and runs on 110-240V AC power. The lamps from the Vibe Collection are manufactured in a facility in Shenzhen in the southern parts of China and are made to order so we cannot give you a price range for the product.
Via: My Fab