With a change in the season, it is always good to refresh your living space. You may not want to refresh your entire house, but doing little bit of changes here and there in some parts is always a good idea. One such space which can be refreshed is the bathroom of any house. Doing a cleaning and remodeling exercise in the bathroom is a good proposition as this is probably one of the smallest area in any household and thus cost effective. A slight change in this space can make a whole lot of a difference to your relaxation moments when taking a bath. When considering to clean the bathroom, try around working out ways in which there is lesser water usage, and you are exposed the least to the chemicals and acids of the cleaning agents. It is a fact that the maximum water wastage happens in the bathroom in any household.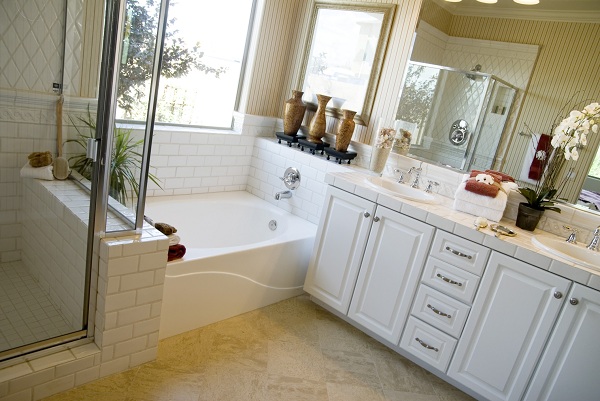 Here are five quick fixes to freshen up your bathroom, an area which demands quite a lot of maintenance and hygiene:
If you have a very old high water consumption toilet, it is advisable to replace it with a new high efficiency toilet. Changing your toilet seat, can lend a whole new look to your bathroom.
Spending an hour on cleaning the bath area, can give the space a clean and refreshing feeling. However, at times chemical based cleaning agents can sometimes leave toxic residue and bad odor behind. It can also cause a little bit of irritability. Home made cleaning agents with a base of lime juice, rose water and baking soda is a good idea. A clean bathroom can change the total experience of taking a bath.
It is a good idea to change the towels, rugs and shower curtains of your bathroom with new ones. This will instantly change the look and appeal of the bathroom. These days there are a variety of bamboo shower curtains as well, which will add a more elegant appeal to the bathroom in comparison of the age old PVC/Plastic shower curtains
Placing fragrance oils, bath salt bottles, pot potpourri and decorative perfumed candles on shelves is a great idea to refreshen your bathroom instantly. This also adds a fresh fragrance to the bathroom and also lends an aesthetic appeal to the area.
Changing the lighting of your bathroom is a great idea to do up your bathroom. Lighting makes all the difference in any living space. Ensure that there is ample light in the shower area and above the primary mirror. It is a good idea to use compact lighting in the bathroom. Fluorescent bulbs or CFL's are a good option as these generate less heat and consume less power.