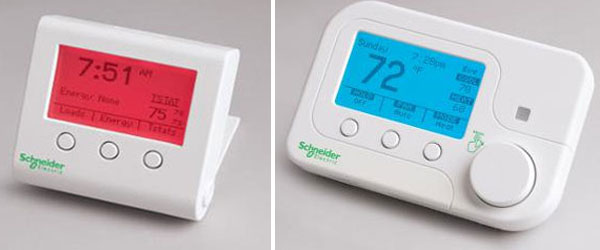 Schneider Electric has entered the smart grid fray with its new Wiser Energy Management System, a demand management product that allows homeowners to reduce or shift energy consumption during peak hours of need. The Wiser Energy Management System comprises a Smart Thermostat. This programmable thermostat conveys usage and pricing alerts through changing color screens, communicates via ZigBee and is controllable by the In-Home Display and the Wiser web-based software.

Wiser In-Home Display is a small hardkey/dial controller and dashboard, which serves as the real-time communication portal from the smart meter to the homeowner. Consumers can view current energy price, demand level and use, current energy cost per hour as well as daily, weekly and yearly consumption reports. Wiser Load Control is a device that secures and manages large electrical loads to enable demand management by both the utility and the consumer. It also supports Demand Response/Load Control (DRLC) and simple timer functions.
Other components of the system are an Internet Gateway and a Smart Plug to monitor the electrical usage of small appliances like coffee makers. Integrators can use a web portal to set up the system limits for customers. Post-installation, homeowners can manage and view real-time energy output to control their consumption. The system allows residents to preview electricity costs based on demand (how much energy is being used by consumers within the utility's area) and usage (how much energy the homeowner is using). Consumers can then actively set appliances to turn on at certain times when power costs are low and set limits for the household on power usage or costs, etc. The small display/dashboard allows homeowners to view current energy price, demand level and use, current energy cost per hour as well as daily, weekly and yearly energy-use reports.
Schneider, which owns several brands familiar to integrators including APC, Clipsal, SquareD and Juno Lighting, is targeting the Wiser system at utilities to begin with. According to Tony Gentile, vice president, installation systems and control at Schneider, the company is in the midst of several pilot programs. But as per him there is ample opportunity for integrators to install the system in new homes before the utility's smart meter conversion takes place. As Tony Gentile puts it…
The system is totally flexible. Utilities can install it as part of a smart meter program, integrators can install it, or consumers can get it later. Residential energy management has a high-growth potential, as energy demand in the US is expected to double by 2050 from its current rate.
Gentile also believes that down the road homeowners will not want a dedicated display just for energy usage, and that will lead to incorporating energy usage into fully integrated systems. Lighting control and shade control will soon be incorporated into the system, which will be likely made available at the end of Q1.
Don Rickey, senior vice president, Energy Business, Schneider Electric says…
The residential electric market accounts for approximately 21 percent of total electric usage globally. There is a huge need for active energy management by consumers, and it does not have to be a complex process.
Don Rickey adds…
With this system, we are addressing the energy needs of multiple stakeholders along the grid – enabling utilities to improve service and providing consumers with the ability to gain greater insight and control of their energy use to improve efficiency, comfort and reliability of energy in the home.
Via: CEPro