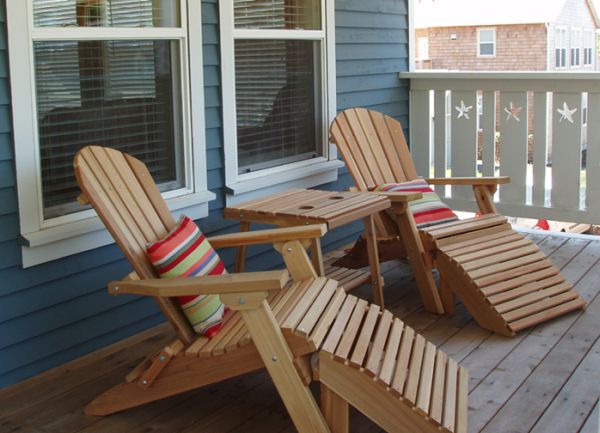 Wood has unsurpassed grace and splendor, which blends perfectly with the natural elements present in the outside area of any house. A great piece of well crafted furniture will instantly become a status symbol and lend the much needed sumptuousness as you relax under the deep blue skies and savor the freshness around. So, it's time you brighten up the outskirts of your house with well crafted wooden furniture and give it the much required loveliness.
Solid teak wood outdoor furniture by Marmol Radziner for Danao Outdoor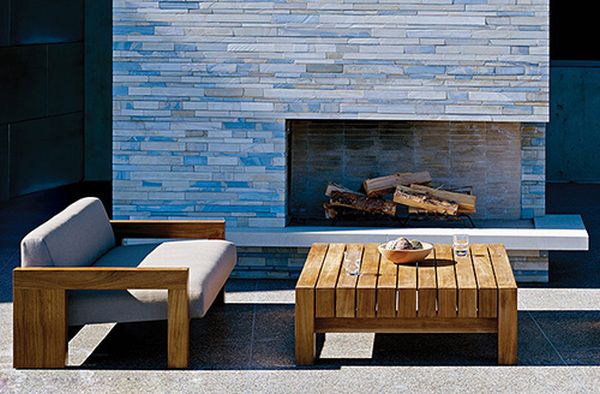 Price: Available on request
Sprinkle the outdoor space with this style coated wooden furniture and never feel like entering the house. Crafted out of solid teak wood, the all weather loungers, tables and chairs will make spending time outdoors filled with fun.
What's unique: The understated style is bound to give a tough competition to the furniture items placed indoors. Providing the much needed comfort are upholstered cushions, which will also add a dash of color.
Las Vegas poly-wood outdoor furniture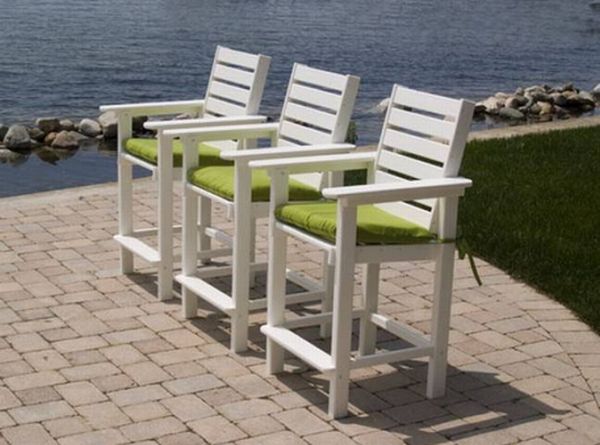 Price: Available on request
Get the feel of staying near a beach in your life with the Las Vegas poly-wood outdoor furniture, which is truly handsome! The crisp white finish of the chair gives a breezy feel, transforming the outdoor area for self pleasure.
What's unique: The garden chair comes smothered in a serene appeal and will magically transform the overall charm of the space it is placed in. The water resistant furniture will swap your deck, pool or courtyard into a magical haven with its delicious look.
Acacia wood outdoor bar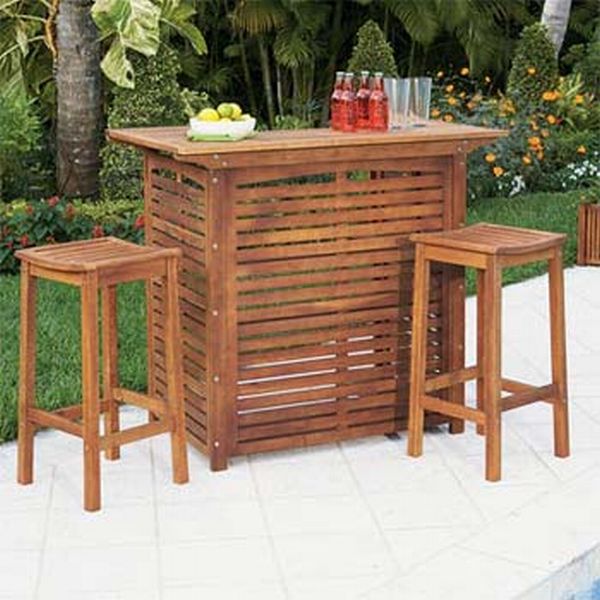 Price: Available on request
Spending time outdoors doesn't mean it has to be uncomfortable or a punishment. Enjoy a drink or two with your friends with the Acacia wood outdoor bar giving you perfect company. The simple forms will steal the spotlight and will be a perfect addition to the well organized summer barbeque.
What's unique: The slated design of the table will add perfect elegance to the outside surroundings. It carries forth a very simple and refreshing design, which is nothing but tasteful.
Contemporary natural wood outdoor furniture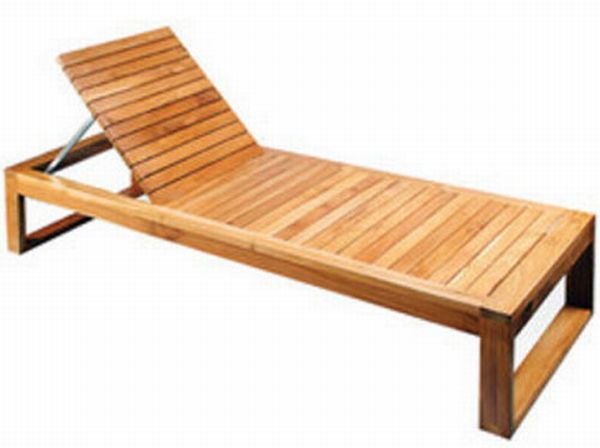 Price: Available on request
If your style is modern then the natural wood outdoor furniture is just for you. Ornament the outside of your house with eye appealing chairs, side tables, lounge, bench and stool that will give a savory touch to the space at hand.
What's unique: All the contemporary furniture pieces have been crafted sustainable or reclaimed teak and have been fashioned in a way which will make them last for years to come.
Cedar outdoor furniture

Price: Available on request
Add a vintage look to the patio, terrace or garden, converting it into a pleasurable part of your house with the cedar outdoor furniture. Smart and beautifully carved, they are durable and pretty affordable. The soft natural tones will win hearts with its easy to maintain streak and weathered finish.
What's unique: The sculptural wooden furniture has a sophisticated and elegant charm. They will add an adorable glamour outdoors that will never fall down on the comfort graph even for a second.
Outdoor European furniture in rustic and primitive styles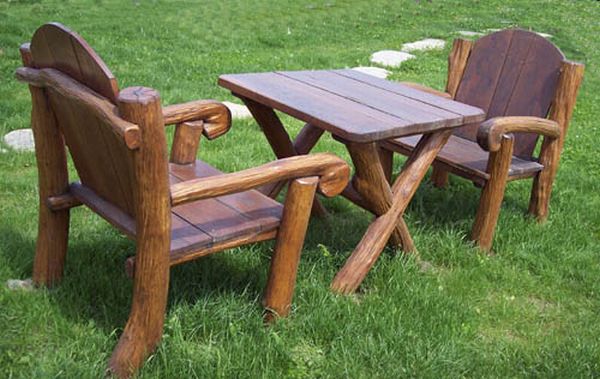 Price: Available on request
If you have ever wanted something stylish for your garden or terrace, then weather resistant outdoor European furniture in rustic and primitive styles are bound to leave you wheezing. These come tagged with a sensuous appeal and the timeless style will give the much needed classiness to the space they consume.
What's unique: From coffee tables to stool sets, gazebos to benches, everything oozes eternal style. The wondrous outdoor furniture items will woo everyone, while adding a tasteful zing to the garden area.
Flexible wood chairs by Pooz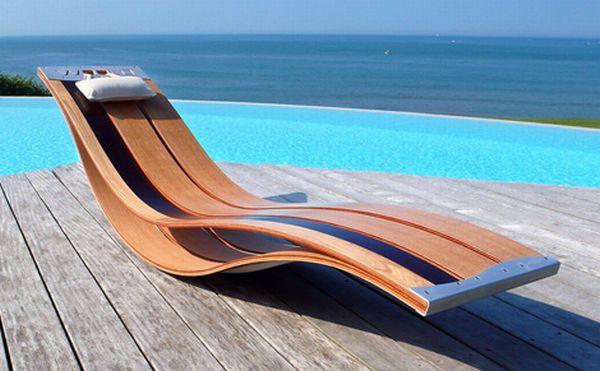 Price: Available on request
The awesome lounge chair by Pooz will fetch unending appreciations not only for its comfort, but also the undulating form it has been given. The versatile chair has been crafted out of wood, with its shape making the piece of furniture the hotspot for your house.
What's unique: The lounge chair looks nothing less than a piece of art, which will be just perfect to be placed at the poolside, garden and even on the deck. It looks like an oversized cradle and will help you soothe those frazzled nerves after a hard day.
Modern outdoor wood bench by B&B Italia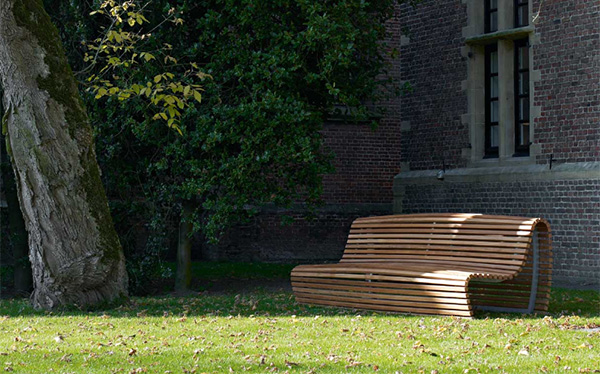 Price: Available on request
The sparkle from this fine wood bench will leave you wanting for more. The curvy creation is absolutely fantabulous and comes draped in modernism. Teak laths have been aesthetically placed over an aluminum frame, which makes the design strong and durable.
What's unique: The bench will lead you to a journey filled with pure passion and ecstasy. The bench by B&B Italia incorporates a totally engaging design under its folds, garnishing the outside spaces with sheer splendor.
Equinox solid wood furniture collection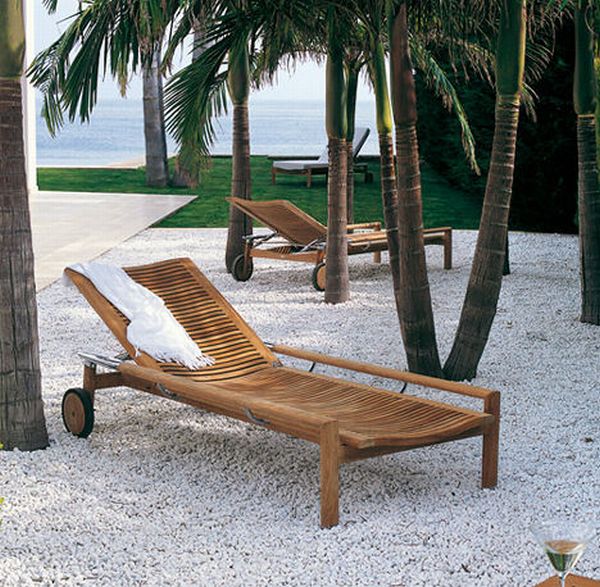 Price: Available on request
Enjoy the fresh air in the morning, afternoon or evening by relaxing in a fun way on the smart and beautifully crafted Equinox solid wood furniture collection. The collection comes enriched in horizontal grooves that wrap the overall designing in a gripping way.
What's unique: The designs are quite sturdy and the natural appeal will rev up the whole outdoor decor in a wink.
Unique and unusual wooden garden swing design outdoor furniture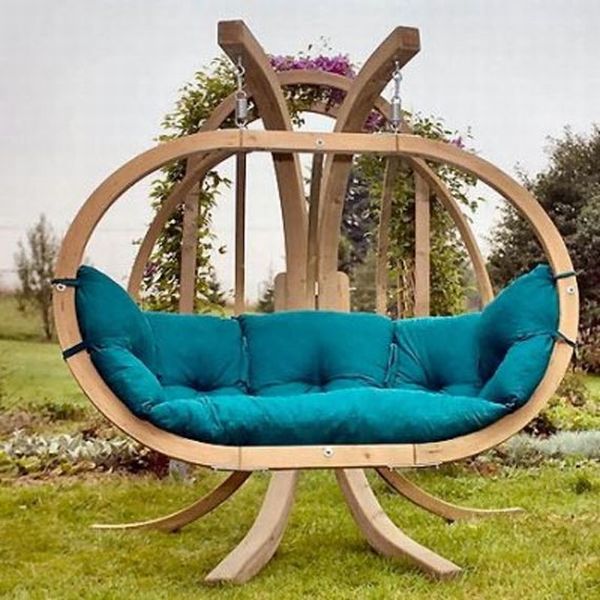 Price: Available on request
Unwind in a truly divine way and give your garden an exuberant charm with this sumptuous garden swing. Enjoy the fresh breeze and become a child again as you sit atop the cushioned surface of the uniquely designed wooden garden swing.
What's unique: The charming outdoor swing will redefine the way you live and spruce up the garden area. Sit all cozy with your loved ones and weave everlasting memories while swinging back and forth.