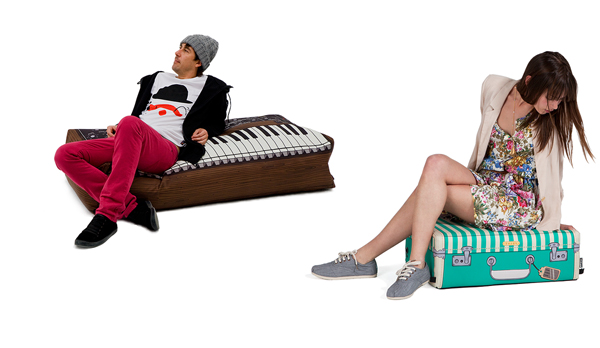 Gone are the days when a seat was supposed to have wood and polish and an elegant fiber-filled cushion. Modern seating is all about fun, surprise and interaction, and these delightful beanbags that look nothing like the traditional floor seat, check all the correct boxes on the fun front.
Manufactured and retailed by Spanish company Woouf, these amazingly original beanbags reintroduce the idea of a beanbag being a fun seat first and foremost, an element that furniture couturiers robbed us of when they tried to snob up the silly seat for upscale establishments with boring leather-clad beanies.
The Woouf Beanbag collection features shapes from everyday objects with their most popular series being inspired by music and food. Variants include beanbags shaped like birds, salami, sweets, a burger, a piano and even a camera.
The beanbags may not be as shapeless as your regular old-fashioned floories but they still come in 100% polyester covering which is an ultra-resistant technical fabric that makes them perfect for both children and adults alike. Each beanbag has a removable cover with a zipper that allows them to be machine washed when they get dirty. Filled with high-density foam, the beanbags are shape-retaining and super comfortable to lounge around in. Available in vibrant colors and interesting patterns, the bean bags retail at $190-and-up.
Via: Beautiful Life