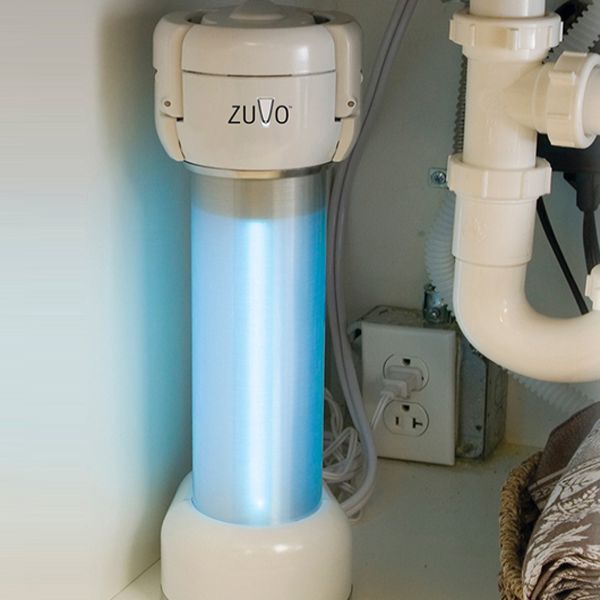 Pictured here is the Zuvo Water Filtration System that ensures to provide you with the clean water at an affordable price. The 150 Zuvo Water Filtration System is a new point-of-use water treatment system that is cost effective when compared to the pitcher filters and bottled water. In the quest to make it easier for the users to cut down the waste, expense, and environmental impact of bottled water with a compact, chemical-free water system is installed above-counter to a standard threaded faucet or under-counter connected directly to a Zuvo Beverage Faucet.

The system is not restricted to a container or pitcher, which makes it an ideal pick for the families looking for clean, safe water in fuss-free manner. The estimated cost of drinking Zuvo water is as little as $.06 per gallon, compared to nearly $.20 per gallon for pitcher-filtered water and over $1 per gallon for bottled water.
The New Zuvo 150 exposes tap water to ultraviolet light and ozone to create a harmful environment for water-borne bacteria and microorganisms, trapping particles and dissolved solids in a carbon filter thereby providing the filtered water to a final UV pass before it leaves the unit.
The Zuvo Water Filtration System follows Five-Step Water Filtration before it finally provides you with the bacteria free healthy water. Ozonation, UV Light Exposure, Photo-Oxidation, Activated Carbon Filtration, Dual-Pass UV are five steps it follows ensuring water perfectly fit for drinking. The New Zuvo 150 Water Filtration System is available at an MSRP of $150 from retailers including Amazon, Frontgate, Your Other Warehouse, Brookstone and Ferguson.
Via: Appliancist