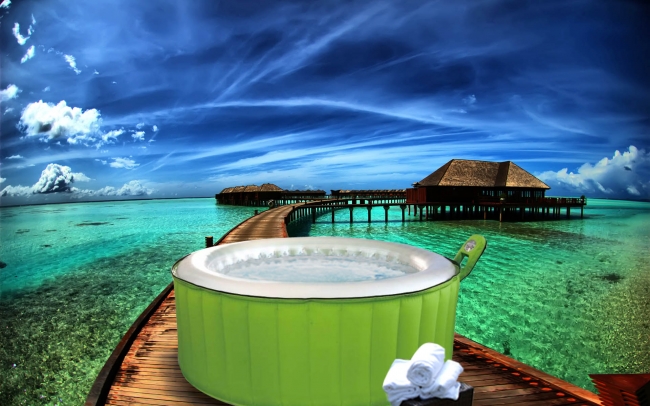 You might have usually heard about hot bathtubs or spa bathtubs fixed in a bathroom. There is much more to bathtubs though, depends on what you choose for yourself. Did you know that you can carry your bath tub with you? Yes! These portable hot bathtubs can be carried and installed anywhere you want to install them. Which means you can fit it in your garden on the weekends. You can carry these portable hot bath tubs with you on a vacation. You wouldn't have to spend on a spa with these portable tubs to relax into. There are a few types of tubs listed in this article, just have a look at them to choose the right one for yourself:
Portable hot spa bathtub for two

This bath tub is an affordable fantasy for a couple. This is the best way to spend time with your loved one in the bathroom or the backyard. The best things about these tubs are that you can choose the place, which you would prefer to relax in.
Strong spas portable hot bathtub for six

This portable hot bathtub contains strong spas and has enough space to accommodate 6 people. You can enjoy the anywhere experience of this tub with your friends or family.
Portable and inflatable bubble spa

Spa is anyways relaxing. This portable bubbles hot spa bathtub relaxes your mind and body both to give you a soothing experience.
Aero hot tub Jacuzzi for four

This Jacuzzi is for 4 people. Two couples can accommodate into it and enjoy an amazing time relaxing. This Jacuzzi is inflatable and portable. You can decide the place to party with your loved ones.
Aero spa hot bath tub

This bathtub is a single piece and can be blown with the help of an electric pump. It is portable and compatible. It can accommodate 4 people. Both kids and adults can have fun in this portable spa hot bath tub.
Soft spa with super tub 200

This bathtub is compact and can accommodate about 3 to 4 people. It is made up of soft and durable material. This portable bath tub is very famous for its excitement and stillness of hydrotherapy. This is the best way of relaxing and preparing yourself for the hectic next week to come.
Spa X200 portable hot bathtubs

This is an amazing digital color changing hot bath tub to accommodate 2 people. It has a capacity to store 235 gallons of water. This portable hot bathtub also has a self controlled hydrotherapy jets weight.
Portable Spa 2Go

This whirlpool spa is designed to distress you and let you enjoy the amazing experience of a spa. This is a portable and inflammable spa that can fit in two adults. It's amazing bubbles experience calm down your mind and body to give you complete spa satisfaction.
Portable hot tub spa in a box

This portable hot bathtub has a box like set up. It is inexpensive and it takes just 20 minutes to install this hot bath tub. By just plugging into any household outlet you can enjoy an amazing spa experience anytime and anywhere. This bathtub has a capacity of accommodating 5 people. You can enjoy a great spa experience with your friends.
Inflatable portable hot bathtubs with spa

You can soak yourself in this amazing experience of inflatable bubble spa. It is an inexpensive and durable experience. Because this is a portable bathtub and can be carried anywhere you wish to take it with you.
Portable Broadway Round Bathtub
Very few bathtubs give you the option to enjoy and have a rejuvenating bath both indoors as well as outdoors. This unique Broadway Round bathtub, both in design and utility, gives you the freedom to savor it both ways. Yes, you can either place it in the garden or inside and soak in your body for a revitalizing bath. Its special feature, Whirlpool Air Water, with 25 jets of water and air massage gives you that perfect refreshing bliss. With dimensions: 1780 x 1000 mm, you just need not worry about overflow and leakage. It also gives you the freedom to add a few optional features to your bathtub, which includes skirt, covers and stairs. This is really an innovative bathtub, which lets you relish your bath whenever and wherever you like!