Elegant designer bathrooms not only create a refreshing and energizing experience in the mornings but also let us relax and unwind in the evenings. Here, we are going to discuss the most luxurious designer bathrooms which are truly a piece of beauty and which will appeal to your senses. You will have a spectacular experience when every element in your designer bathroom will give you ultimate comfort for mind and body. Let's explore each one of these.
Invisible bathroom by Matteo Thun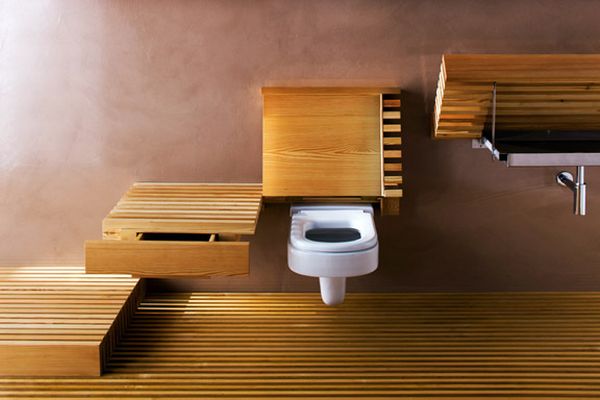 This unique and extraordinary 'Invisible bathroom' is designed by Italian designer Matteo Thun. As the name implies, all the elements used in the bathroom remain invisible when it is not in use. The collection is made of larch wood of different shapes and sizes which almost vanishes and convert in some sort of geometric units that serve as shelves. This larch wood weighs very light and is water-resistant. The collection includes WC, transparent basin and shower bath. This is truly an out-of-box thought and a superb innovation.
Ultra-chic bathroom by Clive Wilkinson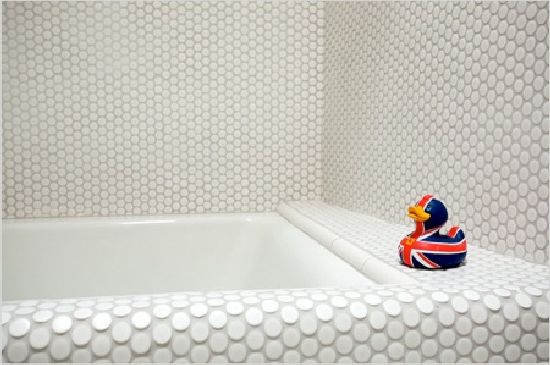 Ultra-chic bathroom which is truly an example of beauty is designed by designer Clive Wilkinson. A clean, nice, stylish bathroom and surprisingly it's inexpensive. Bathtub is designed in a very unique way that has reasonably priced penny round tiles from DAL which just give the awesome feeling. This unique masterpiece is truly splendid and a magnificent piece of beauty!
Brilliant bathroom designs by Kaldewei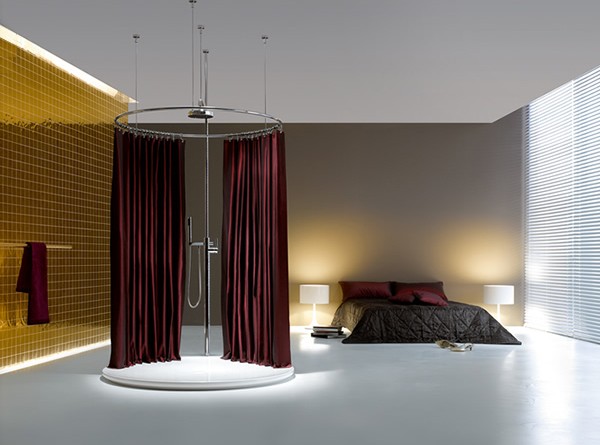 The diverse yet lavish open space bathroom design ideas from Kaldewei are quite spectacular. As shown in the pic, the alluring shower covered with red drapes is in the center of the bedroom. The shower has a circular base which looks stunning and separates the area from the rest giving a touch of privacy. Other than the shower, the focus is given on the whirlpool bathtub having built-in LED lights giving a person calming and relaxing effect. Nothing flashy about the bathtub but it just has a stone finish which fits into the wall really well giving a decent look. A nice brilliant design creating a futuristic atmosphere!
Modular Bathroom Design by Althea Ceramica

This versatile modular bathroom by Althea Ceramica is set apart by cubic shape elements combining white and other colors. What's unique about this design is that elements used in the bathroom can be combined with each other providing a new functionality or simply adjusting the appearance to gel with our desires. What an interesting combination effect! This design and its elements let us convert the sink unit into a vanity; wall mounted toilet to floor mounted one and that too effortlessly. This outstanding design let us customize our bathroom the way we want to by simply switching the things.
Bathroom Design from Italy House Design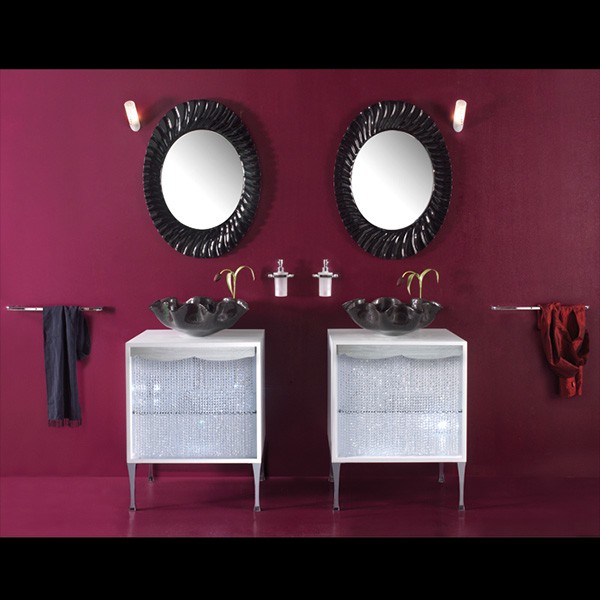 The bathroom designs from Italy House Design are extremely incredible and eye-catching. The stylish and well-designed mirrors with black and gold frames are truly a piece of eye. The rich maroon color of walls and floors and white color of accessories gives a stunning look to the bathroom. The luxurious and elegant stand-alone vanities and glass made basin adds to the beauty giving a royal look. The choice of classy gold and chrome colors in soap dispensers, towel rails and shelves make the overall look of the bathroom gorgeous and sophisticated.
The "Real" Flaming Lips' Bathroom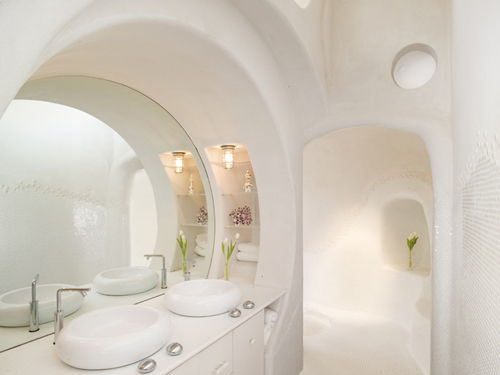 So, here's one more stylish bathroom to the list. This unbelievable futuristic "Real" Flaming Lips' Bathroom is designed by FitzSimmons Architects. In description of the bathroom, Wayne Coyne of Flaming lips says, "You are entering into the drug damaged, artist element of our home". It's a pretty ultramodern design which inspires to create more incredible and cool bathroom designs in future. This innovative design is truly a masterpiece which combines art, architectural talent and great imagination, creating a very relaxing and calming atmosphere.
Luxury bathroom collection by Branchetti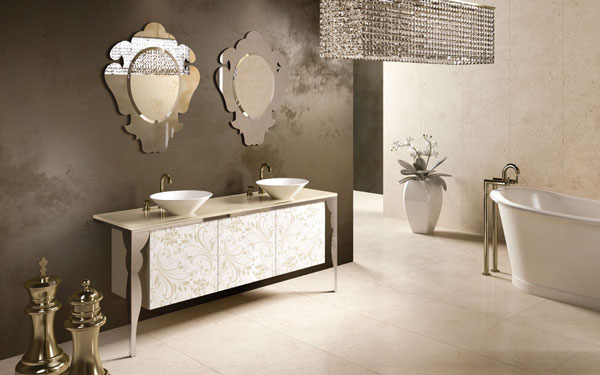 The luxurious and designer bathroom collection by Italian manufacturer Branchetti oozes trendy and glamorous Italian-style. From the elegant mirror to the basin and other accessories with contemporary style makes the overall design totally flexible which can be customized for our specific needs. Each piece or element can be designed in the modular way with an option of choosing more than 120 colors for the accessories. Use of chandeliers, glossy ceramic walls or floors, contrast colors for elements, is perfect for modern and luxurious bathroom design.
Modern Bathroom Interiors by Blanca Sanchez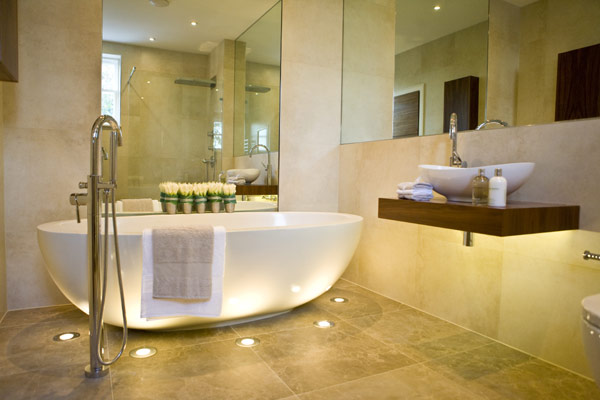 A series of interesting modern and comfortable bathroom designs by Blanca Sanchez provides the best design ideas for remodeling the whole bathroom. It mainly focuses on using the timeless materials and skilled workers to create a true masterpiece. The design includes the mirror glass covering large portion of the wall, finest surface and a solid stone detailing. With small pebbles covered in resin and crocodile skin effect in the bathroom gives a mesmerizing experience.
The Bathroom as a space for living by Schaerlig Design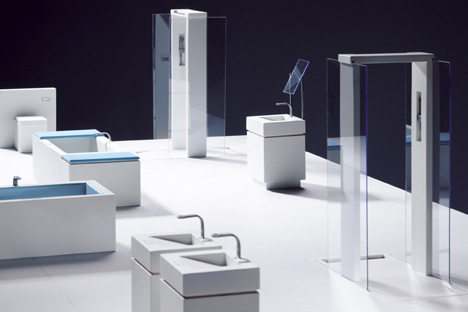 This bathroom was designed keeping in view the change that 20th century has brought to us in terms of designing our living space. Earlier, bathing areas were not given any prominence in the house but today it is highly valued. Keeping in mind the privacy required for different activities in the bathroom, this connected bathroom has four zones – bathtub, sink with mirror, shower and toilet. Each of the elements in four zones is connected with the connecting elements giving it a modern and futuristic look.
Bathroom Paradise by Renato Gschwend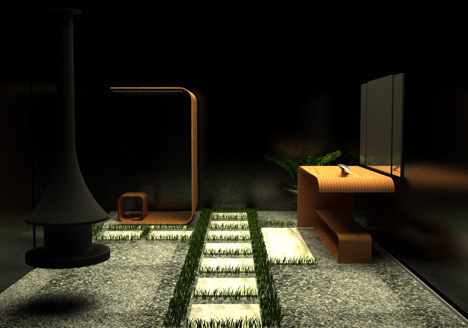 Last but not the least is the 'Bathroom Paradise' designed by Renato Gschwend. Concept of interior and exterior of this bathroom is really superb and mind-blowing. The interior concept is also called the "Peaceful Clarity Bathroom". The 'C' shown in the picture is actually the shower place which has got the seat too. The entire floor is covered with small pebbles which acts as a cover to the drain and also provides a soothing and naturalistic walking experience. The sink faucet functions like a miniature shower. The black thing shown in the pic is a fireplace and there's also a bathroom TV for entertainment which is an add-on to the place. It's all about giving a feel of natural atmosphere in our own private space!
All these 10 most beautiful and amazing bathroom designs by brilliant designers are a rare piece of beauty and truly exceptional. No wonder people will spend most of their time relaxing in these luxurious and creative bathrooms!