When it comes to making a cool statement through your kitchen, the potholders and mitts find their special place. They make the kitchen look cool and trendy simultaneously saving you from burning your hands during cooking and handling. These mitts and potholders may sound unimportant but they are an integral part of your kitchen. You need them while cooking or while handling the kitchen utensils. These are made of special heat resistant material to prevent your hands from burn injuries. However, most of the time people make their own potholders and mitts. Not to undermine the people's capability, the homemade mitts and potholders often lack the coolness factor apart from their regular safety features. Therefore, you should buy them for your own comfort and safety, if not making the kitchen look cool. Here is a list of 10 such mitts and potholders to make your kitchen work easy and cool.
1. Magnetic oven mitt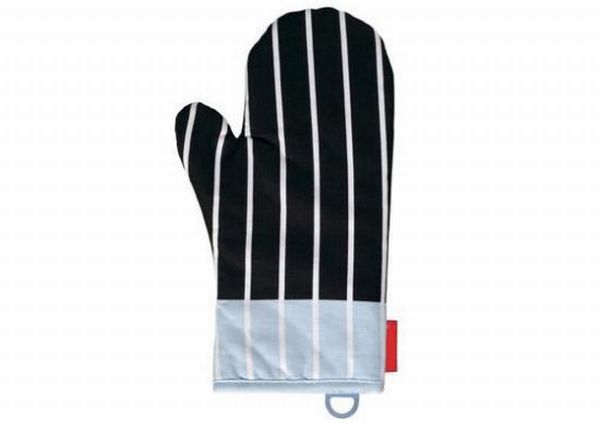 These oven mitts are handy in their own way. They look like the regular kitchen mitts but unlike the regular ones, they always stay on their hooks. The magnetic tabs attached to the mitts have the advantage that they can be slapped on the refrigerator or oven. They stick in that position and do not fall off. They are made of cotton and can be washed in your machine without any damage. They come in multiple colors with contrasting stripes at a cheap price of $ 13.95 each. They are extremely efficient in terms of heat resistance, but the added advantage of magnetic sticking makes the kitchen clutter-free.
2. Pac-Man HotHead Potholder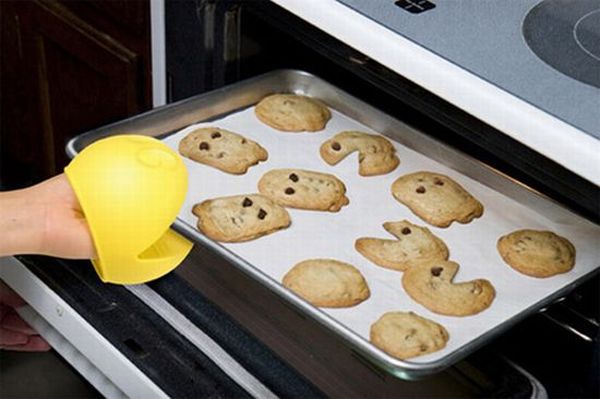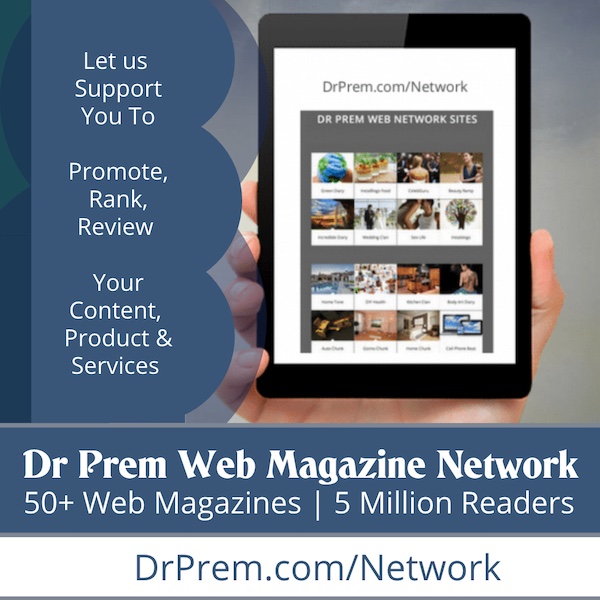 If you do not love this one, ask your kids about this Pac-Man potholders. The design is very handy and extremely efficient. The vibrant colors make it favorite among the kids. There are some urban legends that the design traces back its look to early history during the start of civilization and Egyptian culture. However, even if you chuck out the stories, you can see the handiness of the potholder. The gloves are made of 100 percent silicone rubber and can withstand a temperature up to 450 Fahrenheit. The design looks like the old handmade puppet with mimicking representation of Pac-Man. The rubber is food safe, so the chances of food contamination comes to bare minimum. It can be bought online for under $ 10.
3. Frog & Dog Hot heads oven mitts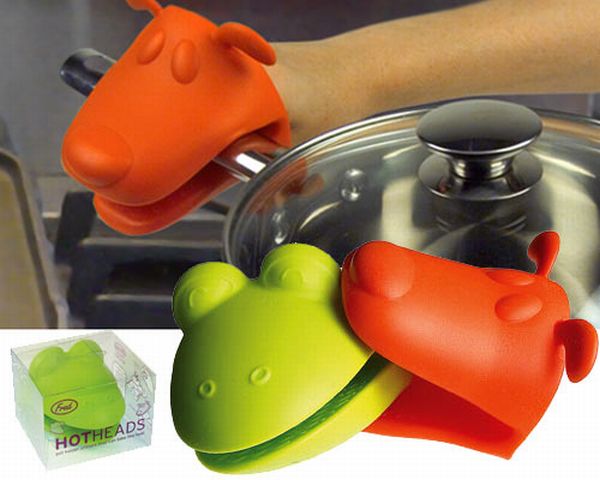 These insulating mitts are cute looking animal mouths with a dimension of 4.5" x 3.5". They are flexible, strong and look extremely charming. Apart from their looks, they are actually quite safe and are made of 100 percent pure silicone. They can withstand any temperature from -50 to 450 Fahrenheit. These cool looking animal mouths are popular among kids and add a cute factor to your kitchen. They can be purchased from the local mart for less than $ 10.
4. Apron+Built-In oven mitts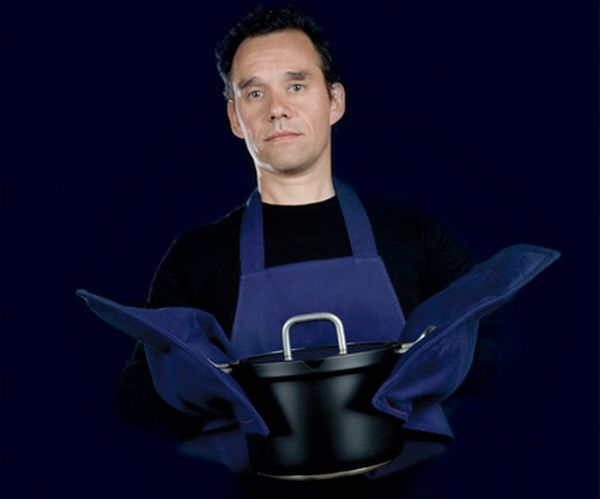 If you want to bring in the Master chef feel to your kitchen, you can buy the functional kitchen helper Apron with in-built oven Mitts. It is made of cotton with high durability. The padded mitt prevents heat damage. It is attached to the apron. The design is extremely efficient. It comes in one free size for every user and can be in your kitchen in less than 48 hours for a price of $ 25. You have options of buying different colors to match your kitchen décor or your personal liking.
5. Trudeau Set of 2 Silicone Pinch Grips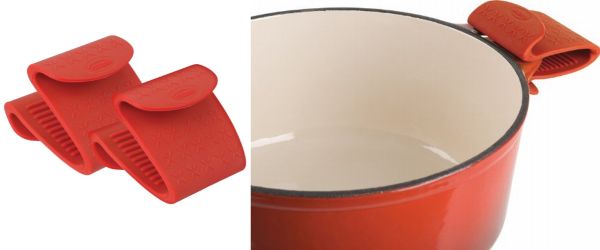 The Trudeau has a long history of pleasing homemakers with their efficient designing. These pinch grips not only look cool but also prevent you from heat damage. You can lift heavy weights without thinking of slipping due to their wonderful grip. They are made of 100 percent silicone that raises their heat resistance close to 500 Fahrenheit. Silicone is food safe and can be easily washed even in your dishwasher. They come in a set of two for each hand with a warranty of five years. They have specifically designed fingers and thumb guard. These amazing grips can be bought for less than $ 10 a pair.
6. Fred Banana handle Gripper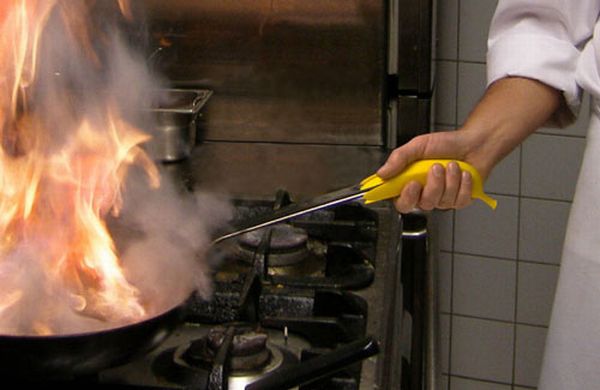 If you have problems with your regular kitchen appliances in the sense that they are not heat resistant as the manufacturers claimed, then you can always buy these grippers. The banana handle grippers got their name because of their color and peeling action. You just have to slide the yellow peel on to the handles and you are safe from any kind of thermal damage. It is made of silicone that protects you up to a temperature 450 Fahrenheit. You can buy them online at a price of less than $ 10.
7. 8-Bit Oven Mitt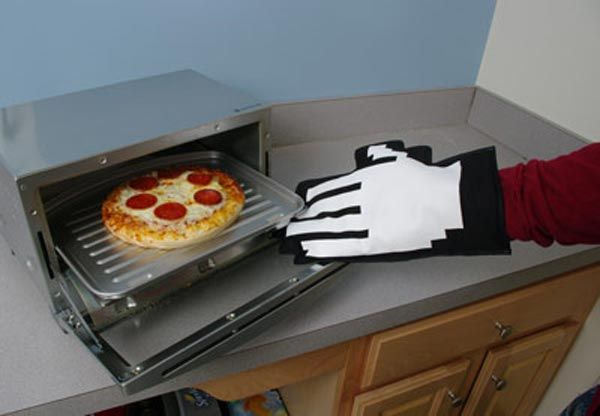 If you are into technology and antique designs, then these 8-bit oven mitts will certainly claim your attention. The mitts are made of heat resistant material and are decorated with old school 0.8 pixel pictures per square inch. It mimics the 8 bit sprite to have the same effect that those two dimensional cartoons had in your childhood. A bit overpriced, the mitts can be bought for $ 25 each. Price usually doesn't matter if you have liking for old fashion things.
8. Pot ticker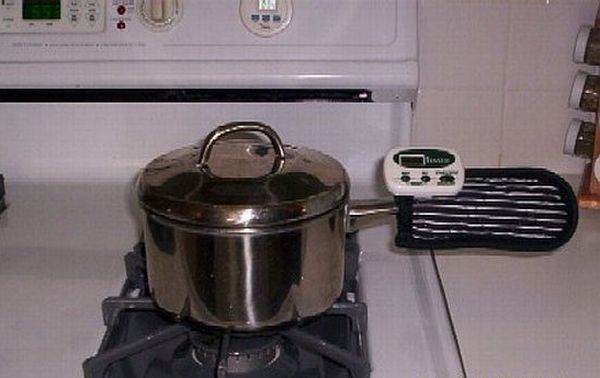 The pot ticker does not fall under the category of object that protects your hands, but it definitely adds protection to your food. The timer clock can be fixed on handle of your cooking utensil. It lets you cook the food for the exact time specified. The ticker definitely makes your kitchen a trendy and techno place. With these tickers, you will never lose the track of time.
9. Pot pourri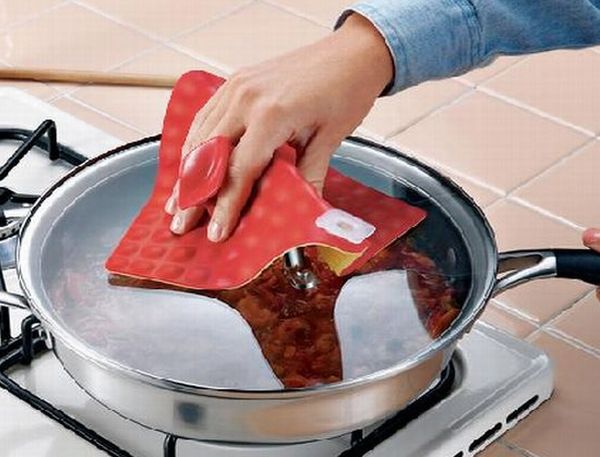 The pot Pourri has an excellent design with finger knobs for firmer grip. It is made of heat resistant material and is easily washable. It is made of double-layered heat resistant silicone material, which raises its heat protection up to 600 Fahrenheit. The design has gripping rubber to give extra firm grip. These pot pourris come in vibrant colors. They can be bought for less than $ 10 each.
10. Cheff Oven mitt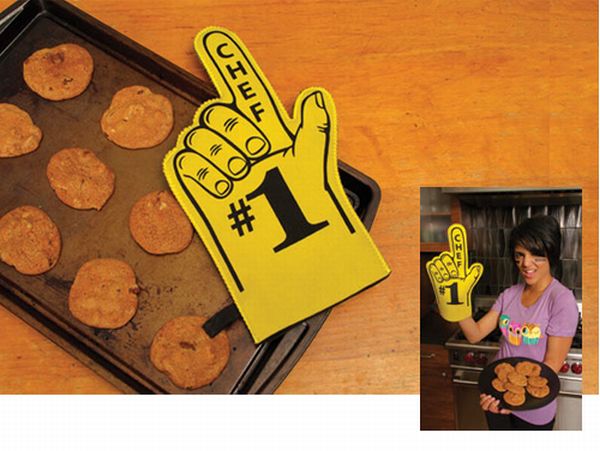 The Chef oven mitts are old-fashioned design, that have been used by Chef's for centuries. These are extremely handy with high thermal protection. They prevent heat access up to a temperature of 500 Fahrenheit. It has a dimension of 7.5" x 13" and can be bought for less than $ 10. These mitts can be used even for hot baking tray handling.