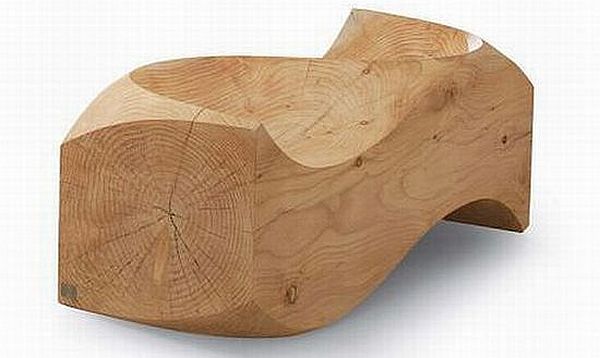 Product Usefulness
Traditionally applied to a small sofa or couch that can comfortably seat only a maximum of two people at a given time, the loveseat is one of the most widely used statement pieces in modern décor. The classic seat came into being in the 1700 and was widely used in aristocratic French homes. The comfy two-seater possibly originated to accommodate the excessively oversized dresses women in those times though with the passing of time, people probably started to notice the leftover space in the seats and started using as a couch for two. The loveseat gained popularity during the Victorian age when men and women were first allowed to sit in close proximity though still not touching distance. The loveseat allowed intimate conversations without breaking the norm of social decency and prudence. The loveseat made its way into lower class homes when industrial revolution hit the developed world and the masses started craving a better standard of living. The modern love seat is a staple for newly-independent, fresh into a new city small apartment dweller that doesn't have the resources or the space to fit in a larger couch. Though most people have their list of favorites, this list of top ten cozy loveseats from around the planet should help you find one that best suits your personality.
1. Classy Abaco Leather Loveseat
Price: $3,795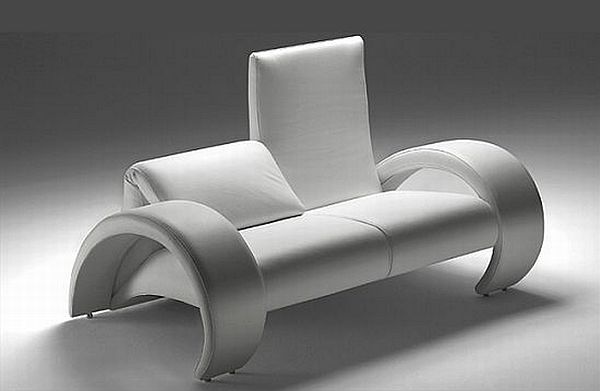 A representation of elegance and comfort, the chic and functional Abaco Designer Leather Loveseat features a full aniline leather construction with a relaxing full-backrest as well as a fluffy supporting system for the lower back. Individually adjustable or fixed headrests allow users to customize the seat to their comfort while the aesthetic design of the Abaco Leather Loveseat Italian finesse lends a level of classiness to modern décor. Contemporary luxury meets traditional craftsmanship to give the sleek designer leather loveseat fine Italian curvaceous motifs. A functional and trendy seating arrangement, the Classy Abaco Leather Loveseat can accommodate up to two people in comfort and style and the same contemporary theme and comfort can be replicated in a set when the couch is not being used as a stand-alone statement piece.
USP
Available in 14 genuine Italian top grain leather finishes, the Abaco Leather Loveseat is made to order so it can fit in perfectly with the space you have instead of being the other way around. Adjustable headrests can be either fixed or individually moved to give each sitter optimum comfort.
Pros
With cylindrical chrome metal feet, the metal frame of the Solid Cedar Loveseat is shaped with steel sections.
Wrapped in layers of acrylic fiber, the seats and backs of the Abaco Leather Loveseat is filled with polyurethane padding to provide optimum comfort.
Entirely hand made in Italy, the Solid Cedar Loveseat represents contemporary Italian design and comes wrapped in genuine Italian aniline leather.
2. The Alcove Series sofa
Price: $7,710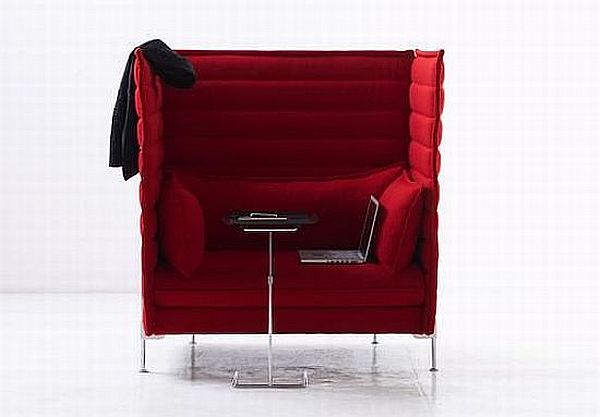 Much more than just a piece of furniture, the Alcove Highback Sofa represents pleasure and exquisiteness with its private and embalmed setting. Created by Ronan & Erwan Bouroullec, the alcove is inspired by the Arabic term al-qubba which stands for a space carved within a wall or a secluded space in a room that is padded or fitted with upholstery and is used as a day bed. The Alcove Highback Sofa mimics the function of the al-qubba to provide users with a sense of solitude and retreat and creating an oasis even in the middle of spacious living schemes.
USP
Created to accommodate plush ambience and acoustics, the Alcove Highback Sofa allows users to sink into a dome of seclusion and when two units of this couch are placed facing each other, they carve out a private space for people to engage in intimate conversations with. High and flexible side and back panels and exceptionally soft cushions of the Alcove Highback Sofa function as a visual screen and offer outstanding acoustic qualities to accommodate conversations.
Pros
The interior surface area of the Alcove Highback Sofa is maximized by the use of extremely thin elements for the load-bearing structure.
The versatile loveseat can be used in any place that requires a space for people to have intimate conversations.
Luxurious and comfortable, the Alcove Highback Sofa grapples you with its aura of charm.
3. Futaba
Price: $4,750

Convertible and multifunctional, the Futaba is a comfortable seating system and a coffee table combined into one single convertible piece of furniture. Created by Brooklyn-based designer Akemi Tanaka, the Futaba is wonderful piece of space saving furniture that comes with a foldable back that features a soft cushion on one side and a hard surface on the other. This allows users to simply fold down the loveseat to double it up as a handy coffee table.
USP
The convertible couch helps users save up on having to shell out big bocks for a wooden coffee table. The Futaba allows users to use it as a coffee table or even as a dining table as need be and users can simply throw floor cushions or use ottoman-style seats to accommodate dinner guests.
Pros
Made in 100% renewable Plyboo wood, the "Futaba" is the prefect example of eco-friendly furniture for the modern apartment.
The Futaba is the perfect bit of modular furniture for apartments cramped for space.
4. Modular Loveseat
Price: Available on request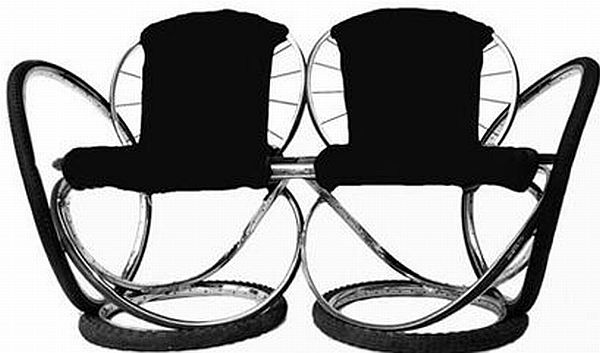 Made entirely out of steel bicycle rims, the Modulus Loveseat may not be the most classically-shaped sofa ever, but it certainly is the one of the most eccentric ever. Created as a tribute to the planet-saving endeavors of recyclers and biker lovers alike, the Modulus Loveseat uses bicycle rims that bent and welded at perfect angles to offer the structure stability and quirkiness.
USP
Constructed of strategically welded steel bicycle rims that are expertly bent to give them the guise of a couch, the Modulus Loveseat is the prefect accent piece for the outdoorsman/outdoorswoman.
Pros
The Modulus Loveseat is also available with an upholstered inner tube.
Custom-created cushions are also bundled up with the Modulus Loveseat and that too in a wide variety of fabrics to allow users to get their couch matched to their décor scheme.
5. The LoveSeat
Price: $2053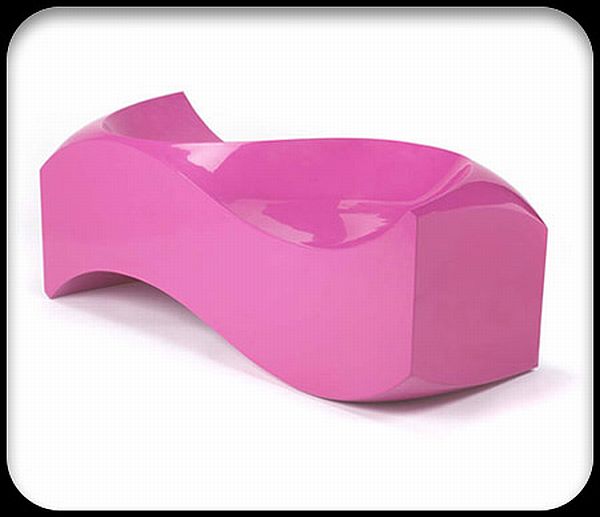 Measuring 50cm tall x 50cm wide x 125cm deep, this Loveseat places each user with their back to their partner creating the most unique interaction environment in the living room. Created by London-based designer Jake Phipps, this particular couples-inspired seating is a less than romantic take on the nature of love which states inadvertently that though couples fight they still like to stay connected at some level.
USP
Formed using cast acrylic resin, the magnificent loveseat is beautifully curvaceous Loveseat looks like a sculptural installation when not in use.
Pros
Available in white, pink and green shades, the LoveSeat is the ultimate symbol of modernist décor.
With seat facing wholly opposing directions, the Loveseat is a whimsical piece if furniture that can be used to brighten up any interior scheme.
6. Loveseat by Jake Phipps
Price: $3,433.95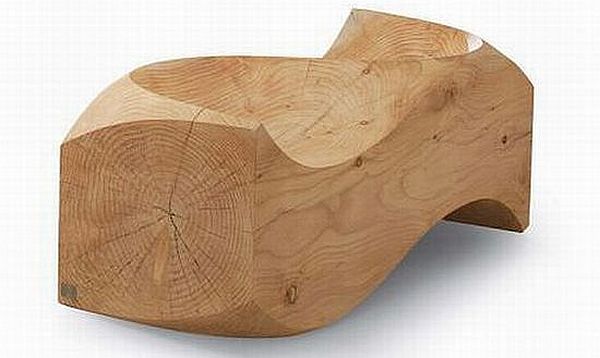 British designer Jake Philips encapsulates fine craftsmanship with a unique symmetry and manipulates the durability of precious Cedar wood to create this Solid Cedar Loveseat that is more wooden sculpture than seating solution any day. With a subtle abstract image portrayed through art, the finesse of the design allows it to display powerful themes to provide it a dramatically modern dimension that makes the Solid Cedar Loveseat fit in with contemporary notions of design as well as within a décor that does away with distracting accompaniments. The grace of its tender proportions makes the furniture functional both outdoors as well as indoors.
USP
Created after careful consideration of the human form, the Solid Cedar Loveseat is a comfortable, functional seat that also doubles up as a vibrant abstract sculpture. With a fantastic rotational symmetry making up its main focal point, the Solid Cedar Loveseat fills any space with life with its grace of line and tenderness.
Pros
The sculptural Solid Cedar Loveseat can be used both indoors as well as outdoors.
Measuring 50cm x 50cm x 125cm, the Solid Cedar Loveseat serves to bring two people closer with use.
With seating options allowing users to face wholly opposing directions, the beautifully curvaceous lines of the Solid Cedar Loveseat make any seating arrangement interesting.
7. Ultra Modern Red Black Leather Loveseat
Price: $595.95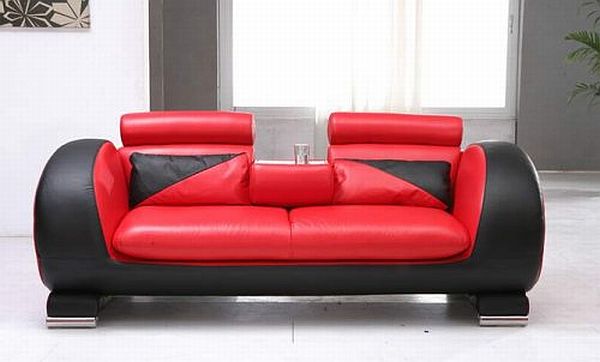 Crafted to deliver an ultra modern look, the Ultra Modern Red Black Leather Loveseat features distinctive two-tone leather upholstery that instantly makes it both trendy as well as chic. Made using bonded leather/leather match, the durable loveseat is constructed using solid hardwood frame and high density foam that retains its shape even after years of usage.
USP
With a bunch of pillows included in the design for added comfort, the Ultra Modern Red Black Leather Loveseat comes with adjustable headrests that can be adjusted individually for each sitter to personalize the sofa for their comfort level.
Pros
The middle section of the sofa that is upright and rectangular converts into a fold down armrest/table so you don't need to pair the Ultra Modern Red Black Leather Loveseat with a table if you are using it on a deck.
The wooden surface of the portable table allows users to place and serve drinks and food or use it to for other recreational activities.
Measuring 64″ in length, the Ultra Modern Red Black Leather Loveseat is 37″wide and 33″height.
8. Lummi Dark Brown Leather High-back Loveseat
Price: $510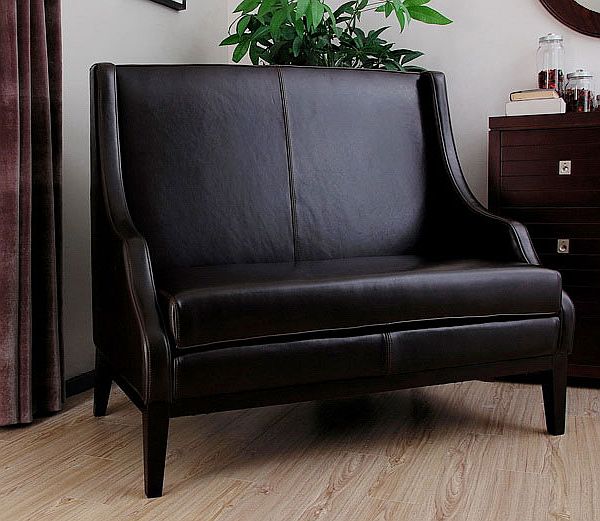 The dark, dingy décor of the turn-of-the-century-themed hotels and homes have always been one of the most alluring and beloved interior schemes of all times. The romance of the dark leather-clad wooden furniture is heightened by the deliberately low-slung and petite dimensions of these furniture pieces that stand out from the over-sized couches that have dominated the interior landscape since the 80s. The Lummi dark brown leather high-back loveseat brings back the magic of a long lost era that has been captured in movies and photographs from the late 1800s and early 1900s.
USP
The Lummi dark brown leather high-back loveseat helps bring sophistication and class to your living room. Wrapped in dyed top grain aniline leather, the frame of the Lummi dark brown leather high-back loveseat is constructed of wood which makes it light and sturdy.
Pros
Made using leather, wood, and foam, the Lummi dark brown leather high-back loveseat fits in perfectly with both Victorian as well as modern decors.
The wood used in the Lummi dark brown leather high-back loveseat has a walnut finish while the leather has a dark brown hue.
Measuring 42 inches high x 48 inches wide x 29 inches deep, the Lummi dark brown leather high-back loveseat comes with a 17.25 inches high seat.
9. Turtle Bay Love Seat
Price: $529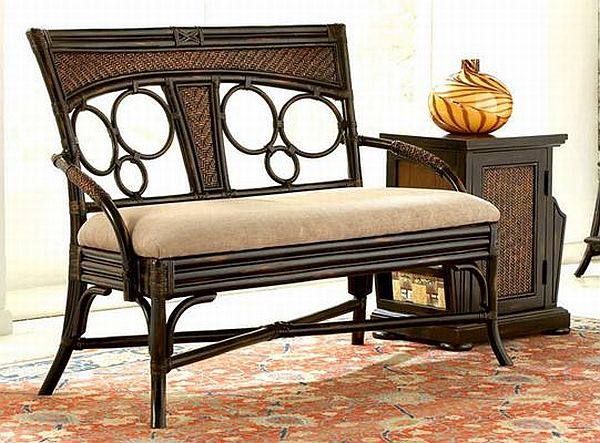 With woven rattan peel wrapped around its arms and back panel, the Turtle Bay Love Seat comes with a rattan core decorative framing and a leather-wrapped bent rattan pole frame. Curved legs and "x" stretcher with brackets supporting the legs, this delicate-looking loveseat actually boasts of a sturdy structure.
USP
The Turtle Bay Love Seat combines wonderfully with other pieces of classic furniture. Fitting in comfortably with classic room house design styles, the dark brown scheme of the Turtle Bay Love Seat also gives it a contemporary look.
Pros
The Turtle Bay Love Seat comes wrapped in woven chenille fabric in beige with woven webbed seat cushion.
Upholstered in 100% polyester, the loveseat is easy to clean and maintain.
Cherry accents highlight the dark brown rub that is hand distressed to give the couch a distinguished look.
10. The Huit Sofa
Price: It's a concept

Created by French designer Emmanuel Laffon, the Huit Sofa is designed to resemble the shape of the number 8. Though the designer doesn't reveal what significance the particular holds for him personally and how does the symbolism associated with it fit in with the philosophy of the couch itself, it still makes for an aesthetically pleasing and extraordinary loveseat for your living room. The modernist design of the loveseat is further highlighted by the use of white and red to showcase different contours of the loveseat and also helps it attain distinct Scandinavian lines.
USP
From the sensual shape to the distinct color scheme, the Huit Sofa is one statement-making piece that would make it a center of attraction in any living room. What's even better is that depending on the angle from which it is viewed, the design of the sofa appears to alter according to a person's perception.
Pros
This curlicued Huit Sofa by Emmanuel Laffon makes seating interesting in any regular living room or hotel lobby.
The winding shape of the loveseat breaks the monotony of the regular-shaped couches.
The shape-shifting loveseat lends an interesting twist to home décor.