Rocking chairs that are designed for kids helps to learn and stimulate visual and hearing skills of your child. It is also designed to serve children with comfort and great enjoyment. These chairs are available in a wide variety and styles to choose from. Some of the most comfortable and well designed Baby Rocking Chairs available for your baby have been listed to help you select the one your kid would love the most.

1. Ben Bear Baby Animal Lullabye Musical Rocking Chair Seat Toy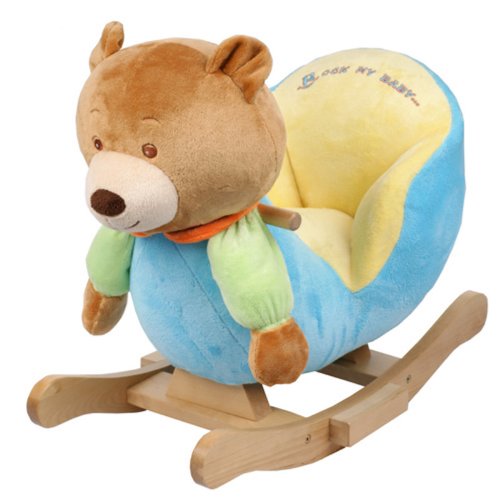 This baby rocking chair is designed interestingly with complete focus on attracting children and providing them with great enjoyment and fun time. The design is brilliant with the ben bear constructed on it. The seat features a soft cushion which brings complete comfort and support for the little kid. The base of the rocking chair is of natural wood and handles have been designed to provide easy grip. The rocking chair can amuse your toddler for hours with bright and colorful combinations. The ben bear rocking chair is a great option. It also plays songs when you press the hand and proves to be a great attraction for little children and toddlers.
USP
The rocking chair has got musical function in it and plays music when you press the hand.
PROS
Soft cushion seats prove to be of great comfort for the kids.
It proves to be a great entertainment for kids.
2. Chicco Mia baby Rocking Bouncer Chairs in Mrs Owl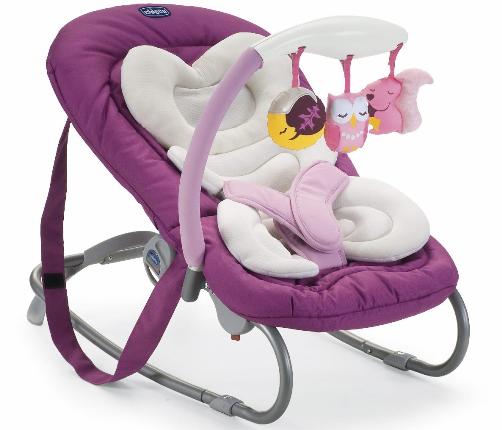 Chicco Mia is an extremely comfortable bouncing chair which your baby would love to be in. The chair is a great for relaxing and having fun.Chicco Mia Rocking Bouncer can be used in 2 forms. The 2 modes are rocking and fixed. The adjustable backrest gives your child the perfect experience to both play and relax. The padded seat provide immense comfort and support your child. The rocking bouncer chair has a fun toy bar which has 3 figures that will keep the kid occupied and entertained.The bouncer can be folded flat and can be carried easily with the carry handles making it easy for transport. The chair is designed to stimulate the visual and hearing skills of kids.
USP
The toy bar featured with three toys is a great entertainment for kids and keeps them busy.
PROS
The chair can be folded easily and is convenient for transport purpose.
3. Doomoo Baby Rocking chairs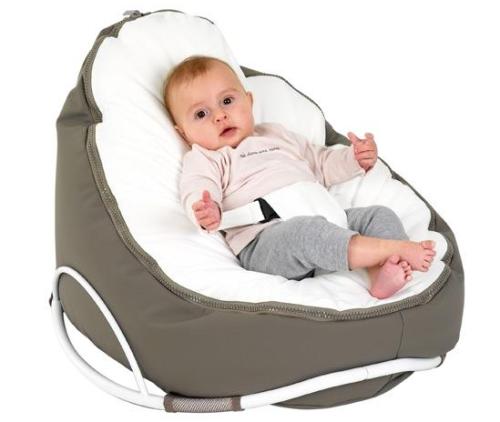 Doomoo Baby Rocker is a supportive baby chair for little babies. It is filled with micro beads which make the chair very soft and comfortable.The rocker is a great entertainment for the kids and provides immense enjoyment. It has been carefully designed to support and protect the tiny baby. The cushion featured in the rocking chair replaced or removed according to your requirement. the rocking chair is available in wide variety of colors to choose from. The chair also has a rocker base which is available separately.
USP
The micro beads filling in the rocking chair makes it soft and comfortable for the baby.
PROS
The cushion of the rocking chair can be easily removed or replaced.
4. Baby Animal Rocking Chairs With Music William Elephant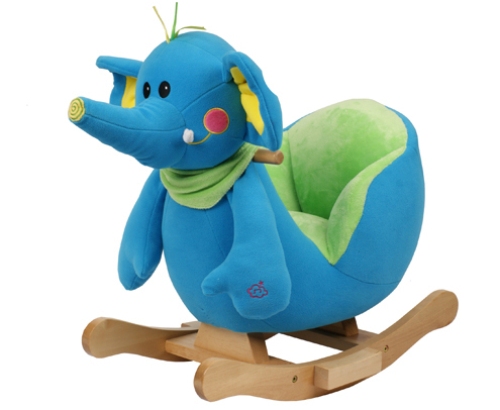 This chair proves to be a colorful addition to your kid's nursery. The seats are luxuriously cushioned and are soft with an attractive animal designed to grab the child's attention. The chair features musical lullaby which keeps the kid amused and engaged for hours. This chair has a natural wooden base and the handles are designed to provide easy grip to the kid. Moreover, the chair is designed to enhance the visual and hearing skills of the kid and the vibrant colors attract the kids attention and can be considered as a good option to gift.
USP
Easy grip handles have been designed to provide a great, trouble free fun time to your kid.
PROS
Vibrant colors have been used to attract kids attention.
The chair can keep the child amused for hours.
5. Elegant Baby Rocking Chairs – White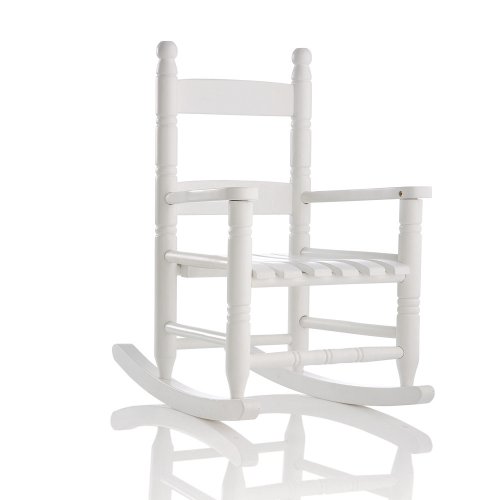 This rocking chair is perfectly sized and designed for little kids. The white color looks elegant and peaceful and is designed to provide comfort. It is extremely suitable for sitting back and reading some picture books and also looks great in the nursery. The chair is made from wood and has been painted with non-toxic paints to make sure it does not cause harm to kids in any form. With little assembly required, the chair can be easily set up. It rocks very smoothly providing ultimate fun experience to your kid.
USP
The use of non toxic paints helps to keep the baby comfortable and adds to elegance
PROS
The chair rocks very smoothly.
It is very easy to assemble.
6. Fisher-Price Infant-To-Toddler Rocker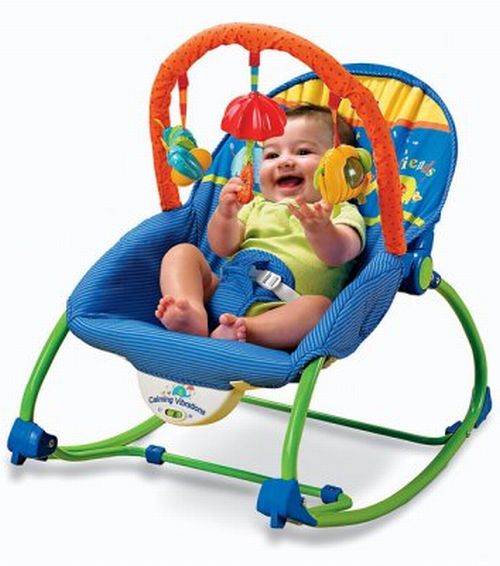 The Infant to Toddler Rocker is designed to pull out the most of your child's potential. The design of the seat helps to ensure that the child is comfortable; it also helps to enhance your child's development and growth. The infant seat features gentle rocking and calming vibrations to provide a relaxing sleep.Hanging toys mounted to the toy bar and music, keep toddlers busy and stimulates their hearing and visual skills. It can be turned into a toddler rocker as well so that your little kid can enjoy on the rocker too. The capacity of the toddler rocker is up to 40 pounds.
USP
For a two-position reclining seat all you have to do is fold the chair.
PROS
It helps in stimulating the child's hearing and visual skills.
Very comfortable.
7. Acapulco baby rocking chairs in steel frame and cord

This chair is the child-size version of the original Acapulco rocking chair which is an ideal and great option for primary grade and pre-school kids. The sleek rocking chair is a Mexican artisanal hand crafted chair; that helps to relax your child. Moreover, it is extremely handy in case you wish to take it along on a weekend trip. It's highly convenient size makes it ideal for travelling purposes. The chair provides comfort with great quality material thanks to it's rode base. The design of this chair is simple, comes with smooth curves and has bright colors.
USP
This sleek rocking chair is handcrafted and proves to be a great option especially for travel purposes.
PROS
The rocking chair is highly suitable for travel purpose.
This chair comes with bright and attractive colors
Baby nursery decorating ideas
Babies are gifts of god and they bring with them immense joy to light up our lives. Everything around them has to be not just good, but perfect. When we talk about baby nursery, we must remember that this room is not like any other room, it houses the baby during his/ her crucial development stage. This is why, you should design and decorate the room with care and love. Admittedly, it is more difficult to decorate a nursery than a living room, but it is no less fun. And if properly executed, this room can become the most beautiful room in the house.
Add lots of colorful pictures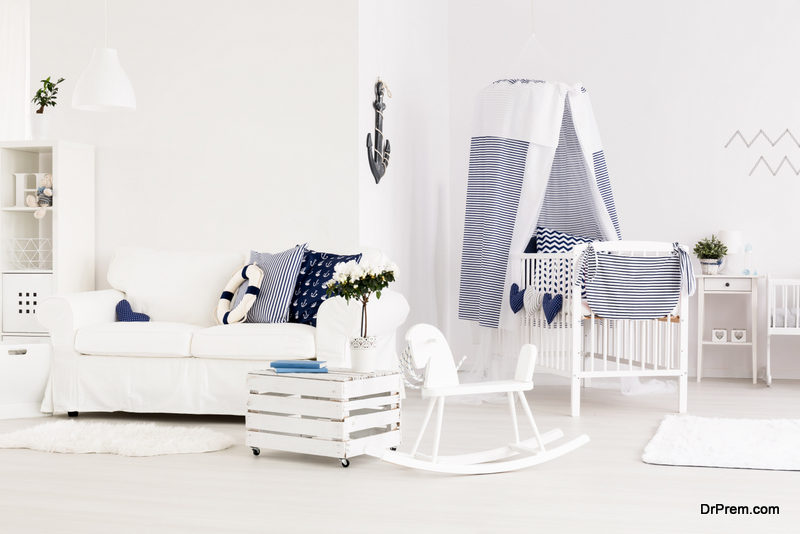 It has been scientifically proven that most of the babies grown up in brighter, more colorful environment; tend to grow with better development and a positive mindset. Putting colors in a nursery does not basically mean painting the walls with bright colors. You can put on wallpapers with funny, cute, colorful cartoon characters like Tweety and Noddy. Also you can put up your favorite art pieces in the room that reflect positivism and love. Make a wall of memory; you can also put up parents' photographs on the walls. Do not forget to use lights properly if you want to lighten the room without hurting the baby's eyes and skin. This is because, they are very sensitive and yet to develop properly. You can put up anything colorful in the room to make it colorful, but you should also make it sure that these things are washable.
Bring in rockers
Having furniture in any room is a logical choice, but rocker is something you should have in a nursery. A rocker is actually a rocking chair that parents use for keeping the child relaxed. In the nursery, the rocker plays a bigger role. It is the only furniture apart from the wardrobe that fits in the environment. An elder needs a rocker to soothe the baby, as it needs to be rocked to be pacified.
Baby Rocking Chairs come in different models and use different concepts, but you should always go for the ones that have little or no mechanical components (to avoid wearing), do not squeak (to achieve a calmer, more silent place) and should provide a smooth rocker movement. If you are skeptical about its fate after the baby has grown up, you can go for the models that can be used as normal chairs in the living room.
Add chocolate cravings to nursery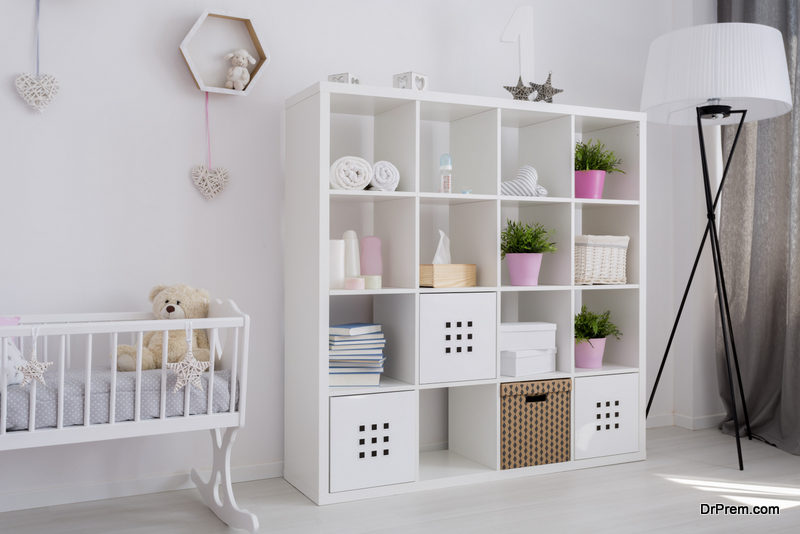 Brown is an unconventional color in any room, let alone a nursery. But, if you choose the correct shade of brown – chocolate, to be exact; you can liven up the baby's room. Chocolate brown is not only dark, it is also a shade that baby perceives the best; and it is not gory like black or blood red. On the contrary, the color brings in sweeter environment in the room, which helps in developing positive framework of the baby's mind. White-and-brown combination works best.
You can also use other chocolate-colored paraphernalia in the room, such as bedsheets and door mats, to liven up the room.
Hang your babies' names or initials
Babies may not be as developed as adults, but they have a sense of personal. You cannot just hang the kids' dresses or keep toys to help the room win baby's love. The best way is to get its name – or at least the initials – etched or painted on the walls. You can hang down pendulum, bearing the baby's initials, over the crib. You can also embroider bed sheets, linen and curtains in the room with them. This will not only help developing relationship between the baby and room, but will also teach it a lesson of personal spaces.
Add soft toys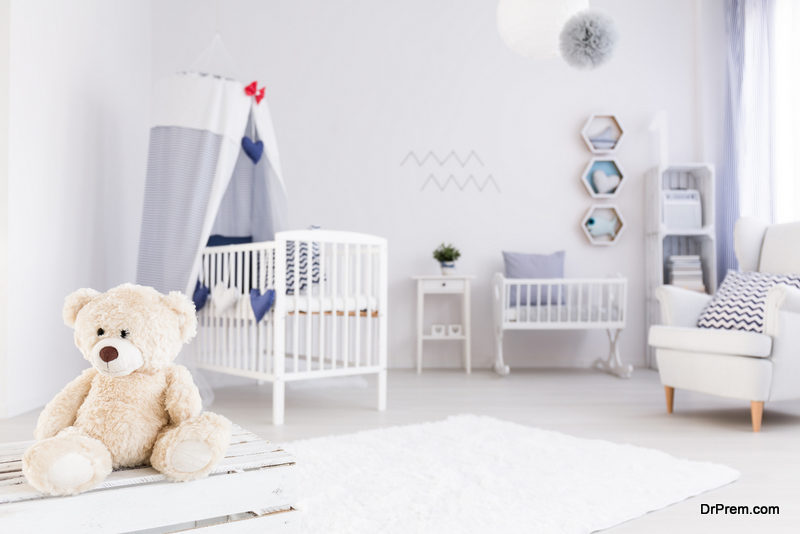 Babies spend most of their time in the nursery, and you cannot stay there for a long time. In such a case, toy trains or miniature figures will not offer company in loneliness. It is the soft toys that the baby usually craves for. So, to have a complete nursery, you should stuff the place with soft toys. Let these toys represent animals or humans, but having at least one in the room soothes the baby's feelings.
Furniture and accessories
Besides a rocking chair; you should also have a white-wicker three-tier stand that you can use to hold bottles, diapers or other baby paraphernalia. A white stand compliments with any color in the room and are basically easier to handle than stands of other colors.
A changing table for changing the baby's clothes should also be there in the room. The position should be close to the diaper store, so that you do not have to run across the room to get them. Apart from this; you should have a crib for your baby, where it can sleep with security and peace. You can have a crib with removable railings; so that it can be used for a longer period of time or you can have a more personalized one.
Make proper color selection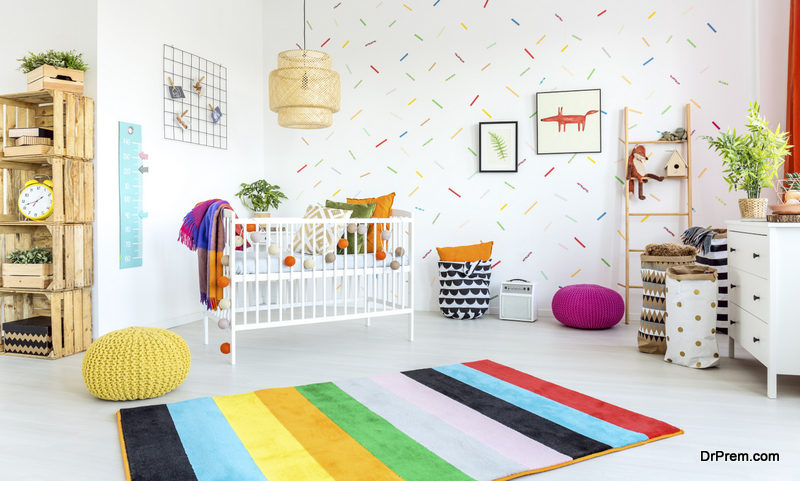 Having colorful pictures or colors is not enough; the combination should fit right. The first thing you should do is to settle with a theme, which can vary from the Catholic theme to cartoonist theme. You can use Pooh the Bear as the central character in the room or Lord Jesus. It helps in achieving half of the color combination.
The next thing you should do is choose right colors. Primary colors are what babies usually prefer, but you can also go for special colors, like lavender and pink, that can liven up the room. You should also paint the ceiling, if possible; it completes the entire picture.
Flowers in your baby nursery
Introducing flowers in the nursery helps it reach the next level. You can have fresh flowers placed in pots in the nursery everyday, as long as they are beautiful and not too perfumed. The much better and cleaner way is to install huge, beautiful, handmade paper flowers on the walls or from the ceiling. You should use colorful papers to achieve this and should place them in places where the baby can see them. Just make it sure that they are not within its grasp, though.
Temporary wall tattoos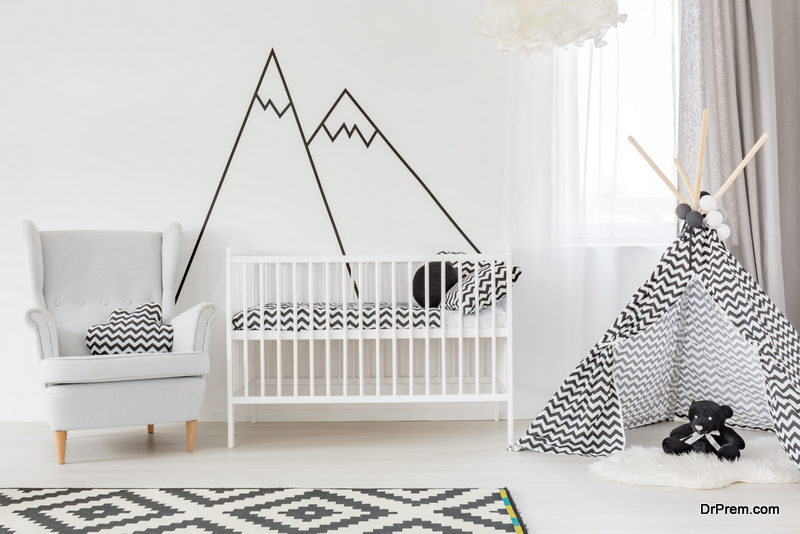 Temporary wall tattoos and removable stickers are other options you can go for, if you do not like wallpapers or plain walls. To make the room more lively, you can install tattoos of birds and funny animals on the walls. This is a perfect idea especially when there is a particular theme involved in there. It is better if you use the tattoos as per the theme and color; as they you can find some design or the other that is relevant to the background.
Minimize on clutter
Try to avoid cramming the room with superficial objects as much as possible. It will not only help in creating a perfect ambiance in the nursery, but will also develop a safer environment. Keep things like loose wires, scattered toys and clothes, torn or dirty rags, dangerous objects and other things that you do not need away from the room. You should also place the objects in their correct places in the nursery, as well.