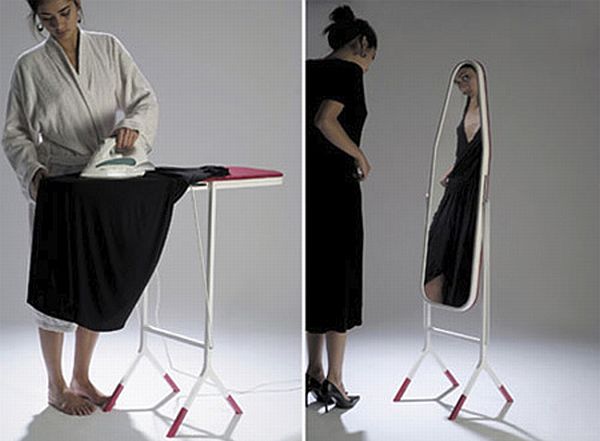 The classic ironing board occupies a majority part of the room which makes it look congested. It is much of a problem for the rooms with limited space. For space management, there are various trendy ideas which can create different styles of ironing boards which are stylish and functional. The right kind of ironing board combines convenience, space efficiency, inconspicuous style and amazing affordability in one smart, simple package, designed for quick and easy use. For minimal space consumption, the ironing boards should be extremely stable and of high quality.
Replace the clumsy, space-hungry old ironing boards with the wall mounted ironing boards which are trendy, affordable and detachable. The detachable ironing boards can be installed and used anywhere such as dressing rooms, hotel, hospitals and clinics, airport facilities, narrow hallways, TV rooms, studio apartments, walk-in closets, etc. Here is a list of 10 ironing boards which are ideal for urban homes.
1. Mirror ironing board closet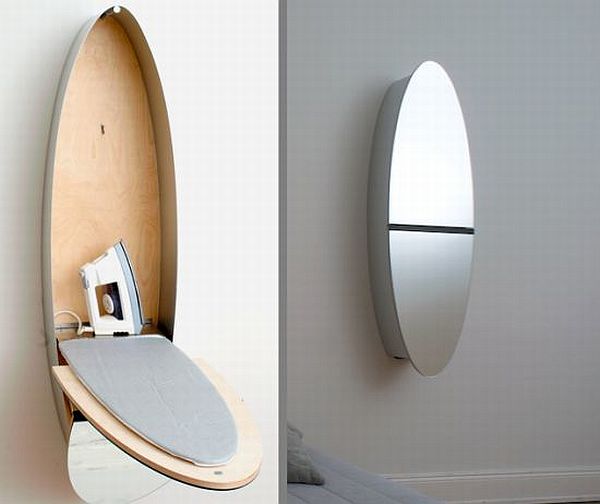 The Mirror ironing board closet is designed by Nils Wodzak which was developed for the manufacturer Konzept Design. The compact furniture can hold all the essential ironing equipments, like the iron, board and spray bottle into the closet which is built behind the mirror. It also works as a lamp to light up the room. To use the unit for ironing, you need to open the mirror into an ironing board and perform the tasks of ironing by plugging the iron. After ironing, you may keep the iron and the rest of the fuddle back into the closet behind the mirror. The price of the Mirror ironing board closet is between €200 and €300 which comes with or without light. This unit is very ideal for small apartments.
2. Ironing board mirror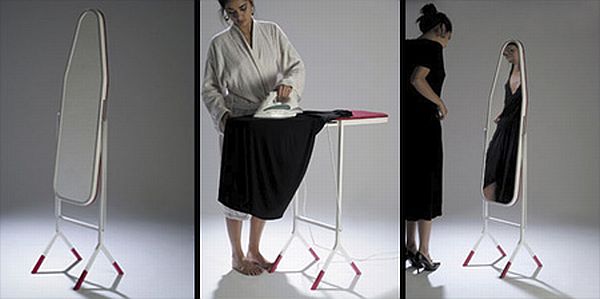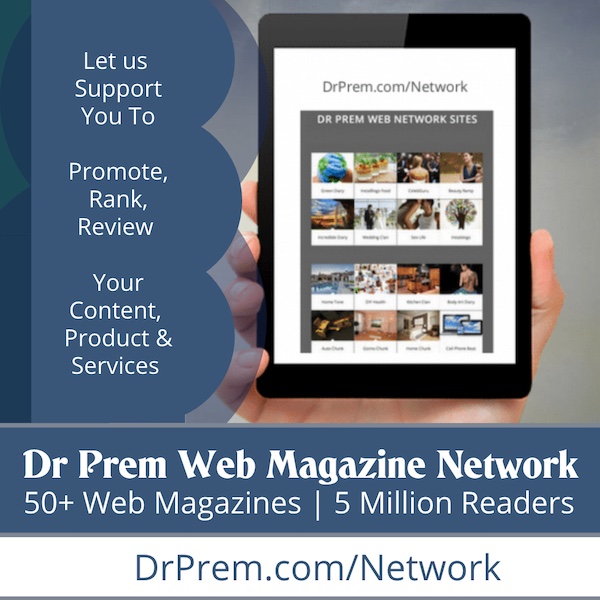 Designer of the ironing board mirror is Aissa Logerot. The ironing board mirror has dual function. It may be used both as a dressing mirror and an ironing board. When you need to dress up, you can use the mirror upfront. While using it for ironing purpose, it can be bend and turned into an ironing board. After ironing of your clothes, you can turn it back to a mirror. This unit is an innovative way to save space in modern days.
3. Liika – Ironing board with suction cups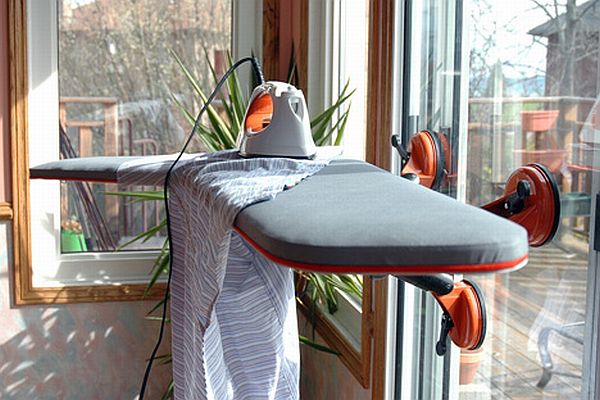 The Liika ironing board is designed with suction cups by Tony Zakrajsek. Suction cups is being used on the ironing board to make it attachable to any non porous surface. You can adjust the height by attaching the board to any surface. The suction cups makes it comfortable for the user to iron their clothes in any place of the house, like counter tops, windows, walls, etc.
4. Reflecting ironing boards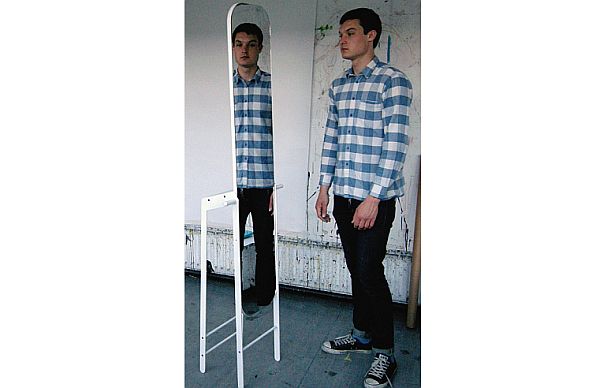 Reflecting ironing board is designed by Therese Glimskar. It is a charming unit of invention which can be used as a full length mirror as well as an ironing board. For the task of ironing, you can slide the mirror into a flat ironing board to iron your clothes. After ironing, you can flip the mirror vertically and place it in some corner of your home.
5. I_ROni_Ca iron board design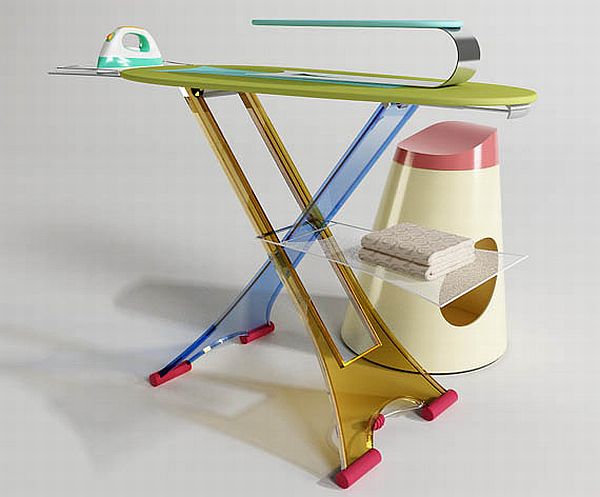 The I_ROni_Ca iron board comes in colorful floral pattern and is designed by Jenni Chasteen. This modern ironing piece is has a beautiful design and comes with many functions. The I_ROni_Ca includes a mini ironing board for ironing clothes, a shelf to keep the folded clothing and a laundry basket which can also be used as a stool. It also provides a comfortable place to sit while you are ironing your clothes.
6. Fold-away wall mounted ironing boards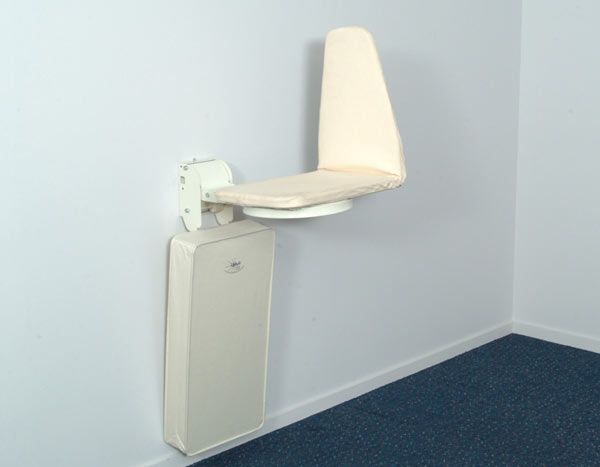 Wall mounted ironing table is a perfect furniture for small places, as it is easy to install and care. You can use this multifunctional table in different ways, as it can be a study table of your kid, worktable and a small dining table, apart from being the ironing table. The wall mounted iron table gives a classy, metallic look to your room. The fold away ironing board is easy for installation. This saves space and is very convenient, an amazingly affordable piece and is of invisible style.
This iron board has been designed for quick access and has a contemporary design.; this allows it to fit even in smaller spacee.  It is subtly stylish and has a detachable fabric wall cover. The wall mounted ironing board is one of the best selling unit. You can easily adjust it to any convenient height according to your choice. The price of the wall mounted ironing board is less than most of the ironing piece of unit but functions double than the others.
7. Magnetic fold out ironing boards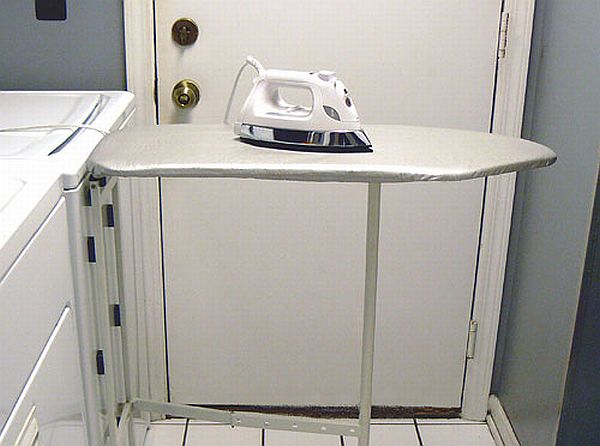 The magnetic fold out ironing board helps in completing all the possible ironing tasks in the most constrained spaces. This ironing board saves a lot of space as you can attach it to washing machines or any metal surface. The name magnetic fold out ironing board denotes that this unit uses power magnets to stick to a surface. You can unfold it in no time to become the ironing and laundry accessory. To attach to a washing machine or other flat metal surface, it uses seven powerful magnets. It is a perfect ironing board for small apartment for ultimate space management. The price of the unit is $34.99.
8. Stow-away ironing boards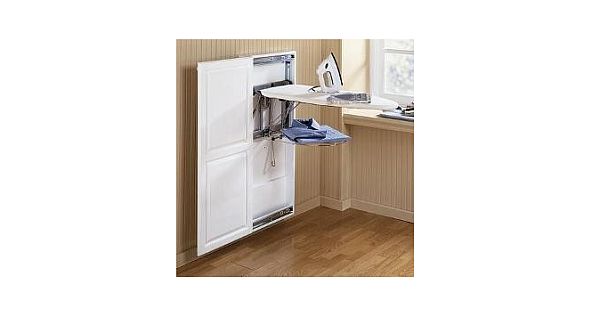 Made from solid wood, the stow-away ironing board cabinate pulls out into an iron board when you need to use it.  The steel mechanism of the ironing board makes it effortless to use. For complete comfort, adjust the ironing height from 35″ to 40″. The unit also includes shelf for storing various ironing equipments. The installation of Stow-away ironing board is easy to assemble.
9. Functional ironing boards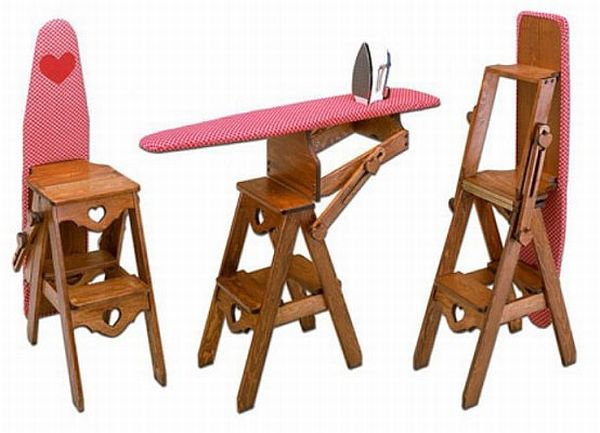 Modern furniture means functionality with minimal space requirement. The functional ironing piece of furniture is much popular among bachelors. This unit is a single piece with three different utilities of a chair, step-stool and an ironing board. The chair is made of natural wood and material. You can use it for sitting or fold it to use it for ironing clothes. You can also use it as a step stool. The Functional ironing piece is very convenient which occupies very small space and can be placed in any household area.
10. An ironing drawer vanity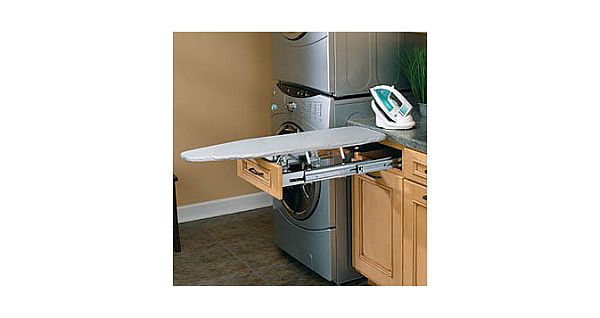 The ironing drawer vanity eliminates the need to lift or set up your ironing board. The installation of this unit is easy and can be fixed anywhere, such as into a vanity, cabinet, closet drawer or any place you are comfortable doing your ironing. The kit of the ironing drawer vanity includes the required hardware which needs to attach the board inside the drawer. When you need to iron, simply open the drawer and fold out the ironing board. The board itself is mounted on brackets which lifts it up out of the drawer.
Supercool ironing boards that make ironing look good
Still looking for more ideas? Well here are some ironing boards that you can consider
Magnetic iron mats
Magnetic iron mats are an amazing addition to modern homes, especially small spaces, as with these mats you can easily convert any metallic surface into an ironing board to iron your clothes. Once you finish ironing; you can simply crinkle it, hang it, or even roll it. This small sheet can easily fit in small spaces like handbags or shelves. Iron mat is easy to carry and you can take it to anywhere. You can get it from the market and can even order it online.
Polder Deluxe Tabletop
Especially designed for modern homes, the Polar deluxe Tabletop is another ironing table that looks sleek and easily fits in small spaces. Featuring the surface made from wood, covered with pure cotton cover, the table is a handy ironing board that you can place anywhere in the house. This piece is available in the market for just $80.
Westex Compact ironing table
If you are looking to save some space in your house, then Westex Compact ironing table is a perfect accessory to make your laundry simple and swift. This is a folding table that you can fold easily and can place it any corner of the house. The solid metallic surface of the table and strong iron legs it perfect for any house. You can also hang ironed clothes on the corner of the table to access them quickly when you need them.
Moving circles ironing table
This unique ironing board comes with shoulder wing design and an extra wide table. The table is solid enough to hold heavy weight and you can easily convert it into a multipurpose table. You can use the table in different ways and its adjustable size makes it perfect for any home. This table comes with ten-year warranty and its moving circle cover enhances the beauty of your house.
Cow Print Table
The Cow Print Table is perfect furniture for animal lover, as it features cow prints on its surface. The print on the table makes it look unique and attractive. The table is available in the market and you can order it online. The table presents a modern and minimalist design, which makes it a perfect choice for contemporary homes. Made from durable material, the outer surface of the tabletop comes covered with cotton cloth. The compact storage of the table makes it a practical furniture piece for compact, modern homes.
Summery
Ironing boards or tables are one of those home essentials that we use in our daily lives and thus, it becomes very important to look for attractive but at the same time functional iron boards for modern homes. Available in different shapes and sizes, ironing boards not just help us get wrinkle free clothes within in no time, but also enhance the beauty of our home. These boards, available in different shapes and materials, have become an integral part of modern homes. Going for trendy ironing tables can be a good choice, as they not just help you iron your clothes, but also give a modern look to your home.