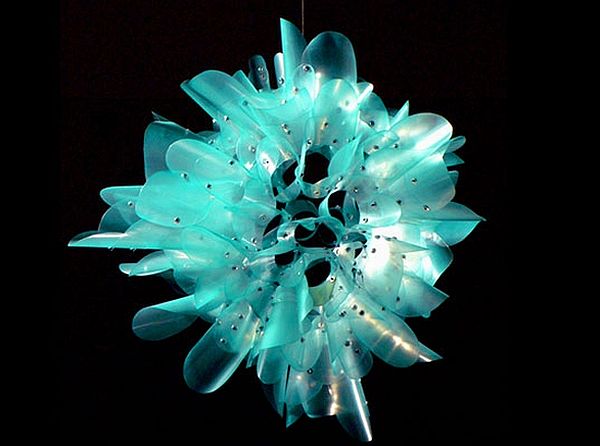 Chandeliers have always been the magnificent things for an affluent decor for centuries. There are chandeliers which made news across the world, sometimes being the most expensive, or sometimes being the cheapest. Here we share eight chandeliers which are now recognized throughout the world, as those have been made through the recycling process, and so utilized almost no new resource.
1. Eco-friendly Cascade Chandelier by Michelle Brand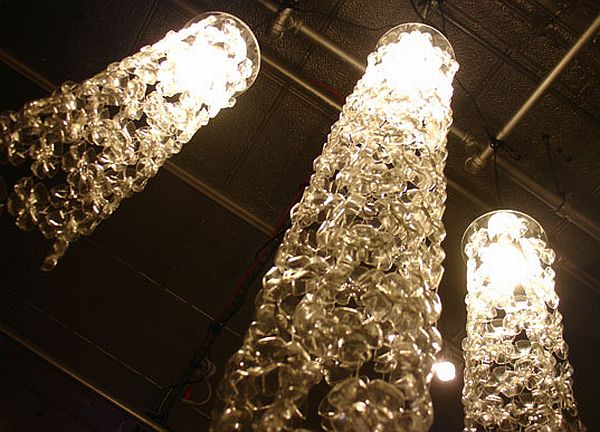 The Cascade Chandelier is a magnificent lighting ceiling fixture made out of old plastic bottles that have been metamorphosed into spectacular by eco designer Michelle Brand. It looks like a cascade of flowers but those flowers are actually made out of bottom of recycled plastic bottles. Michelle Brand is an eco designer whose work reflects how normal everyday objects can transform into a work of art. The designer exhibited the Cascade Chandelier at the HauteGREEN in 2007 and 2011. She has also bagged the Gold Award in the Environmental section of British Female Investors and Innovators Awards 2007. Millions of water bottles are disposed off daily and changing them into an aesthetic object of value is something very challenging. The Cascade Chandelier is a great example of how recycled plastic can gain new dimensions. This apart, a variety of lampshades, room dividers, window screens, decorative indoor lights and cards are also available in this brand.
2. Recycled chandelier gives new meaning to party waste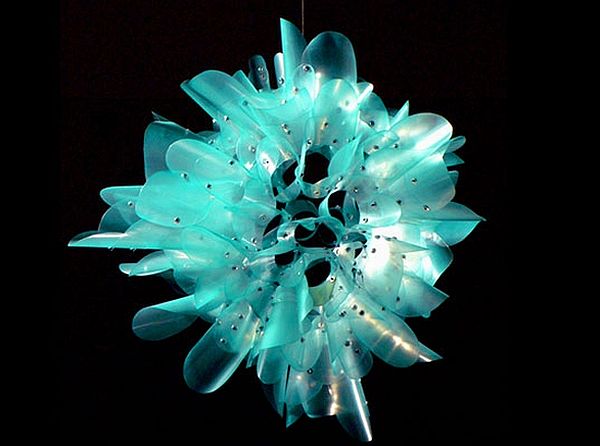 Berlin based industrial lighting designer Stuart Haygrath has converted exploded party poppers into stunning chandelier. He has ensured that the parties he has attended don't have catastrophic effect on environment. Not only elite class celebration but also every ordinary party requires a lot of money to be invested on ambiance and decor later dumped into dustbins as much of the waste is not either easily recycled or not recyclable at all. There are ample of things including disposable utensils to plastic bottles and party poppers that need a separate place to be discarded safely. Collecting the millions of exploded party poppers and reusing them that were suspended on a line from a platform make once such artistic chandelier. The variety in popper's color makes the chandelier look elegant and colorful. If an energy saving lamp illuminates your chandelier, it makes your living room shimmer and in a green-way.
3. Ella Plastic Bottle Chandelier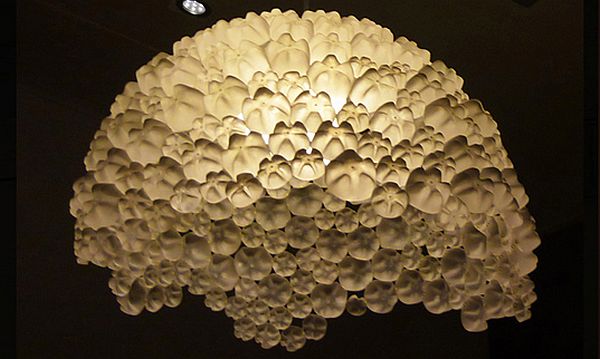 Sarah Turner is the man who designed the dynamically structure of Ella. It is made from the bottoms of as many as 310 plastic drink bottles and has quite the presence at a size of over one meter wide. Each of the bottles collected from coffee shops and homes and then given a good cut and clean to give a frosted white appearance before being meticulously put together by hand. Then they were sandblasted to make them turn while and pieced together by hand gradually to build the gorgeous round shape. The light was initially nicknamed Ella in the early design stages when it resembled an umbrella but the nickname stuck. Three low energy bulbs are used inside the chandelier and very little heat is generated, the bottles do not melt or deform anyway. It has entered in the final round of Bright Ideas Design Competition.
4. Aurora Robson's recycled chandeliers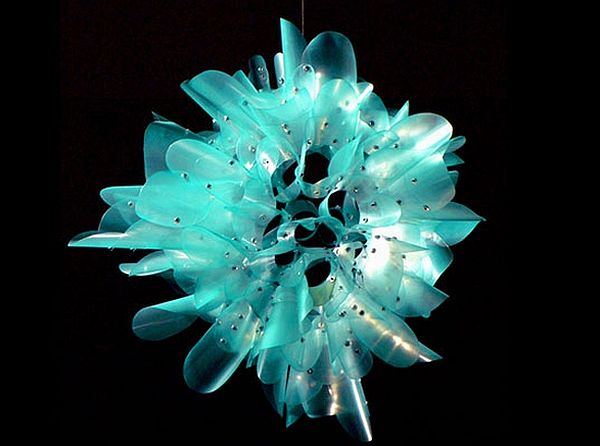 Aurora Robson, eco friendly designer, makes her art, these whimsical sculpture pieces that are reminiscent nightmares, using discarded plastic bottles. According to her making art is about recognizing and embracing news possibilities and encouraging others to do the same. She does this using junk mail and discarded plastic bottles to make sculptures that give a positive spin, acceptance, balance to objects with an otherwise downwards trajectory. She creates stunning pieces of Solar-powered LEDs lighting art from plastic bottles something we don't even like to see littered on the street. Her recycling skill to manufacture intricate chandeliers has prevented more then 20000 plastic bottles from reaching the landfill so far.
5. Recycled plastic spoon chandeliers inspired by fish shoals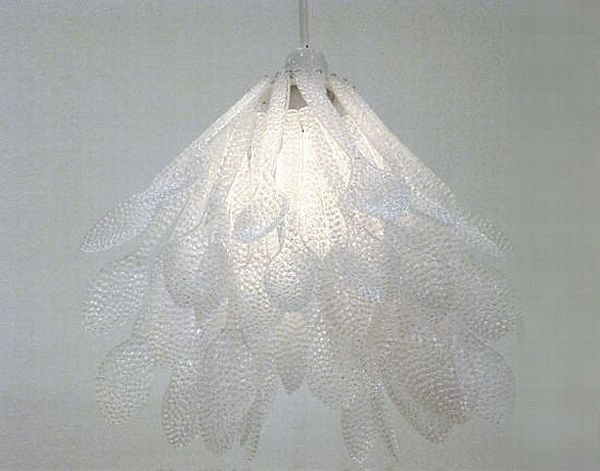 Japanese designer Daisuke Hiraiwa transformed everyday objects into striking examples of found-design and made the chandeliers using recycled plastic spoon. His indication chandeliers made meticulously from recycled plastic spoon can amaze anyone. Exhibited at this year's ICFF each one has completely composed of clear plastic spoons that have been punctured with hundreds of tiny holes to allow light to filter though them in beautiful ways and make charming effect.
6. Chandelier made from recycled yogurt jars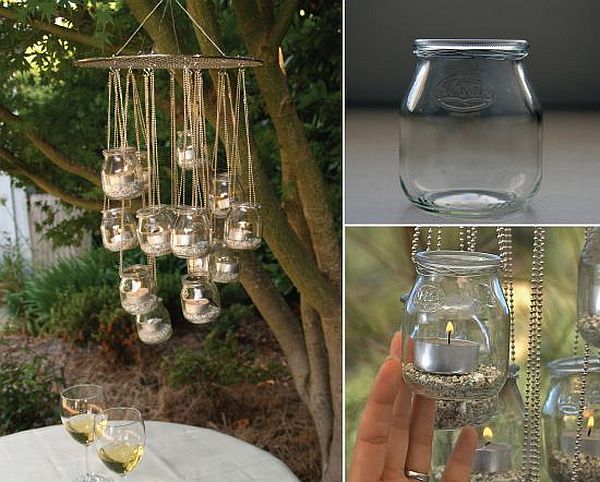 Yet another recyclable chandelier made from yogurt jar is a dazzling works by DIY. The glass chandelier is made from the waste yogurt jars that will keep your parties outdoors burning brightly green, all the while fetching you accolades for the makeup. So clean up your kitchen with the left over and make a productive use to lighten your habitat.
7. Madeleine Boulesteix's recycled kitchen chandelier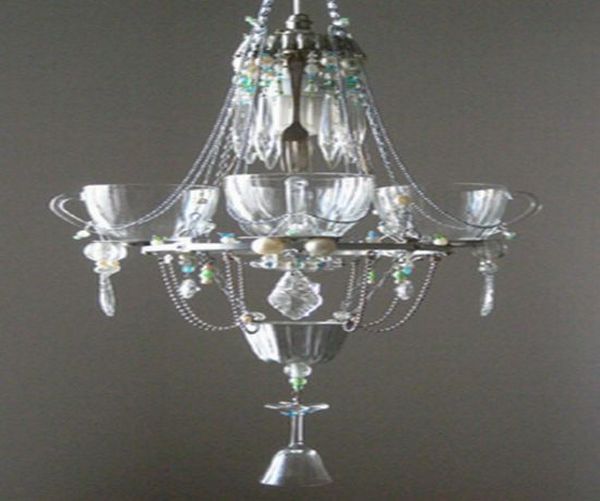 How about a kitchen chandelier made out of recycled glass? Chandeliers made of recycled glass are gaining popularity day by day. Madeleine Boulesteix has been successful in creating dazzling designs of kitchen chandeliers with recycled glass. The designs are real visual treat. The stunning lighting accessories are designed in London by using recycled glass beads, jelly molds and champagne glasses. Use these green chandeliers and enhance the visual appeal of your kitchen.
8. Stuart Haygarth's Tide Chandelier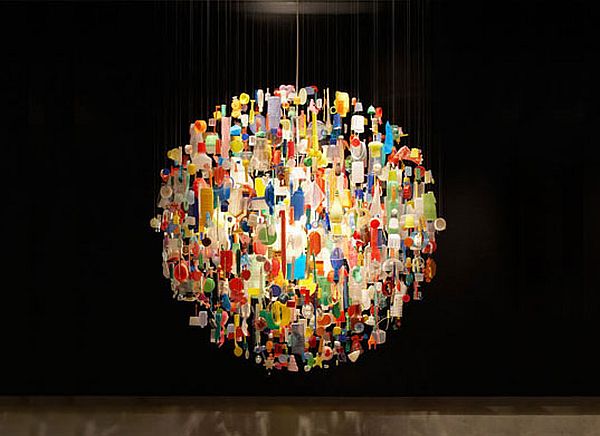 The original Tide Chandelier is a part of a larger body of work based on the collection of 'man-made' debris washed up on a specific stretch of Kent coastline. Designed by Stuart Haygrath, a London-based designer, Tide is a collection of material over many years, stored and categorized and several individual pieces of work. The Tide is created from clear and translucent objects primarily made of plastic. Each object is different in shape and form yet they come together to produce one sphere. The sphere is an analogy for the moon that effects the tide which in turn wash up the debris. The huge light fixture measuring nearly five feet in diameter is composed of a cornucopia of clear plastic refuse and water bottles to sunglasses.