Spending time in the bathroom is a favorite pastime for most of us, whether it is for taking a long hot bath or even for reading the newspaper. It would be fun if you could add more life to your bathroom and make it as interesting as the magazine or newspaper that your are reading. There are many areas in the bathroom that can be made more colorful such as the tub, the blinds, the sink and even the humble toilet paper holder. Toilet paper comes in many varieties and colors, so you can find yourself an innovative toilet paper holder that adds more gusto to the regular boring holder. Here are 10 funny and innovative toilet paper holder designs; that have been turned into humorous and colorful accessories for the bathroom.
1. 'A Knight to Remember' Gothic toilet paper holder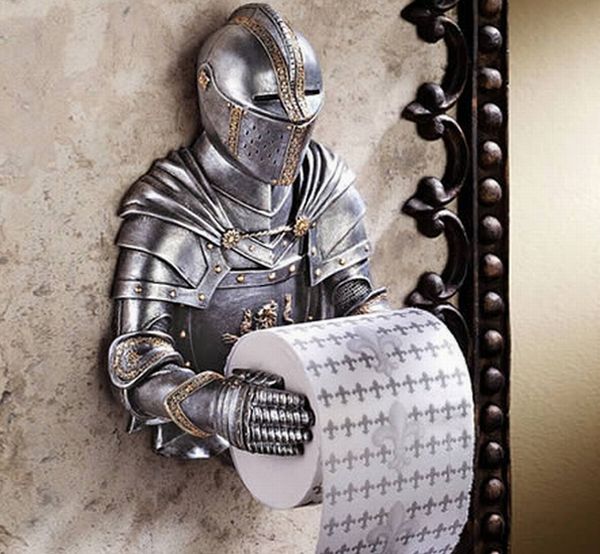 'A Knight to Remember' is a Gothic-themed toilet paper holder. The design hints at you being the King/Queen and the pot being the throne and the knight is by your side; to give you toilet paper whenever you require it. This creation is indeed humorous and is a wall-mounted creation from Toscono. The entire unit is made out of resin and in hand painted to give the perfect metallic detailing of a knight's shiny armor. So, make the medieval era your bathroom theme and bring home 'A Knight to Remember'.
2. iCarta iPOD dock and toilet paper holder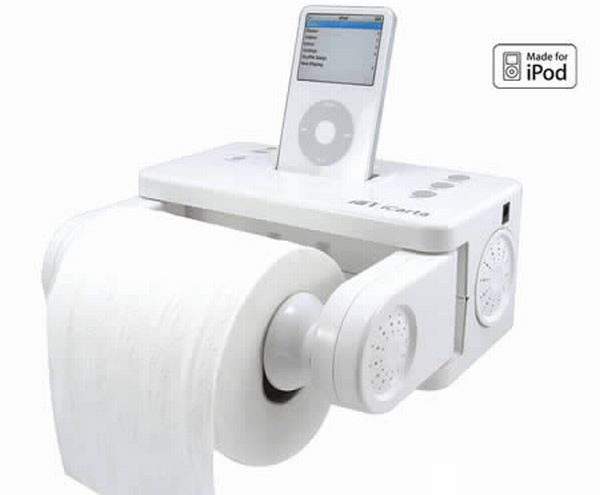 The 'iCarta iPod dock and toilet paper dispenser' is the ultimate iPod accessory for the techno-geek's toilet. This high-performance multi-functional toilet paper holder not only provides you your kind of music in the comfort of your bathroom,; but also makes sure that you get your toilet paper too. The entire unit is assembled and all you have to do is screw it on to the wall for mounting the device. However, you do need a power outlet for plugging this device.
3. "Pants Down" Butler toilet paper holder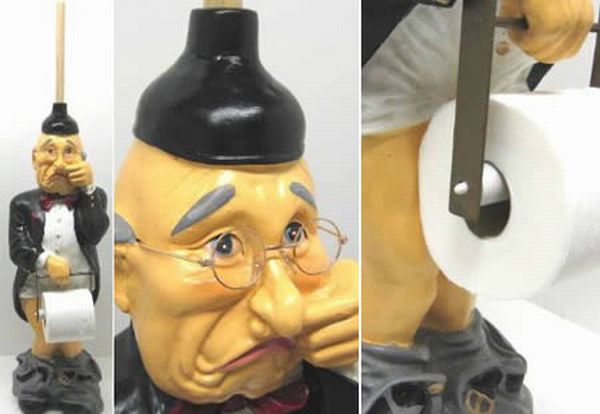 Now this toilet paper holder will definitely have your friends in splits; as, it is a ceramic based statue of a butler with his pants down. The design also shows that he is holding the toilet paper dispenser in his hand. His other hand is covering his nose and his mouth is all puckered up in disgust. He also happens to have a rubber pump fixed on to his head!

4. Robot toilet paper holder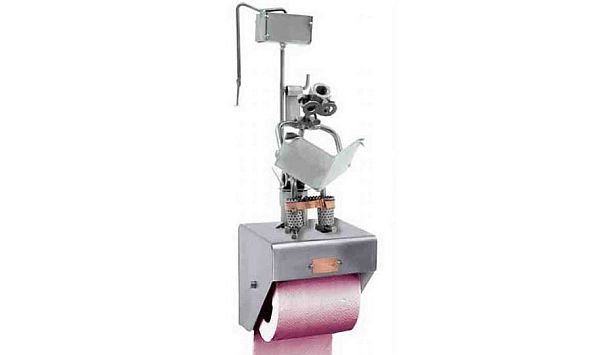 The Robot toilet paper dispenser is a metallic creation which shows a miniature robot sitting on his metal pot and is crapping while reading the newspaper. The detailing with metal, particularly of the overhead water tank is amazing. This is a 'must have' for all the robot freaks out there!
5. River's Edge real Cast Iron Spur toilet paper holder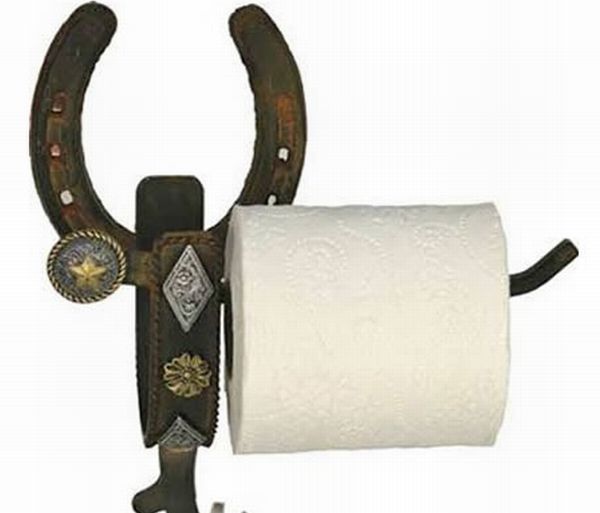 The Cast Iron Spur toilet paper dispenser is a great bathroom accessory which has a spur that actually functions as the dispenser. The horseshoe and spur design is perfect if you intend to have a 'wild west' or a ranch themed toilet interior. The holder is made out of cast iron and is given a rustic finishing.
6. French maid toilet paper holder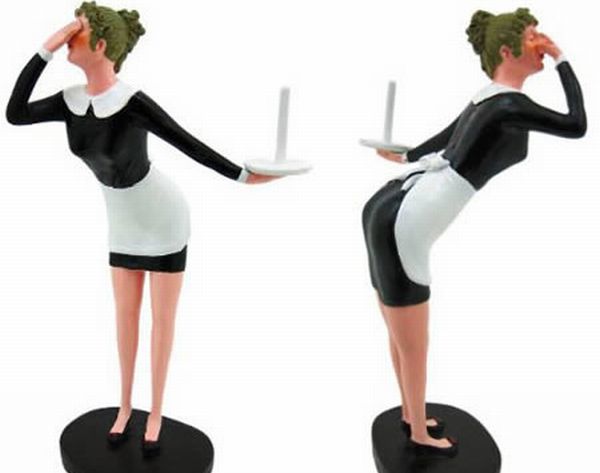 Amongst the French Maid toilet paper holder series, is the most popular 'No peeking French Maid' toilet paper holder that shows a typical French Maid dressed in a dainty black dress with a white apron, hair tied back in a French bun, holding the toilet paper dispenser in one hand and covering her eyes with the other. This humorous toilet paper dispenser could be placed on a cabinet or on the floor and cannot be wall mounted.
7. Black and White Kitty toilet paper holders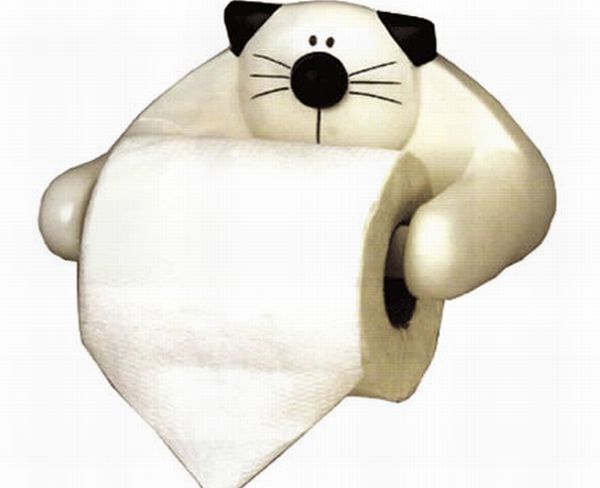 This cute black and white kitty toilet paper dispenser would be a great addition to your kids' bathroom. They would enjoy taking out the toilet paper as the kitty holds on to the two ends of the dispenser tirelessly. Crafted out of ceramic, this toilet dispenser would also be a perfect accessory for all the kitty lovers as well!

8. Funny Toilet Roll Holders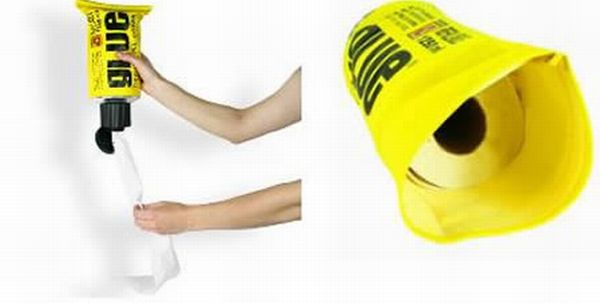 This may look like an over-sized glue tube, but it is actually a 'Squeezee Fun Toilet Tissue Dispenser' which has been cleverly given the look of a glue tube that has a roll of toilet tissue placed inside the tube. This toilet paper tube cleverly dispenses the toilet paper from the nozzle of the tube. This toilet paper dispenser would be a surprise element for anyone who uses your bathroom. This huge glue tube is water resistant which is perfect for the bathroom. Refilling the tube with another toilet paper roll is also very easy.

9. Office Printer toilet paper holder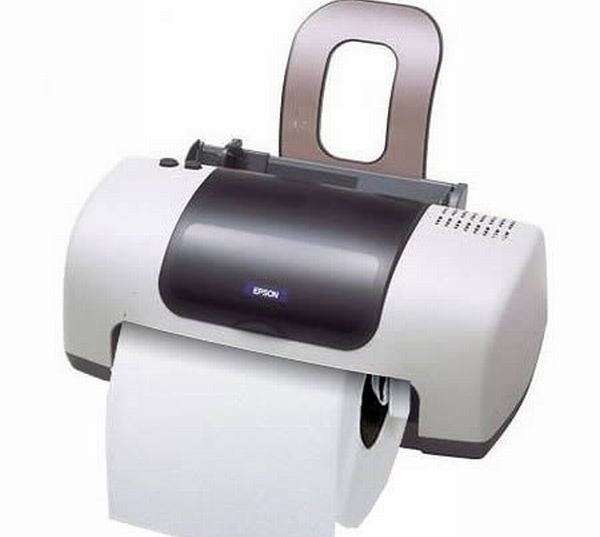 Shaped like an Epson Inkjet printer, this printer takes out toilet paper prints! This design is a perfect add-on for the office workaholics who are obsessed with their office jobs. So, now this wall-mounted printer-cum-toilet paper dispenser can remind you of your loved workplace even in the toilet!
10. The Robotan toilet paper dispenser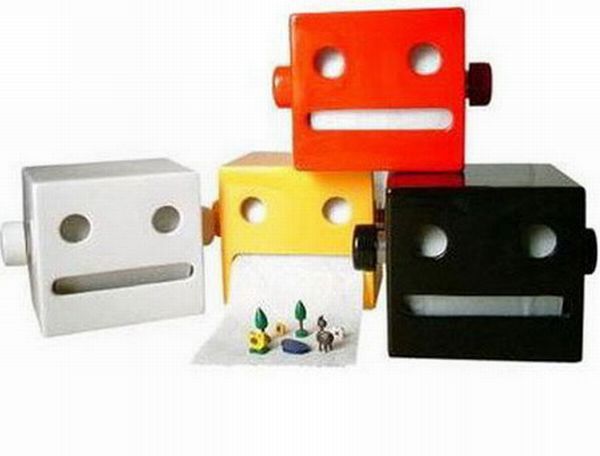 These colorful Roboton toilet paper dispensers do not give the essential metallic features of a robot but only represent the head of a robot which two circles as the eyes and a rectangle for the mouth that actually dispenses the toilet paper. The ears of the robot along the sides is used for maneuvering the toilet paper. There is nothing too technical about the robot and it would be a great accessory for your kid's bathroom as he would love to take out toilet paper from the robot's wide mouth! The Roboton is crafted in heavy ceramic and is wall mounted.