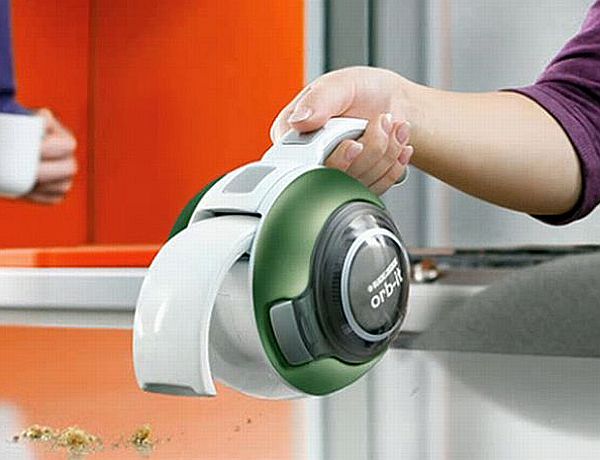 Portable and lightweight vacuum cleaners that can either be powered by using your main power socket or even a rechargeable one that operates on batteries is a very convenient gadget for clearing small mess and spills. The small compact Black & Decker DustBuster vacuum cleaner is probably the most popular and amongst the first ones to be manufactured in 1979. The Dirt Devil handheld vacuum cleaner is also quite popular and that was introduced in 1984. These days we have more options of handheld lightweight vacuum cleaners, so here are ten such vacuum cleaners that guarantee a quick and effective cleaning session for you.
1. Twister: a design by Sumit Ramesh Joshi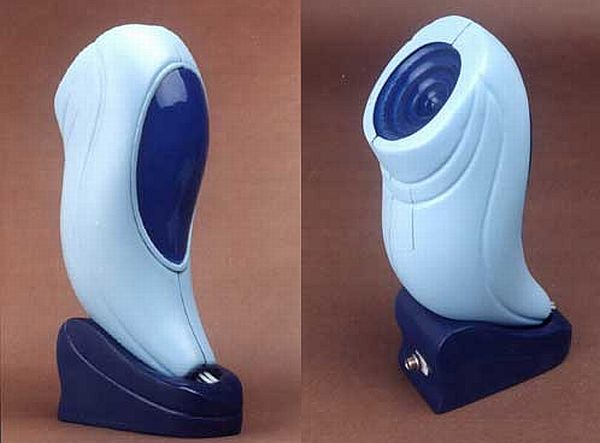 The handheld vacuum cleaner called 'Twister' was a project by Sumit Ramesh Joshi to design a small, portable and personal vacuum cleaning gadget to be used at the workstation. This handy and efficient vacuum cleaner not only makes you dignified while cleaning your workstation, but it also makes it a fun activity.
2. Dirt Devil 08225 Scorpion handheld vacuum cleaner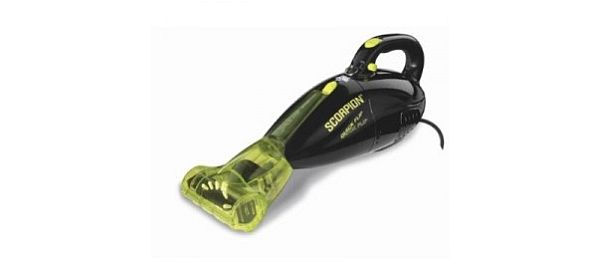 The Dirt Devil 08225 Scorpion is a small yet powerful vacuum cleaner that has received rave reviews from customers online. It does produce a little noise, but effective cleaning is guaranteed. This compact vacuum cleaner is to be used for small cleaning and spills, so you must avoid trying to clean an entire carpet with this small device. The Dirt Devil 08225 Scorpion has a 7 amp motor and also has a 'Quick Flip' mechanism which makes it easier to clean unreachable areas like those between the sofa cushions. It is also equipped with various attachments like an upholstery brush, a 30″ hose and also a shoulder strap. The vacuum cleaner has a bagless dirt cap which makes it easier to empty.
3. Eureka 71B hand-held vacuum cleaner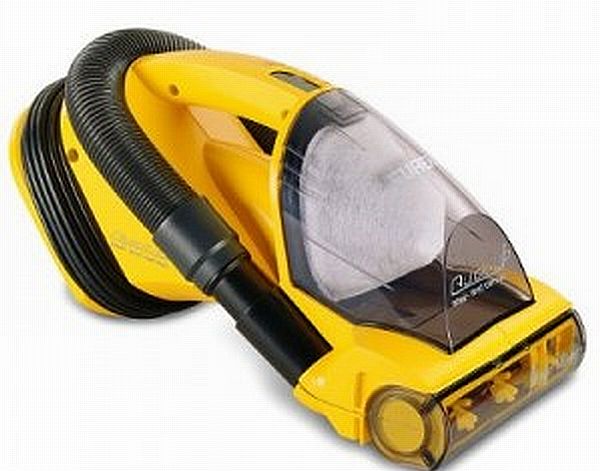 The Eureka 71B is a hand-held small vacuum cleaner but is extremely powerful. Now you won't need a huge vacuum cleaner for cleaning things like your car, sofa, upholstery and curtions and this vacuum cleaner with its 20 feet long cord is the perfect device that can reach even the most tigh places. The Eureka has two motors that powers the suction and the brush separately. The vacuum cleaner has a Riser Visor attached onto the body – which makes it easy to clean the vertical carpeted area along the staircase as it conceals a revolving brush. Again, no worries about changing bags, this vacuum cleaner is bagless!
4. Hand held vacuum cleaner – Dyson DC16 vacuum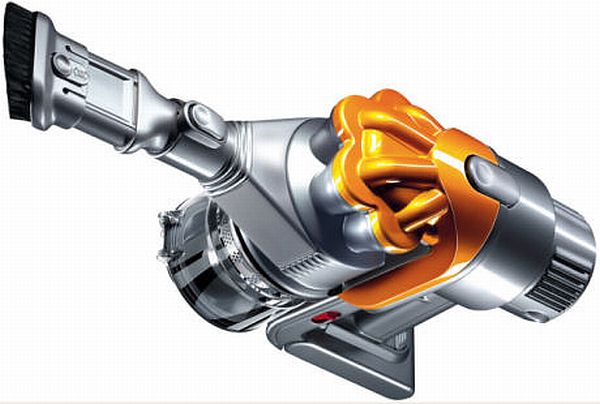 The Dyson DC16 is rated as the first hand-held portable vacuum cleaner that provides a constant suction capacity. This light cleaner is very easy to handle due to its ergonomic design and can recharge three times faster than other handheld vacuum cleaners. Since the machine has the Dyson Root 6 Cyclone patented technology, it does not run out of suction power. The vacuum cleaner is quite functional as with a click you can turn the nozzle into a brush and with another click you can trigger the release of the dust cap hygienically.
5. Alessi hand held vacuum – DustBuster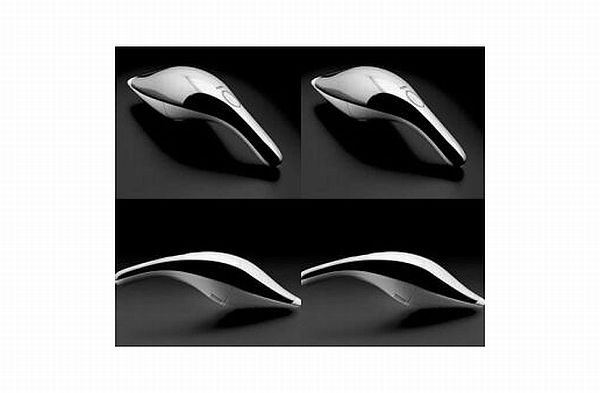 The popular Alessi handheld vacuum cleaner by Dustbuster is a stylish and chic piece that is extremely elegant in form. Apart from its irresistible form, this device also has the capability of cleaning all your corners and crevices too. Priced at $130, it is on the higher side, but it is worth the money. The Alessi is a chargeable vacuum cleaner and so you do not have to worry about the cords anymore!
6. The Ergorapido hand held vacuum cleaner from Electrolux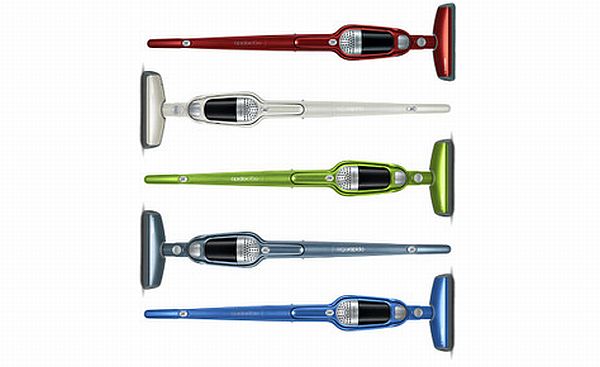 The Ergorapido vacuum cleaner range by Electrolux is a great modern-looking portable cleaning device which are rechargeable and therefore cordless. The handle will allow the maneuvering of the vacuum cleaner so as to clean the remotest of areas. The form of the cleaner is in the shape of a stick, which makes it very handy. This is also a bagless vacuum cleaner an you only have to open the lid to empty the contents into your dustbin.
7. Dirt Devil KONE: A cordless hand-held vacuum cleaner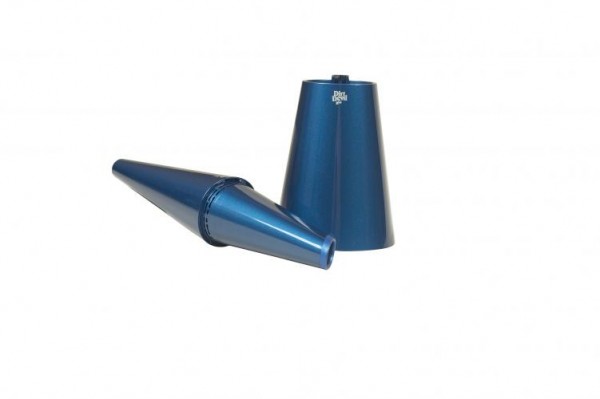 Now you won't have to worry about storing your vacuum cleaner as the KONE by the Dirt Devil is cordless that can fit in your hands perfectly. Designed by Karim Rashid, the Dirt Devil KONE has an elegant cone shape which a charging cradle that is located at the base of the vacuum cleaner. The machine has a 7.2 volt powerful motor that is very effective and the cradle also has white illumination that softly glows when the charging process is taking place. This device can be kept anywhere as it looks more like a decoration piece than a vacuum cleaner. Available in many colors, the KONE is a must-buy for those who have storage issues!
8. Mini Cyclone: hand-held vacuum cleaner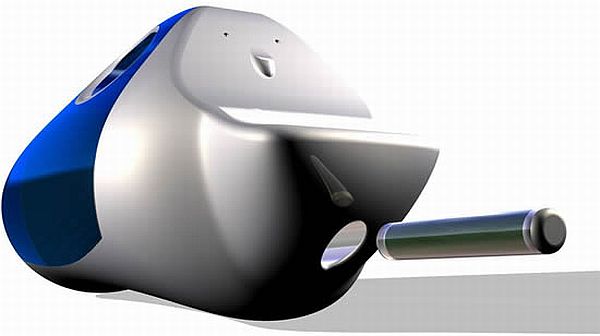 The Mini Cyclone is a sustainable 'green' vacuum cleaning device that is made from recycled plastic. The designer has improvised upon the filtering technology so as to enable the perfect filtering of air that would make the air bacteria and pollutant-free. The Mini Cyclone functions by using a methane gas fuel cell and also has a Hepa filter for maintaining the suction capability and preventing clogging. The filter of the Mini Cyclone has the distinct feature that it can be rinsed and then used again which also reduces odor upon cleaning.
9. Black & Decker Orb-It handheld vacuum cleaner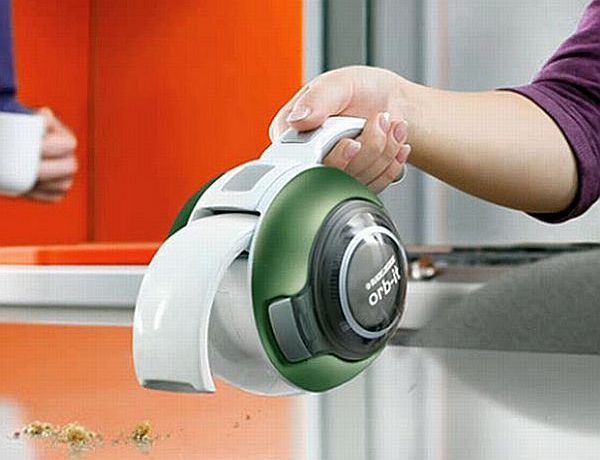 The Black & Decker Orb-It vacuum cleaner is spherical in shape and is a cordless handheld device that can make cleaning a fun job. The Orb-It has a nozzle and handle that can be robotically pulled out during use. This lightweight device weighs a mere 800 grams and looks extremely modern and trendy. The dust bowl is also quite spacious as it has an 18mL capacity and is fitted with a transparent door that enables you to see whether it is full or not – however, the vacuum cleaner also has an indicator that alerts the user that it is time to empty out the dust bowl. The Black & Decker Orb-It is also equipped with a lithium ion battery that can get charged within a record 8 minutes flat! So, whenever you're done with the cleaning, you only need to spare 8 minutes to charge the device. This attractive vacuum cleaner will look good even when placed on a table because of its stylish design.
10. Vacuum Jet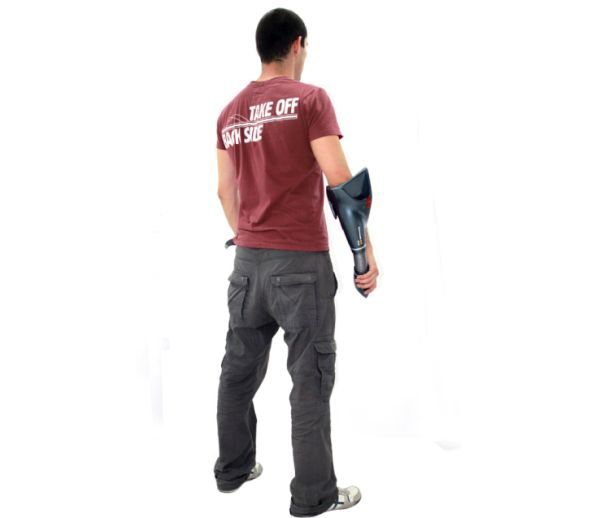 The Vacuum Jet is a design by Igor Levinsky and is a minimalistic vacuum cleaner that is handheld and portable as it can attached to your hand. It is lightweight and can clean out all the remote inaccessible corners and crevices. This vacuum cleaning device was designed as a part of a Industrial Design course.