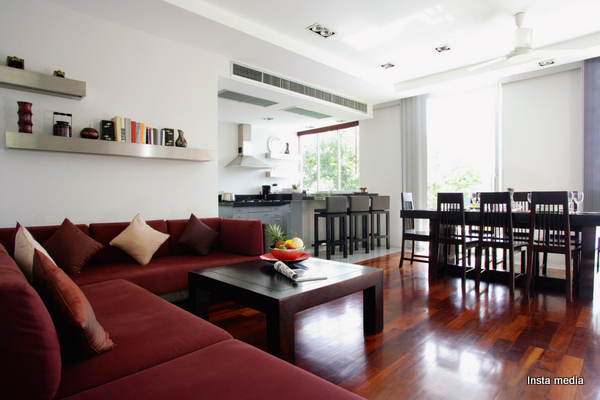 It is always fascinating to keep an eye on the latest interior design trends and to predict what we may see in coming few months. We have been keeping a tap on the latest interior design trends this year and there will surely be some interesting new designs that may bring a paradigm shift in the field. Below we list the 10 hottest designs that may be the design trend this year:
1. Brass has class
People nowadays have a flair for something retro. Brass in this case is no exception. Considered, as old fashioned and casted out of your living space few years back, brass is back in business. From staircases to accessories, brass represents something classy and timeless.
2. Stripes are cool
Multicoloured stripes on your wall, carpets, wallpaper or a graphic art is the next big thing in this year's interior design. You can deal with stripes in different ways to bring in more vibrancy and creativity to your living spaces.
3. Time has come to go green
We don't know if this has something to deal with global warming but different shades of green seem to be the trend this year. Whether they are your walls or your furniture the designers are betting on green to bring in more comfort and harmony to your living spaces.
4. Men in focus
Interior designs have mostly been about flashy colors and cute artefacts given to the fact that our designs have been mostly female centric. Design trends this year seem to change spotlight towards male preferences. This means more simple and effective deigns that are less flashy in color and more functional.
5. Do it Yourself
If you are internet savvy and follow interior designs closely, you'll find lately that there has been an avalanche of do-it-yourself interior designs in past few months. DIY designs give a more personal touch to your living spaces. You can customize things according to your own desires and who else can do it better than yourself.
6. Leverage your walls
Walls need not be just walls. They can represent different moods and ideas. While you may plug in some hazy grass coloured cloths to your bedroom, you may make your living room livelier by choosing wallpaper full of lively colors. Others may go for embellished designs that may add to the aesthetic of your interiors.
7. Floral Patterns
It would have been lovely if we could have beautiful flowers all around our house filled with their fragrance. Considering the limitations to this possibility, floral patterns on our walls, sofas, pillows help us make our living spaces livelier.
8. Embrace the living green
It is not only green colors and designs but also green walls boarding plants or rooftops boarding full-fledged gardens that seem to be the norm this year.
9. Texture
It is not only the form and function of your furniture but also its texture and touch that seems to be in focus. We may see combination of different materials especially in furniture to achieve this.
10. Cut Glass
Whether it is crystal bulbs or a glistering decanter for your wine, cut glass designs are hot this year.