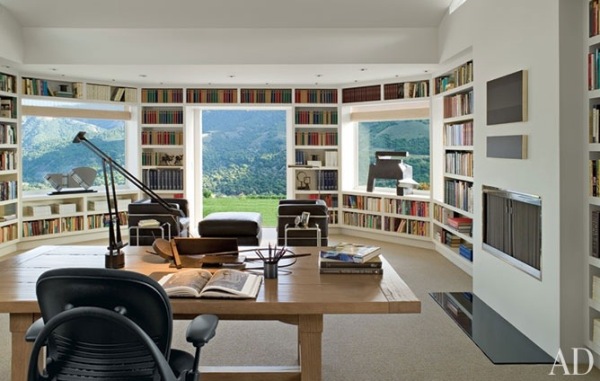 A bibliophile's ultimate dream would be to have a luxurious library that would let you read your books at leisure with expensive antiques and stylish interior decoration. However, considering a average person's home size and limited budget, such fantasies can not be realized, but celebrities indulge in these lavish pleasures by building epic personal libraries in their homes. Here are ten such luxurious dream-like libraries that you have always fantasized about – maybe you can get inspired and build yourself a low-budgeted one too!
1. A library designed by Margaret Griffin & Elise Grinstein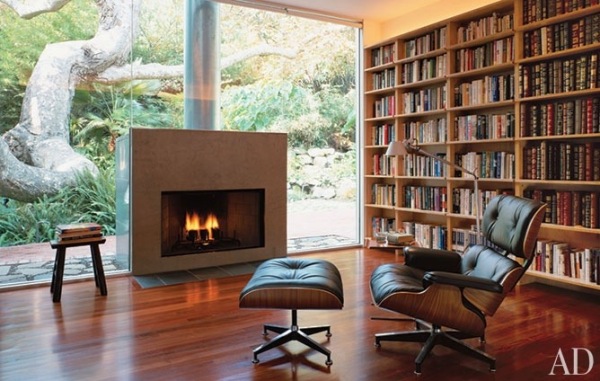 This amazing library which has a wall-size window that shows a brilliant view of the 300-year old sycamore tree is a design by Margaret Griffin and Elyse Grinstein, two architects who renovated a home in West Side, Los Angeles. This area in particular has great natural surroundings and lush greenery. This cozy library with an elegant fireplace initially had a brick wall in place of the glass one that was erected to give the room a touch of nature.
2. Oprah Winfrey's home library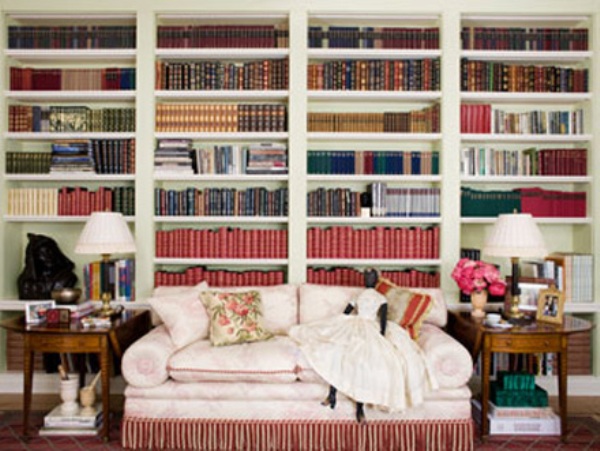 This TV empress and bibliophile is well-known for the collection of books she has. She has many libraries in her various homes, but the one in her California abode is probably the most vast and largest as she has book collections about almost everything ranging from Ancient Greece to latest modern fashion trends. Apart from the books, the library also has some remarkable art collections too!
3. A library designed by Martin Kemp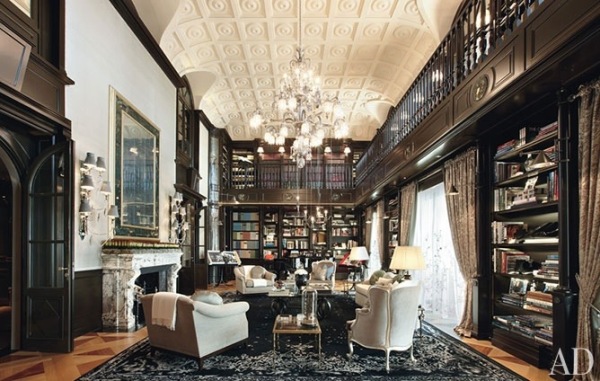 Martin Kemp from Candy & Candy designed this classy and opulent library inside a penthouse that overlooks the Monte Carlo port. The sheer vastness of the room has been utilized to perfection as Kemp has made use of various modern and antiquarian books to adorn the shelves. With a cozy seating arrangement near the center of the library, this is one elegant personal library any bibliophile would dream of!
4. Diane Keaton's home library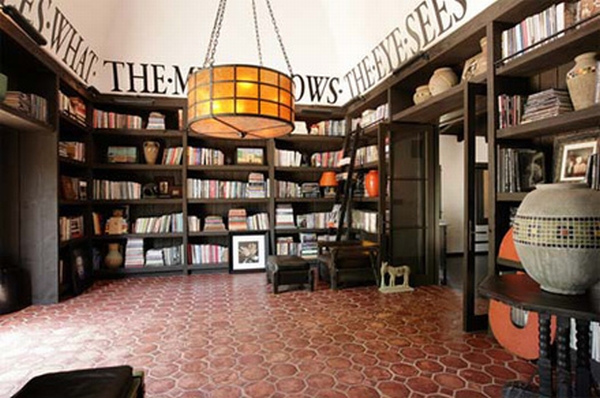 Diane Keaton's Beverly Hills home has one room that is entirely dedicated to books. The library has a vaulted ceiling with floor to ceiling bookshelves with an English tiled floor that complements the austere look of the library. The library also has ladders for getting to the upper shelves. The interiors of the library do complete justice to Keaton's Spanish-colonial stylized abode.
5. A library designed by Sally Sirkin Lewis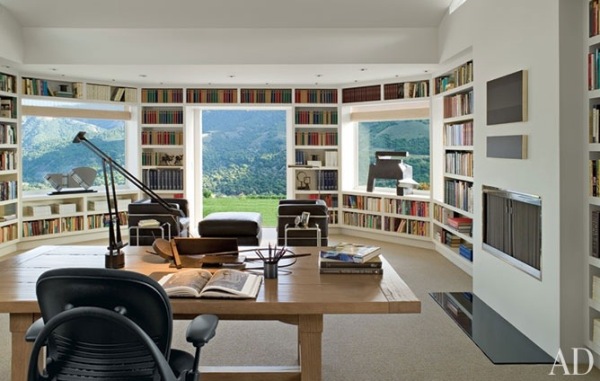 This modern library has been designed by Sally Sirkin Lewis at a home that she had renovated in Carmel Valley, California. This circular library has walls that encase bookshlves and are periodically dotted with french doors that open out to a very scenic French landscape. The library also has the most elegant Le Corbusier Grand Comfort armchairs to finish off its exquisite interiors.
6. Sting's home library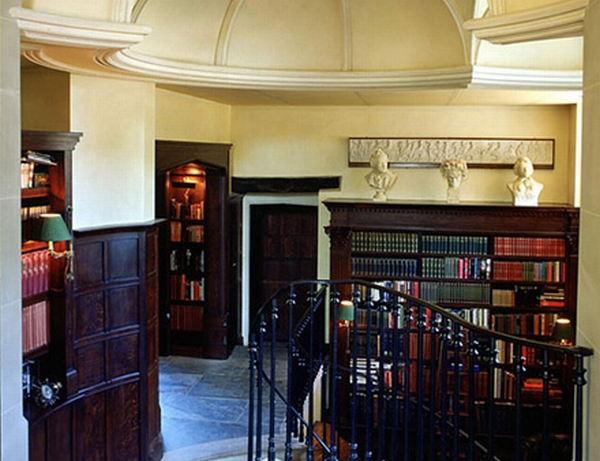 Sting's library is done up in dark wood where all the detailing is intricately executed. From the detailed paneling to the ornate ceilings, the library replicates the design from the neo-classical era that looks extremely perfect for a library. The library is contained on two floors that are connected through a spiraling staircase.
7. A library designed by Simon Jacobsen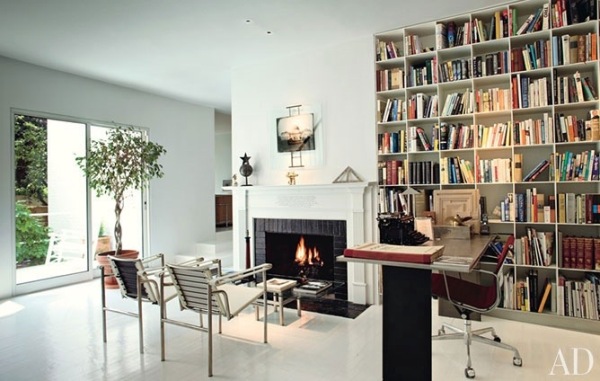 Simon Jacobsen who is a partner at Jacobsen Architecture created a home for himself in Georgetown, Washington, D.C. by combining two row houses that date back to the Victorian era. The living room was thereby converted into a personal library that has been given a pristine white look with bookshelves that are shaped like egg crates. Fitted with furniture from Le Corbusier and Eames along with a personally designed desk, this library is a treat for the senses!
8. A library designed by Mica Ertegun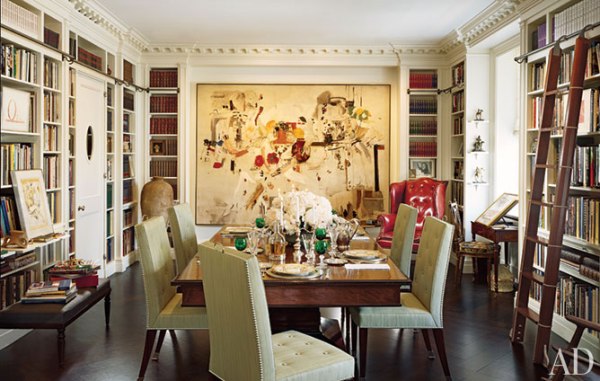 This library has been designed by Mica Ertegun for the historian and best-selling author for her apartment in Park Avenue. Having always wished for a dining arrangement alongside bookshelves – this library is a perfect amalgamation of Barbara's desires. The library has been given a very classic look and is dotted with antiques as well.
9. Michael Jackson's home library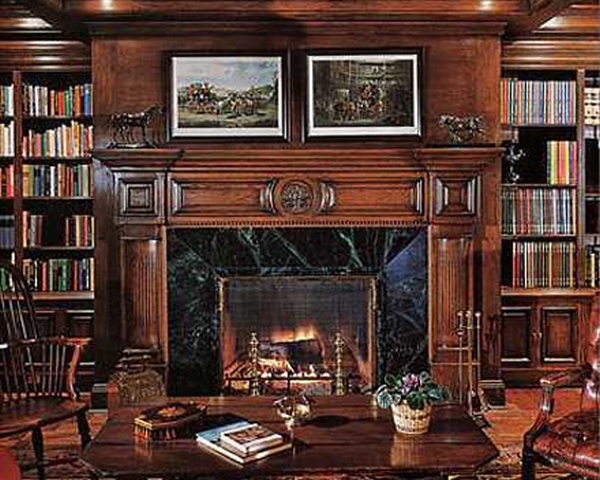 Michael Jackson was a true bibliophile and his book collection exceed 10,00 in number. Most of his books were kept at his Neverland Ranch library which was dark-paneled with a massive fireplace – perfect and cozy for reading your favorite book on a cold winter day.
10. A library designed by Alexa Hampton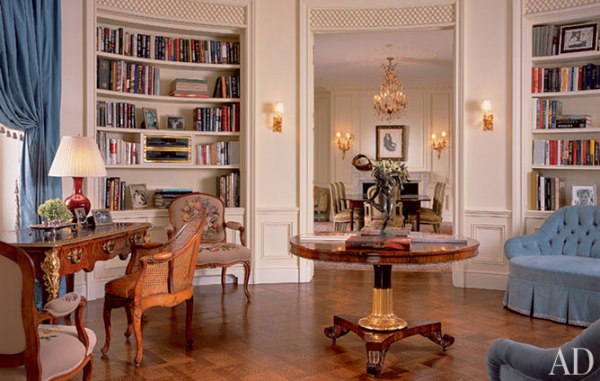 Alexa Hampton designed this personal library inside a Mead & White building situated in Manhattan. The bookcases of the library have been customized by the designer as they curve along with the walls. The place also has a metal frieze which looks very ornamental and the furniture and curtains have a powder blue velvety texture that complement the serenity of the library. The interiors look very elegant and the colors are well-balanced and very soothing.