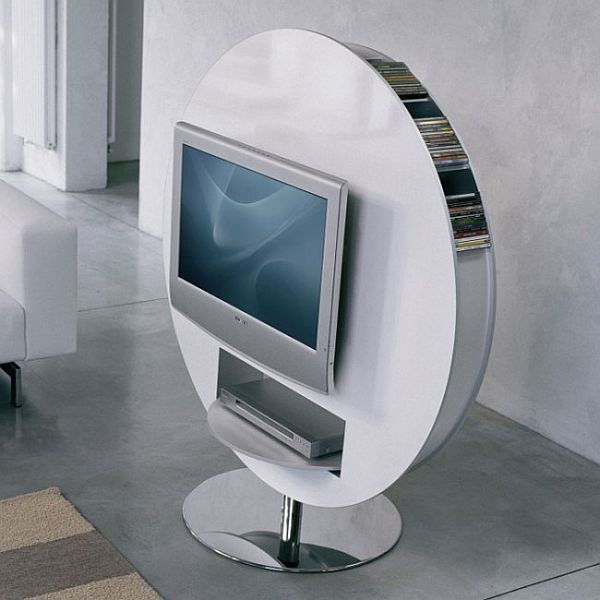 The furniture we choose to decorate our living area must deliver comfort, efficiency and style. Entertainment is an integral part of our regular lives and to enhance the experience, we need the best furniture to support the appliances. People usually spend a lot of money to decorate their homes especially the living area. The purpose is to enjoy the full comfort of your home and also delight your guests in the process. Almost all homes have a big TV screen and a comfy sofa for home entertainment and family fun. Hence, the requirement of a stylish and unique TV stand cannot be compromised. A stylish and efficient TV stand can really enhance the show of your living area. If you have been looking for one, here's a list of the 10 most stylish TV stands that will make it really hard for you to choose just one.
1. Unique and Exclusive Design TV Stand with Glass Oval Shelving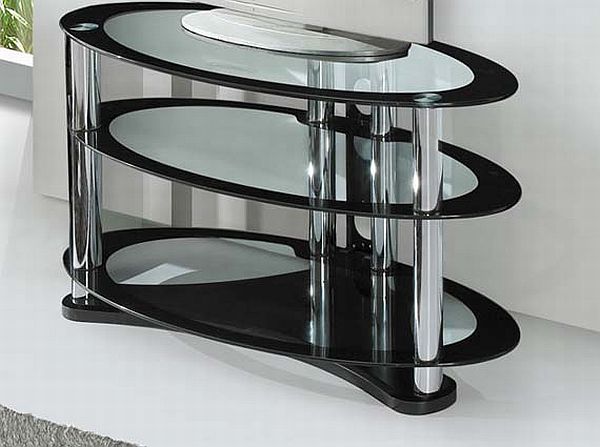 The elegant TV stand has three layers of oval shape surfaced shelves made from shiny and sturdy glass material. The three shelves allow space for a television set and much more such as a DVD library, books etc. Each shelf can hold a certain amount of entertainment weight such as the first shelf can hold up to 80 Kg while the other two shelves can hold 40 Kg each. The shelves can be used to put a DVD player right below your TV screen and all the other stuff too. The legs of this table are made of strong steel hence, you don't have to worry about the weariness of the stand. The shelves measure 8mm and the overall size of the cabinet is 51cm in height, 100 cm in width with a depth of 43 cm.
2. Modern Minimalist Mobile TV Stand for Space Saving by Axel Bjurdstrom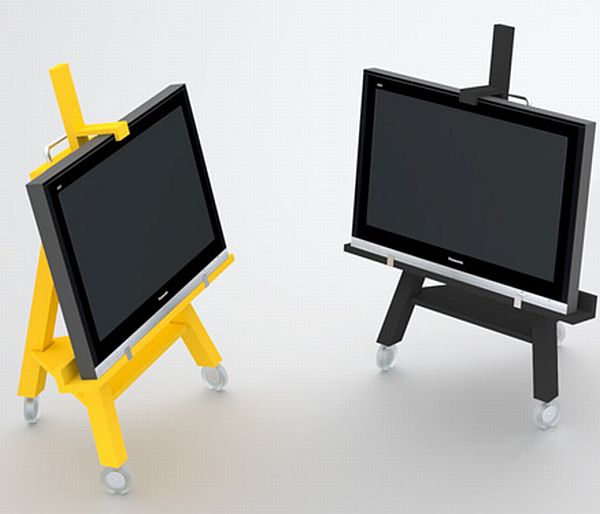 Now, this one is definitely unique when it comes to design. It seems more like a mobile TV stand which allows the user to drag their TV sets around the house with minimum efforts. Axel Bjurdstrom, a Swedish designer is behind the making of this Modern Minimalist Mobile TV Stand. So if you have limited space for a TV stand and want to make the most of a TV, this stand is a definite go. This has been specially designed for space saving and convenience and can hold a TV size of 32 to 47 inches.
3. Modern Flat TV Stand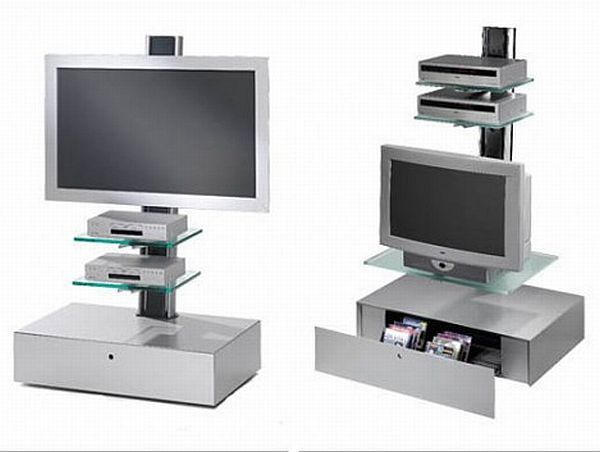 This is an ideal TV stand for both small and large homes. It is indeed a very modern and sharp design which allows you to accommodate your TV set along with a DVD player and much more. The design is focused on putting a sharp impression through the cutting edge futuristic surface of the cabinet. The TV stand also allows you to place your favorite stuff in drawers for a well managed and neat storage. It very well matches with the modern home interiors.
4. Trendy Rotated TV Stand by Tonincasa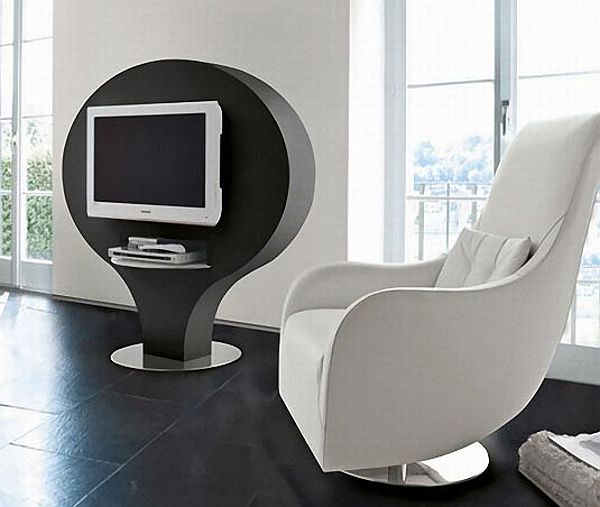 Tonicasa brings this efficient rotating TV stand understanding the need of changing the screen angles. You might decide a sweet spot for placing your TV screen but there is always a need to change the angle and direction in special cases. Furthermore, it gets very monotonous watching TV everyday from the same spot. This trendy rotating TV stand eliminates the angle limitation and provides the extra bit of comfort with a beautifully sensible design.
5. Contemporary and stylish TV cabinet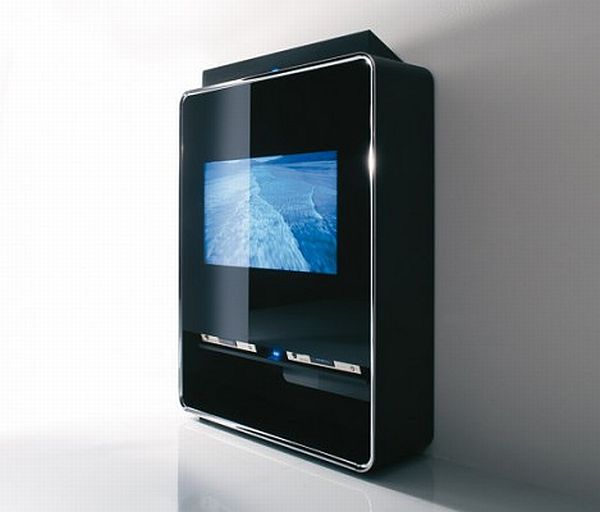 This is a very modern super trendy TV set which boosts the look of your TV screen and also the surroundings. The shiny chromed brass profile cabinet does not just hold your TV screen but also provides the home theater experience with its built-in speaker system by DIAPASON. The cabinet has a very futuristic appeal in the design with rounded brass edges. It can hold an LCD or Plasma TV between 40 to 50 inches. This TV cabinet definitely gives a very rich look and beautifies your interiors.
6. Hardwood TV Stand Space Saving Furniture Design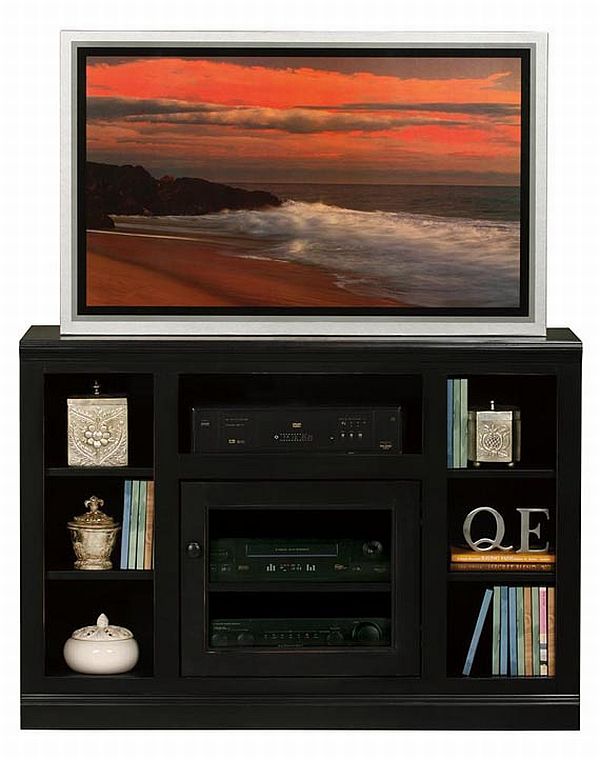 This is a very traditional but equally elegant TV stand. The overall size of this cabinet is thin which helps in saving a lot of space without compromising on the design. The stand is suitable for thin plasma and LCD TVs and also has a lot of space beneath to store your favorite CDs and other stuff. The cabinet has six book cases sides, glass door and a center shelf. The cabinet has a black color which goes with almost all TV sets and the shelves can also be very well decorated.
7. Outstanding TV stands by Cattelan Italia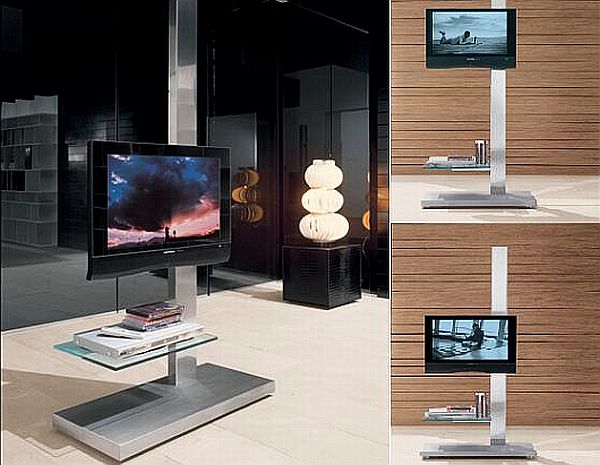 This one is more like a TV holder than a cabinet or a stand. Cattelan Italia presents a series of TV hoders which embeds with the most elegant and modern interiors. Stainless steel, wood, chromed material and glass has been used in making the stylish holder. The stand is capable of adjusting height according to that of the TV set. It gives you a lot of space to keep a DVD player, CDs and much more in an organized pattern.
8. Bonaldo Vision Swivel TV Stand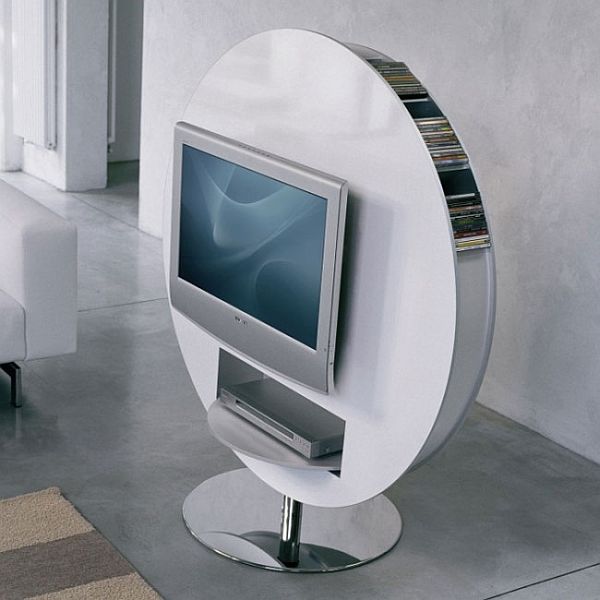 The Italian Bonaldo Vision Swivel TV stand is the best piece of art to accommodate a TV stand. The shape is round and the background surface is big which acts like a backdrop for your rectangle or any shape TV. IT has space for storing a DVD player and has a chrome base with rotatable adjustment. The stand is available in silver and black.
9. Modern Plasma TV stands in trendy colors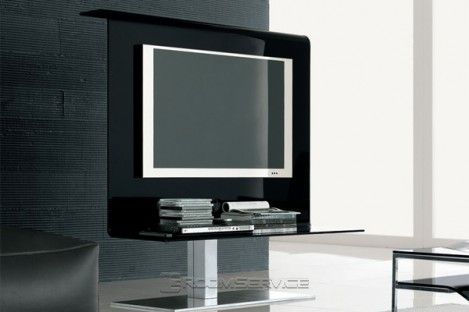 The Modern TV stand is made by the Italian designer Tonin Casa. It is a standard rectangle cabinet with a cutting edge design and polished edges. The cabinet comes in vibrant colors to suit unorthodox style and choice. As a whole, the cabinet glorifies the interiors and puts a lasting impression on the guests.
10. Trendy entertainment units with cool rotating TV stand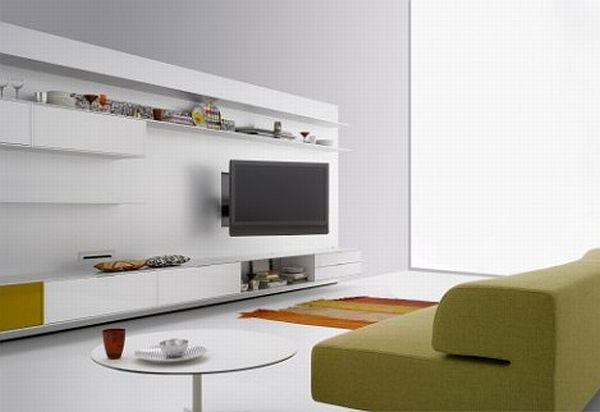 It has a very sophisticated and efficient design which fulfills the expectations of a classy living room furniture piece. Designed by MDF Italia, the stand very well mounts the television screen on the wall which helps in saving a lot of space and also decorates the wall with beautiful entertainment.