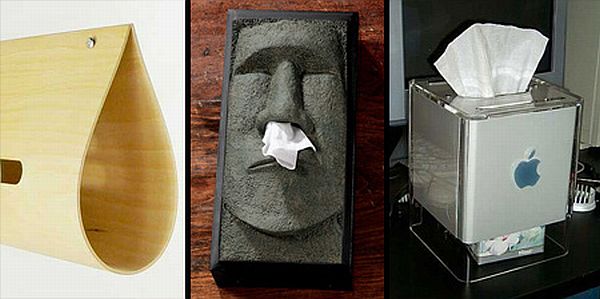 A box of tissues can be found in every household but never manages to fetch attention. All we do is pull out a tissue and never bother to give a second glance to the box that holds these handy papers. Here is a list of twelve tissue boxes that will perk up offices and dwellings, attracting a lot of attention.
1. Shakespeare Tissue Box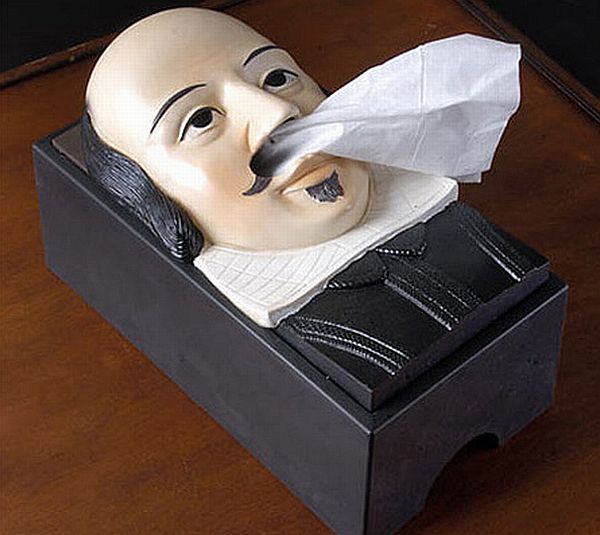 Give your standard tissue boxes an eye-catching look with the Shakespeare Tissue Box Cover. Tissues can be easily pulled out from the nose(y) tissue dispenser. If you love reading poems by William Shakespeare and are down with cold then pull a tissue out of the nose of the greatest poet ever while enjoying reading his work.
2. Magic Hat Tissue Box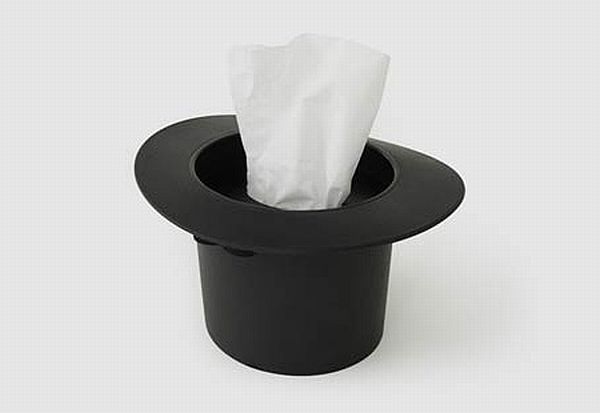 You must have seen magical hats out of which rabbits and birds pop out of nowhere that wins a lot of applauds. Here is your chance to do magic with the Magic Hat Tissue Dispenser. The only one of its kind tissue dispenser comes stashed with a price tag of $20.40 and will form a special place in your life in no time. It will act like a fairy godmother and present tissues for your use.
3. Stone Statue Tissue Box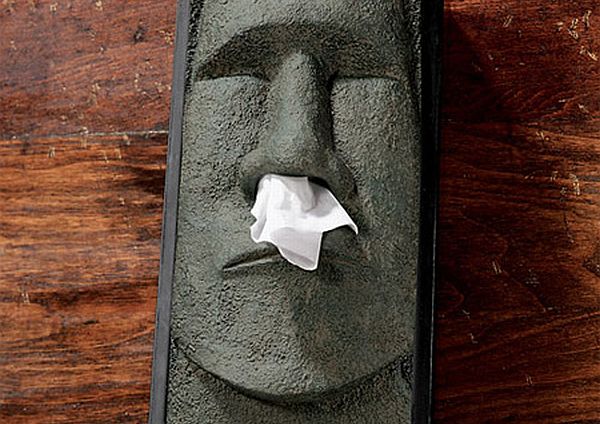 Stone Statue Tissue Box Cover is another product that will be sneezing tissues out of its nose. The design of this extraordinary tissue box has fetched heavy inspiration from a very famous statue. The grey colored cover looks as if it has been made from cement and looks like a well carved stone that features a human face.
4. Yamato's Wooden Tissue Box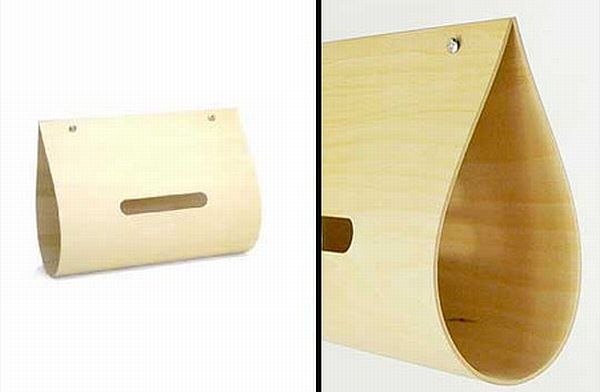 Yamato from Japan has designed an elegant Wooden Tissue Box that can be wedged on a wall or stand alone. It has a plain surface and makes good use of traditional woodcraft techniques used in Japan that has been perfectly blended with modernism. The cool design will blend with all kinds of interiors and give the idea of owning a tissue box a fresh appeal.
5. Daishowa Black Box of Tissues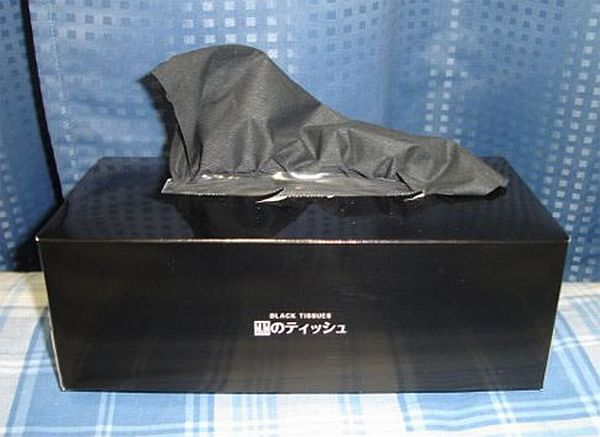 The color white is synonymous to tissues. But, this image is going to change forever because of Daishowa Black Tissues. Add a touch of elegance and unending style in your house with this black tissue box. The smooth skin tissues will give birth to a royal feel every time a piece touches your skin. They have been made using 100% pulp and each box contains 160 tissues in the color black. Color black is a symbol of luxury and sophistication that has been ingeniously used to produce Daishowa Black Tissues.
6. Perfect Slice of Summer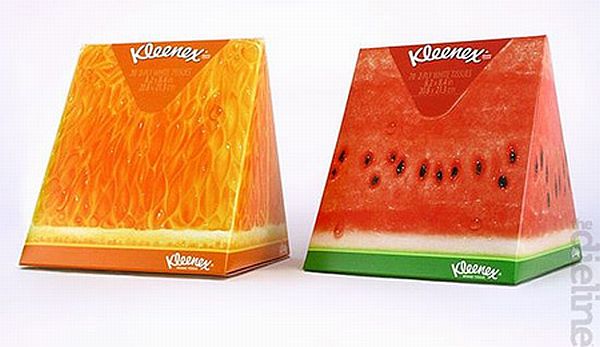 Perfect Slice of Summer Tissue Boxes by Hiroko Sanders comes wrapped in freshness. The boxes have been shaped like different fruit slices and come injected with the true spirit of the summer season. The breathtaking illustrations have been created to lend a cool look to spaces even when the temperature soars high.
7. R2-D2 Tissue Box cover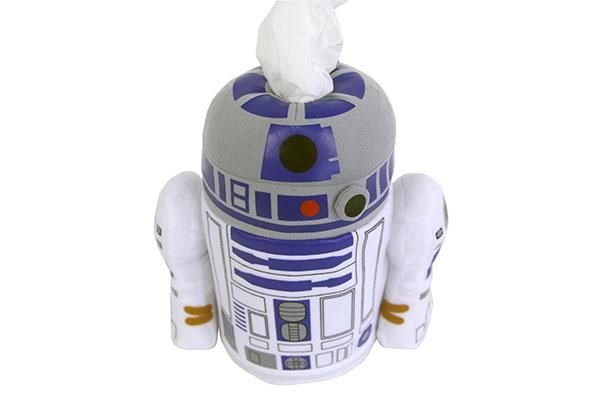 R2-D2 products have been out there for quite some time now and there are more that join the list every single year. A R2-D2 Tissue Cover that is nothing less than a luxury item is here to decorate your dwellings in an interesting manner. The tissue cover will definitely make fans of Star Wars jump with utmost joy as they see tissues roll out of their favorite fictional character.
8. Talking Tissue Box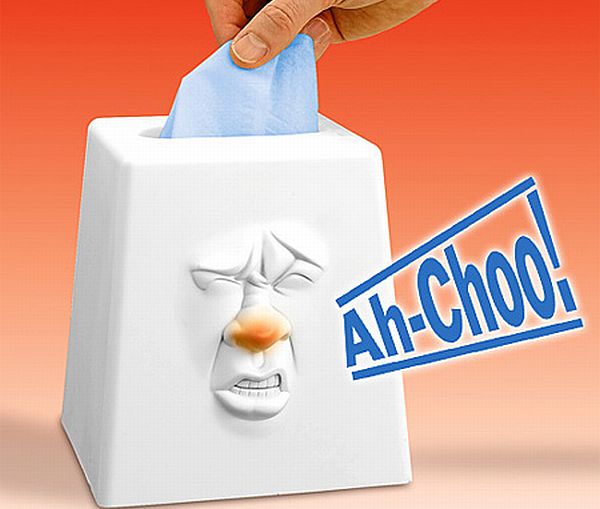 Imagine a tissue box that talks? Yes, the talking Tissue Box comes fitted with AA batteries that give it talking abilities. The facade of this tissue box features a face that has a red colored nose just like you will have if you have cold. Every time you pull out a tissue from this box it will produce sounds (both cough and sneeze) giving you company when you feel unwell. The overall presentation is quite interesting and it is definitely an out of the box idea.
9. Super Mario Tissue Box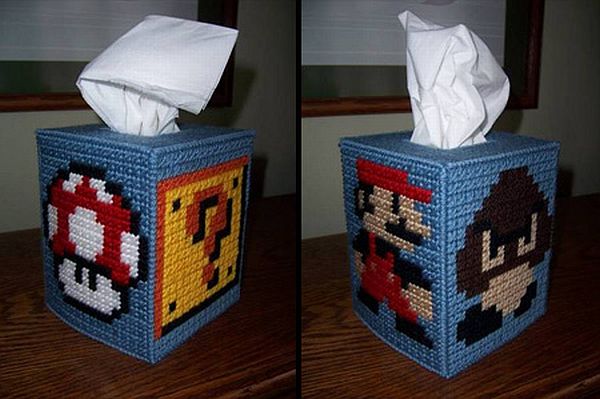 Super Mario game has inspired a lot of designers because of its popularity. The question mark box from bestselling video game has been used to design a tissue holder. It is very attention-grabbing and will accelerate excitement levels of onlookers just like the game does. Rescue tissues from the box just like Mario is out there to rescue a princess.
10. Toro Tissue Ring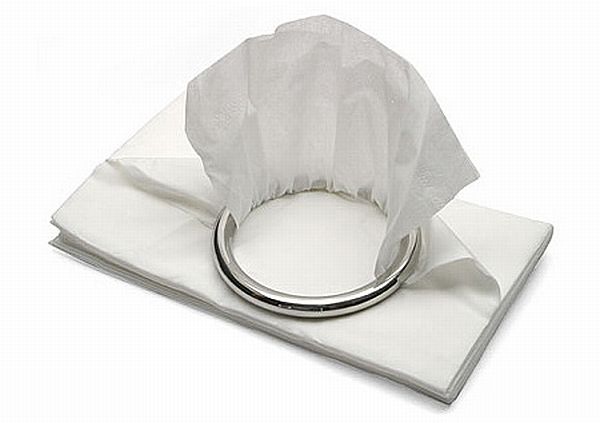 Scott Christensen has designed the Toro Tissue Ring that will woo you with its simplicity. It looks like a nose ring (made from stainless steel) and won't consume much space. So, say goodbye to boring tissue boxes and grace your spaces with a touch of minimalism with subtle designing of Toro Tissue Ring.
11. Nintendo Famicom Tissue Box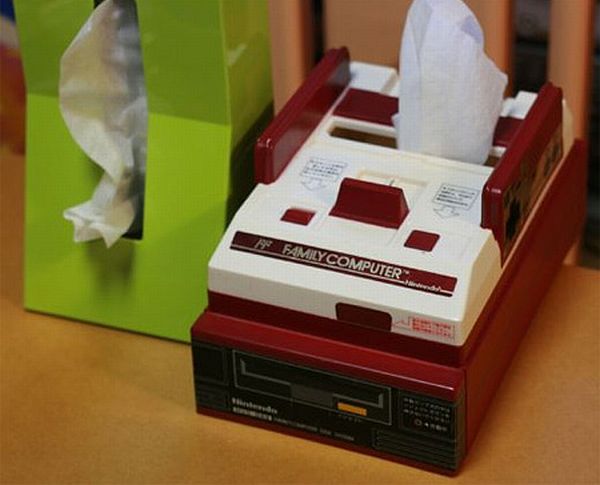 One look at this tissue box cover and you will confuse it with a console that has been extracted from Nintendo Famicom. You can easily slip this awesome creation over a regular box of tissues and give it an attention-grabbing appearance. Nintendo Famicom Tissue Box Cover will be a perfect bathroom accessory that too at a price of $9.99.
12. Mac/Apple G4 Cube Tissue Box Cover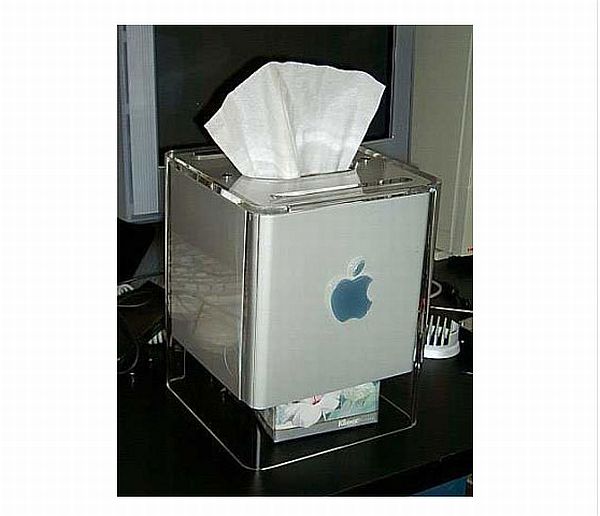 Everything that comes embedded with the Apple symbol is precious. So, what can be done if a the G4 Cube stops working? Simple, give it a new life in the form of an Apple G4 Cube Tissue Box. Place it on an everyday box of tissues and feel proud when the tissues touch a part of the world's most loved gadget company before you can use them.