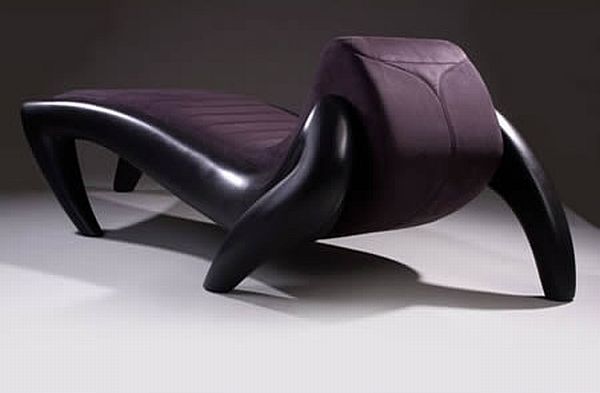 When it is time to relax, make a nice drink and lay down in one of modern lounge chairs. That sounds fantastic, doesn't it? For your reference we are listing out 10 trendy lounge chair designs to relax in style. Have a look below:
Ferrari F1 Lounge Chair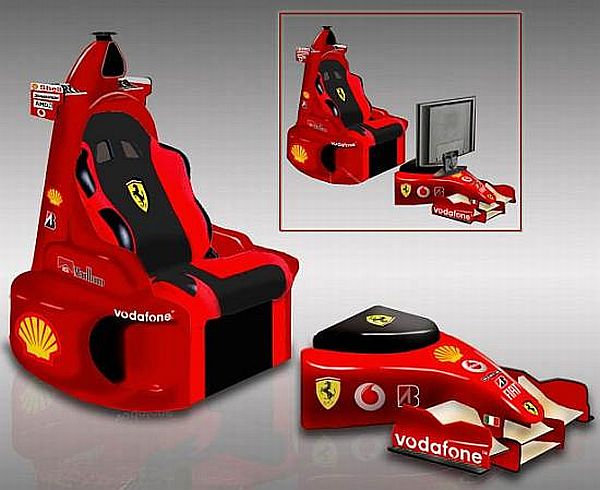 Very recently the world was taken ablaze with the sleek and stylish Ferrari Formula One lounge chair designed by Hungarian designer Alexander Christoff. Well! For those people who are still left spellbound by this creation, be prepared to be mesmerized by the new Formula One chair designed by Arthur Q. Reyes Jr. It only adds to the temptation of taking a break and relaxing into one of these comfy chairs. After three long years of development, this chair no longer remains just a concept.
Reportedly, very soon this chair will be in production and available in the market for consumers to buy. Fiberglass (industry grade) along with a silicon mold accounts for the largest portion of materials used in the making of this chair. The most fascinating feature of this chair is that the upholstery is made of the same material used for the seats of the actually racing car. This lounge chair can further be customized by embedding up to 5 speakers. An LCD panel can also be fitted in to the air vents. There is also space for a DVD player and a gaming console.
Splash Lounge Chair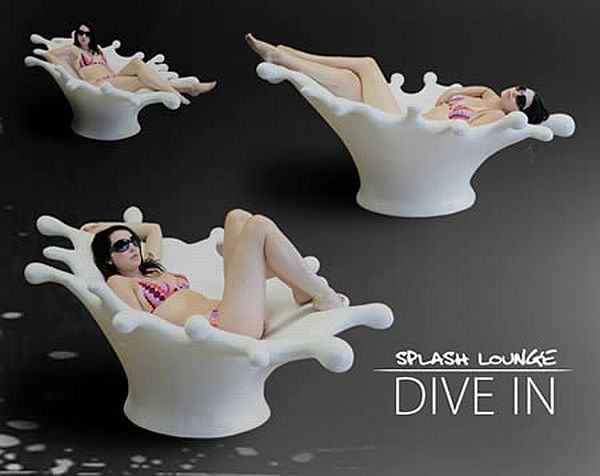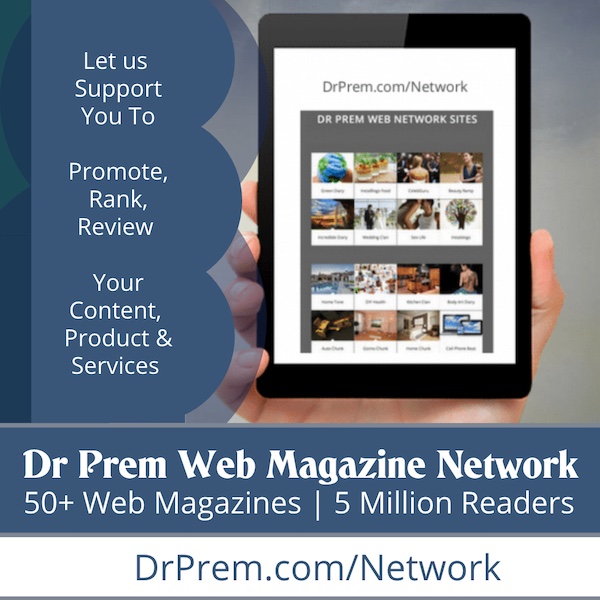 Ever looked at a splash of water on a hot summer's day and longed for it to be big enough to cup you up? Have you ever dreamt of spending a long lazy afternoon surrounded by splashes of water? Inspired by these very same feelings and thoughts, designer Michael Wendel has come up with a scale model called Splash Lounge Chair. Each chair is shaped in the form of a splash of water and is big enough for two people to sit in. This lounge chair has been made from sculpey clay. A glossy white finish has been given to each chair that lends a more realistic look to it.
Wing Lounge Chair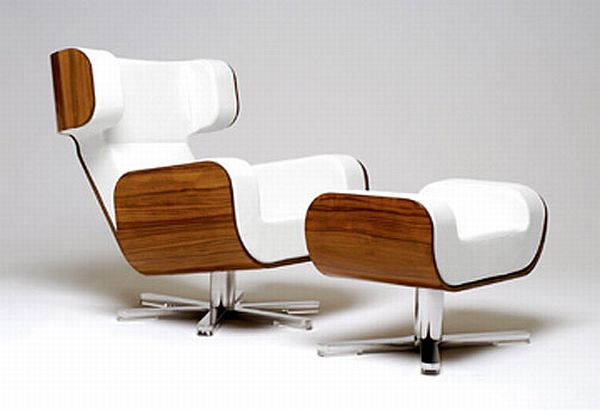 There are many striking features of this lounge chair. The first one is that it is made from the largest single piece of bendwood used to make a chair. The second feature, which seems to attract many, is the fact that it is the only chair ever to be tested and certified by NASA and The Space Foundation. It doesn't harm to mention that it is also a very cute and comfortable chair. The elastic memory foam used in the making of this chair is the same material that is used on NASA's spacecrafts. The price of these chairs are yet to be revealed though.
Bouloum Lounge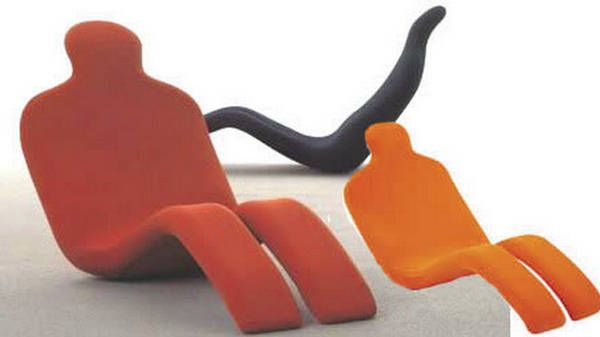 As cute as this lounge chair looks, there seems to be a lot of sentiments that went into the making of this chair. Designer Olivier Mourgue has named this stylish chair after a childhood friend. Reportedly, the designers tagged along this comfortable chair when he travelled and make it a point to take photos of it at various locations. It is said one cannot experience the true wonder of this charismatic lounge chair just by looking at it. You need to sit on it to believe it. But remember, once you sit on it, you're bound to fall under its spell and no matter what, would want to own one.
Ducking Lounge Chair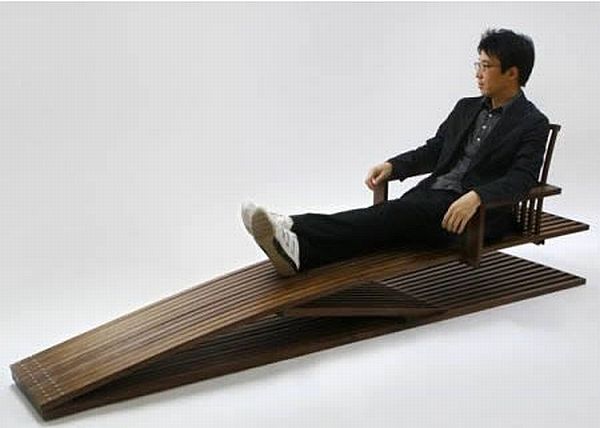 A cool looking lounge chair, the Ducking Lounge Chair holds true to its name. This 2 meters long chair is made of walnut. It is built with a certain degree of curvature giving it a more relaxing element. It can be used for both indoor as well as outdoor seating. What's even greater about this chair is that you wouldn't need a separate leg rest or have your feet dangling in the air. A ducking chair, a cup of good tea and a lazy after – sounds like heaven on earth?
Soft Pipe Lounge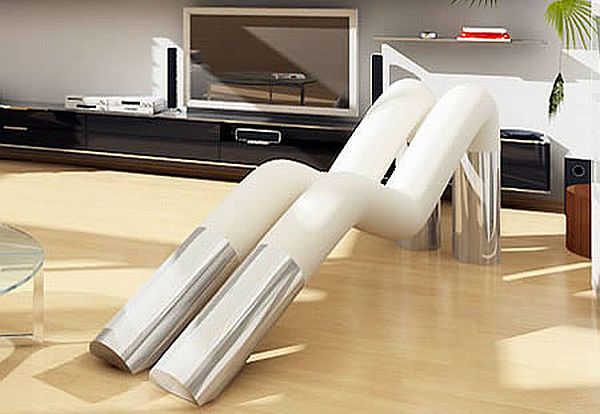 Inspired by the shape of a woman, Sand and Birch Designs have come up with a new and innovation form of a lounge chair. This elegant piece of work has been so carefully designed, keeping in mind every minute detail of a woman. If you look carefully, you can actually see the boots of this lady. The entire chair is created from two pipes that have been covered with metallic parts and a soft colored leather fabric. Though still a concept and yet to go into production, reservations for this unique piece of art has already begun.
Hovering Magnetic Lounge Chair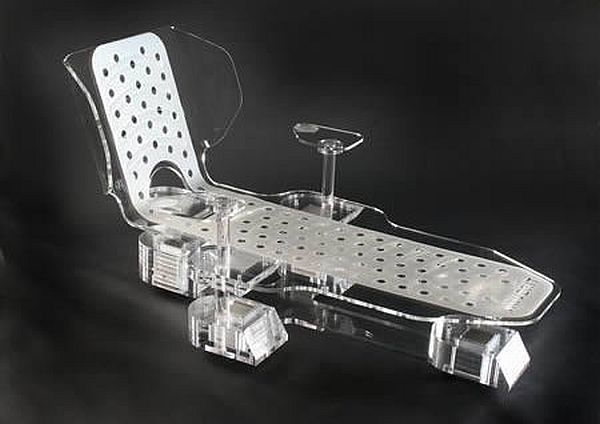 This tech toy in the form of a lounge chair seems to have caught the fancy of many. With speakers costing as much as a small house in London, this chair seems to be the biggest attraction is London's upcoming gadget show. The most striking feature of this chair is said to be its ability to use powerful magnets to float in the air. Other than this, the chair also includes a solar powered mobile phone charger, a robot guitar and a pocket-sized DJ mixing desk. Designer Keith Dixon says he was inspired by such gadgets from his childhood days.
Living Lounge Chair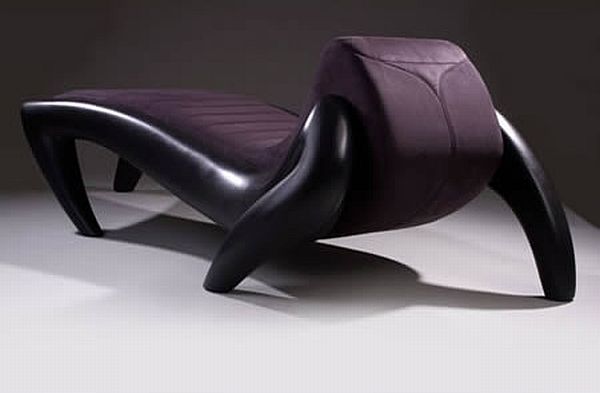 The Living Lounge Chair, designed by JGreen Designs won the Niche Awards in 2008. Costing a little more that what people would bargain for ($7,500 per chair) this chair has taken the meaning of comfort to a whole new level. It is stylish, classy and very comfortable. You could practically spend days on ends on one of these. As it's a limited edition, people are lining up quickly to reserve one for themselves. The company is said to be taking 50% of the cost as deposits.
Half Moon Lounge Chair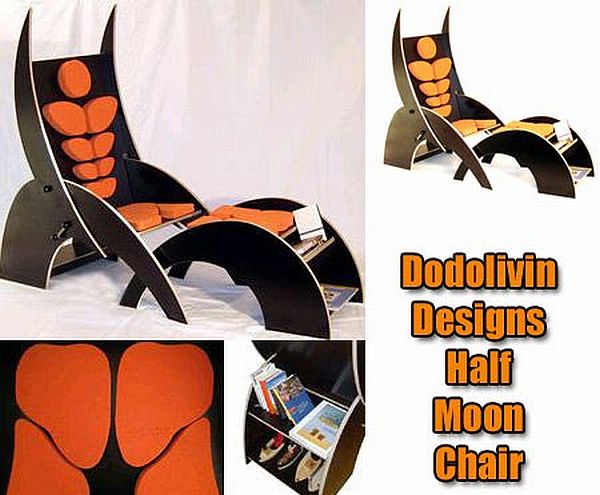 Yes! The moment you look at this chair you can't help but think if this chair was customized and made for Batman. The skeleton-like seat makes for a very comfortable sit. It is made of sponge accompanied by black wood boards.
Knot Lounge Chair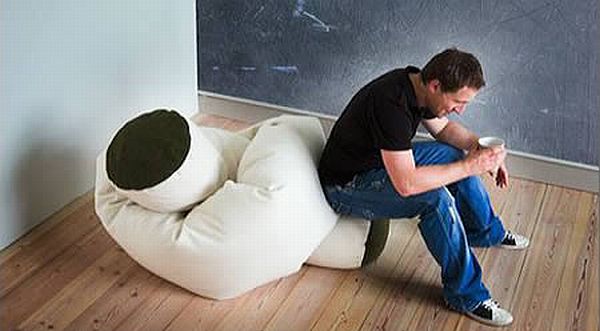 Created with Kyadrat wool, this knot lounge chair would fit perfectly into any contemporary house. From comfort to looks, everything about this chair spells perfection. Designer Birgit Ostegaard does a good job is combining creativity with practicality.