Chair not only eases our work but is so important when we feel to relax. Have you ever thought that chair not only fulfills the need which they have been meant for but comes up and serves multiple functions? For your reference, here we are listing seven multifunctional chair designs. Have a look!
Calypso chair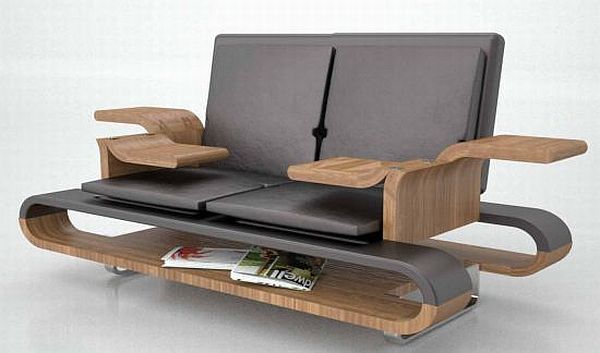 With the increasing number of competitors in the market, designers have to go that extra mile in thinking up new and innovative designs to make their products sell. One of the best way to do so is by knowing who your targeted customers are and designing products according to their needs. This is exactly what the Calypso chair does. Specifically designed to cater to the needs of net surfers, this chair designed by Brandon Allen allows its users to sit and use their machines at different positions. They could relax on the long comfy chair and also indulge in a conference online. The chair also boasts of having ample storage space.
Shair chair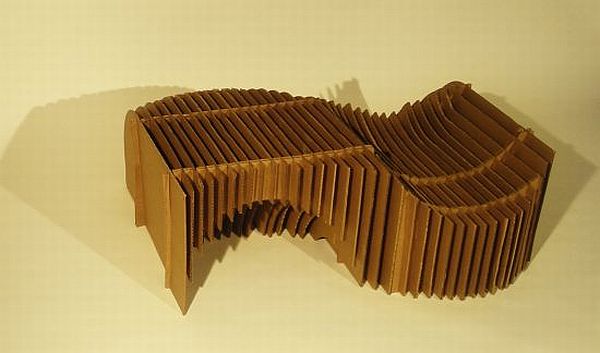 This vague looking structure is a chair. Designer Brian Moy took his inspiration from sea waves while designing this unique chair that doubles into a work station. Made of corrugated cardboard sheets, the two seats of the chair are placed at different heights, making it comfortable for taller people to sit on it as well. This chair is not just comfortable to sit on but easy to move around. It can easily be dismantled and put together without much hard work.
Also chair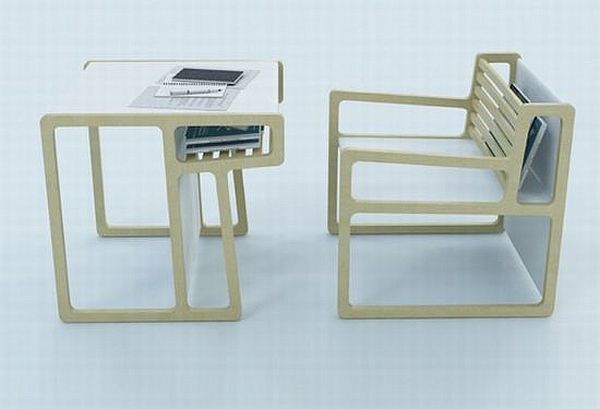 Just as the name suggests, this simple but stylish chair can be used as a chair as well as a table. This concept proves to be very helpful in modern times when space can be a major constraint. Houses, flats and apartments are seen to be shrinking in size and furniture such as these are definitely the need of the hour. When used as a chair, you just need to flip the armrest by 90 degrees to make it a table. This multi functional chair by Akin Bacioglu also comes with a book case, where you can store your books, magazines or newspapers.
FOR2 multifunctional chair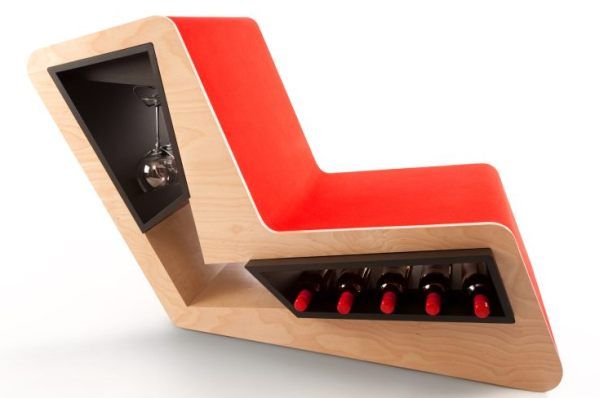 This multi funtional chair has been designed by Sia Zanjani from After 6 Design Studio, popularly known as A6DS. This chair comes with storage facilities of up to eight wine glasses and 15 wine bottles. The chair can accommodate two people at once. Apart from this, it also has space to keep magazines, books and other accessories. The chair is mainly made out of birch plywood and wool felt. They come in various colors that can even be customized according to the customer's wish. The cost of a chair comes up to CAD $3,500.
Bookseat by Fishbol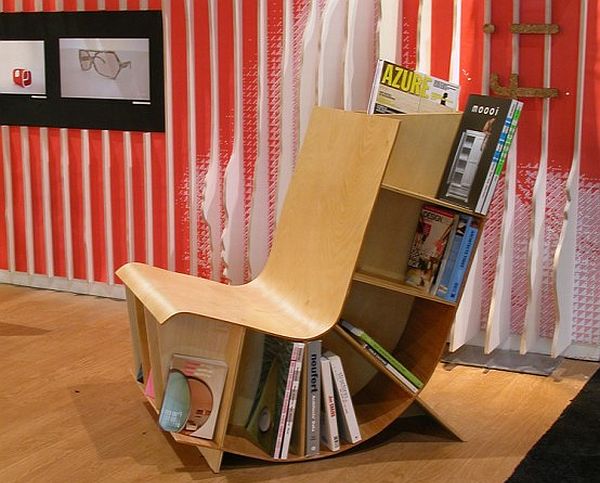 Fishbol has invented this new concept of combining a chair with a bookcase, both for convenience as well as space. This unique concept has been named Bookset. There's nothing fancy about the design of this piece of furniture. However, it is very practical and easy to use. The bookshelves of the bookcase are in plenty and fit in perfectly to the curves of the chair. The entire structure is made of birch plywood with a comfy, soft cushion whose color can be customized. The entire furniture comes as a great solution to the ever growing problem of space shortage. Such compact chairs definitely make life easier.
Multi chair by Joe Colombo

Designer Joe Colombo of B-Line Manufacture has come up with this amazing idea of a multi chair. This chair comprises of two individual parts that are jointed together by an adjustable rod. The rod allows the chair to transform from a normal chair to an arm chair to even an easy chair. You can also use it to lie down comfortably. The cushions of the chair are made of polyurethane foam that makes it soft and comfortable. The entire chair has elasticized fabric and its belts are made of soft leather.
Wave chaise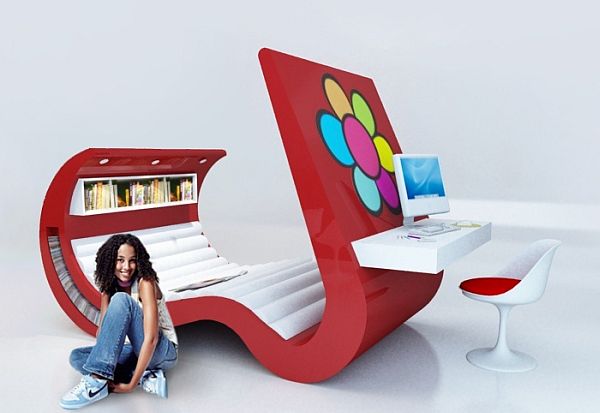 Designed by Roberta Ramme from Brazil, this wave chaise, which is more of a lounge chair is perfect to suit your needs. You can design the chair the way you want, giving it either a classy, formal or casual teenager look. You could do just about anything on this chair, sleep, study, browse the Internet, watch a movie, listen to music or just relax and read a book. Taking inspiration from teenagers' life, the designer has very carefully examined and taken care of all their needs. The colors are vibrant and the concept is new.