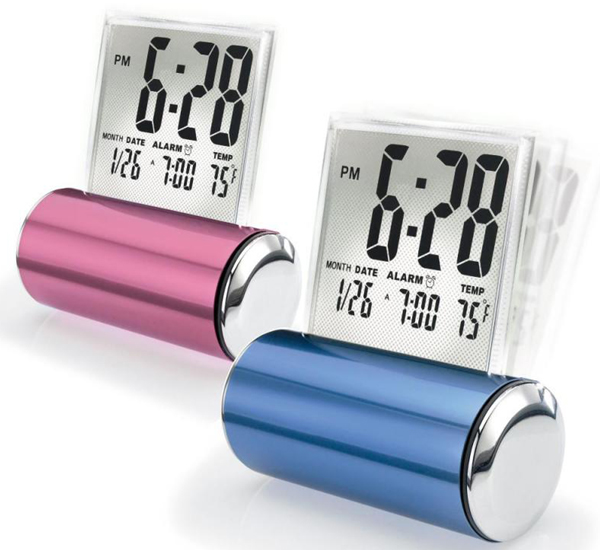 Most of us wake up in the morning to the harsh shrilling alarm clocks. But they are now not to be dreaded anymore because the market is now full of options of sleep therapy alarm clocks that let you sleep! The best options are here:
1. Tranquil Moments: With eight sound therapy programs, it puts you to sleep by playing them. It has a recorded message which wakes you up on preset time.
2. Crosley Radio Cr612-Bk Corsair Alarm Clock/Radio: It boasts of its retro look blended with the latest technology of CD player, radio, dual alarm and LED display.
3. Moshi Elite Speak N Set Voice Activated Desk Clock: This clock 'speaks' to you and asks you what you want it to do. It has an illuminated background which lets you see time even in dark and comes with many alarm sounds.
4. Dual Dock Alarm Clock Radio for iPod and iPhone: It's an amalgam of iPod and alarm clock docking station. You can wake up to radio/ preselected playlist or iPod/ iPhone. It lets you set three different alarms from all 4 sources.
5. iHome iA5 App-Enhanced Alarm Clock Speaker System for iPod and iPhone: It serves the dual purpose of docking and recharging station. One can choose from alarm buzz or a prerecorded message from iPod/ iPhone. Snooze option can be set for 1 to 19 minutes.
6. TimeSmart Self-Setting Alarm Clock Radio: It has the dual function of radio and alarm clock. It comes with the advantage of automatically resetting itself in case the power goes off. All one needs to do is to set the time zone.
7. Moshi Speak n Set Touch Activated Travel Alarm Clock: An asset for travelers, it is a recordable alarm clock with additional features of telling time and temperature. One needs 3AAA batteries for it to work.
8. iHome iP39 Kitchen Timer and Alarm Clock Radio Speaker System for iPhone/iPod: Your mate at cooking time, this device is a combo of docking station and alarm with times for cooking and chargers for camera and phone.
9. Jimi Rocker Clock: Its big and clear display shows your recorded message while the clock is mounted over a roller. The clock display lights up upon rolling.
10. Projection Clock: An alarm clock which can be charged using an AC adapter. It's especially for those who are too tired to search for the alarm clock. It projects the time on the ceiling along with temperature and current date.
11. Travel Clock with Flashlight: With a micro beam LED which lasts for 10000 hours with recharging, this clock illuminates as it's lifted. It also shows temperature and date.
12. iDesign Cube Clock Radio: This cubic recordable clock, which also functions as a docking station for iPod/iPhone, makes you fall asleep and wake up to music. It has three preset radio stations and stereo speakers along with a large Led display with adjustable brightness.
13. Moshi Voice-Activated Digital AM/FM Clock Radio: A recordable alarm clock with radio, having 6 preset stations with adjustable display brightness, this device acts on 11 different commands.
14. Verilux Rise and Shine Natural Wake-up Light: It's a clock with an inbuilt light which gradually dims as one falls asleep and increases in brightness as its time to wake up, thus also correcting sleep patterns. It also has a radio in it.
15. Bob 5-in-1 Wobble Clock: This recordable alarm clock comes with added features of showing date and temperature along with timer. It's available in many colors.