Coffee tables are low lying tables which form the vital part of your living room decor and the center piece attraction while entertaining guests and visitors to your home. With or without a storage compartment, this adornment for living areas, is an ideal accessory to serve beverages or finger foods while entertaining or even to hold your remote, books and coffee mugs otherwise. Given below are some creative and remarkable coffee table designs; that you can pick to add that extra dynamism in your sitting area.
Cool and creative coffee table designs
1. Alien Coffee Table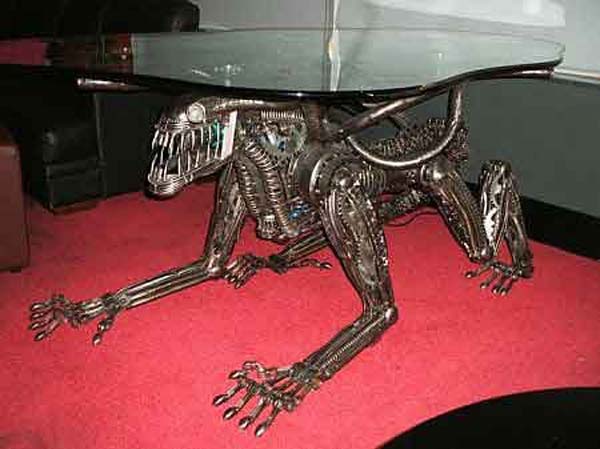 Guaranteed to be a stealer of all conversations and parties; the alien table is one of the most unique pieces of accessory for your living space. Handcrafted from used bike, cars and other scrap machine parts; this robotic alien will perk up your house or conversation effortlessly. It weighs around 150 lbs.
2. Touch-sensitive Coffee Table
This coffee table has built-in infra-red sensors; that senses when there is something close or on the surface.  It triggers the parallel LEDs in an LED array. You can also switch off the LED array whenever required.
3. Nested Coffee Table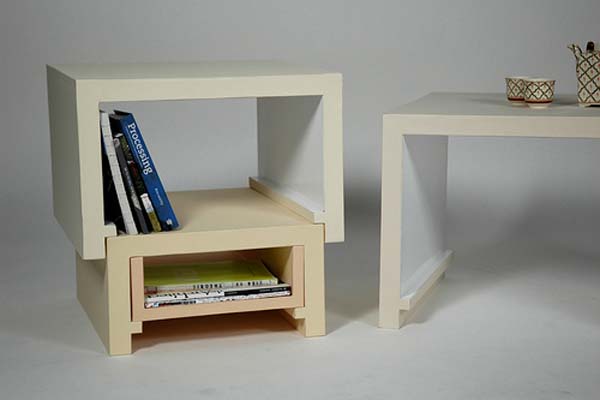 One of the things that is most constrained in a living room area is the space for storage. A helpful means to fix this dilemma is buying a coffee table with extra storage availability. It unfolds from within a layered storage facility which helps you remove the clutter around the space. Along with that, you can also create space for that extra mug of coffee or books when required. Designed by Swiss designer Florian Kräutli; this table comes with drawers and stacked tables that are extremely functional as well as stylish.
4 Tonelli Dekon 2 Coffee Table
Tonelli Dekon 2 Coffee Table is designed by Karim Rashid for Tonelli. The stylish glass coffee table is crafted from tempered glass sheets that are welded together using a special process that gives it a look of jewel.
5. LED touch-sensitive coffee table designs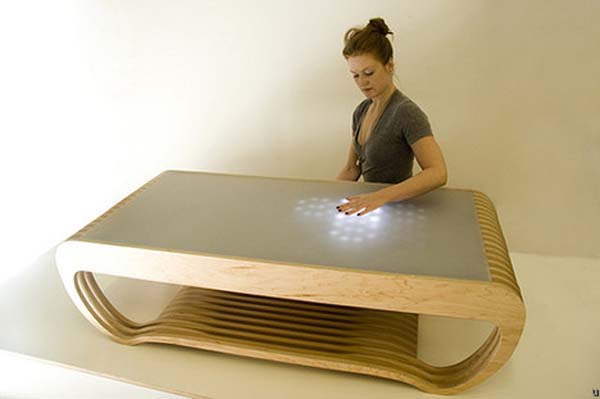 Named as the Ripple, this is a LED touch-sensitive coffee table powered by 480 super-bright white LEDs. Designed for the gizmo geeks, the table top is made of infra-red proximity sensors to light up when touched. The table can also operate normally when you are not using the LED lights. It is designed by Because We Can design studio, Oakland, CA.
6. Sony Fusion Coffee Table
This concept of this sleek coffee table does more than just you sitting in your living room. When you activate the touch, the table parts and reveal a snazzy Sony laptop sporting a touch-sensitive and glowing keyboard.
7. Paper pulp Coffee Table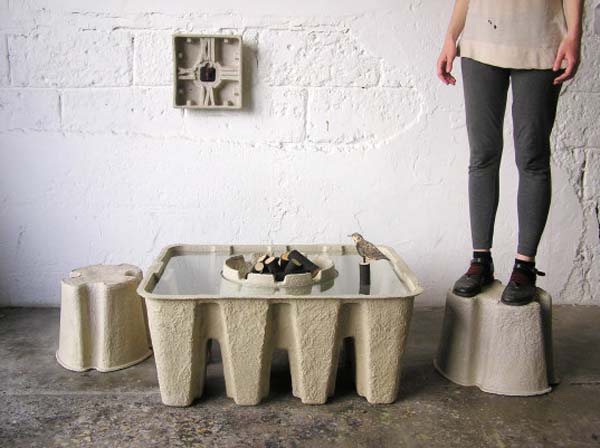 Inspired by paper spacers used in packaging materials, Tel Aviv based designers Dan Hochberg and Odelia Lavie has designed this sustainable coffee table. This creation is also a part of the  pulp furniture range. Easy to clean and quick to assemble this quirky table helps wastage and promotes recycling.
8. Rocks Table
Rocks Table is one of the most perfect choices for fans of rock music. The guitar shape of this coffee table will make a perfect addition for those who have a music theme in their house; or love music. It also comes with various room accessories that is from the designer Rocket.
9. Plutone Glass Coffee table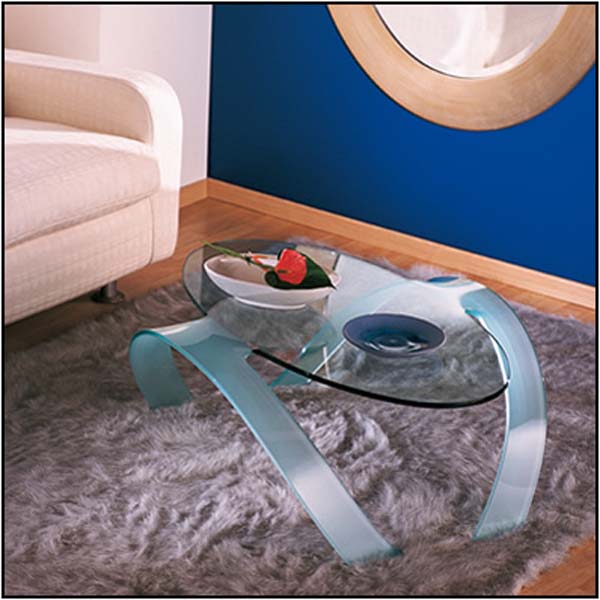 To notch up the aesthetics of the living area a little higher the Italian designer coffee table named Plutone, by La Vetriria is a must have. This fully glass table gives the room an elegant look and also lightens up the surroundings.
10. Spiral Coffee Table
This spiral coffee table is really eye-catchy. It is not only innovative, but attractive as well. This is definitely going to be one worthy addition to your beautiful living room.
11. Tree coffee table designs 
Designed by Link Designer studio, this unique coffee table literally looks like a tree and adds a natural look to its surroundings. This inspirational table holds a cavity within the tree-like trunk to hold your magazines, books etc and also its simplicity attracts all attention from its' beholder.
12. Sancal Elipse Coffee Table
This interesting coffee table is designed by Rafa Garcia for Spanish furniture company – Sancal. The stylish coffee table has a fiberboard top; while the bottom is in place thanks to the enamel-coated steel. This is why, it gives the appearance of the mid air suspension.
13. Pine Sculpted Wooden Coffee Table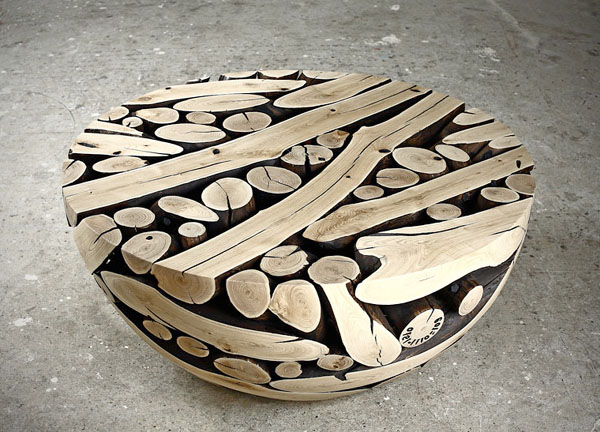 This sculpted wooden coffee table from pine wood is designed by Korean designer Jae Hyo Lee. The depiction of woody natural set-up highlighted by a creative style of geometric art lends a contemporary feel to room décor.
14. Globe Glass Coffee Table
This coffee table is simple yet unique. The Globe Glass coffee table has glass top and boosts attractive edges and steel base.
15. Spiral Coffee Table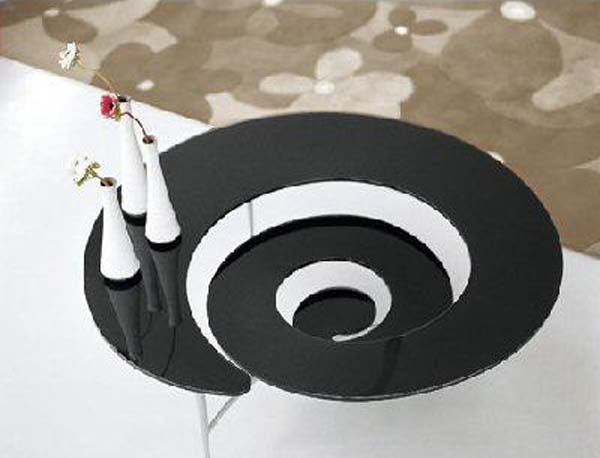 This unique Spiraled table from glass is priced at £995.00 and is designed by Cattelan Italia of Urbansuite design studio. The base comes in chromed or silver lacquer and the top is available in a variety of clear, frosted, black, red or brown glass to match your mood, decoration and desire.
16. Nautical Rowing Dory Coffee Table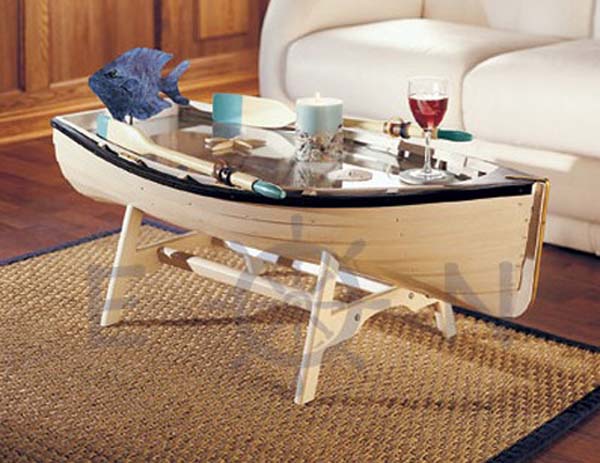 This original rowing boat is designed by Everything Nautical, as classic home décor aimed towards rowing enthusiasts. The boat priced at $355.99 comes complete with twin oars and is 48-inch long. It is mounted on stands and has an oval glass over it to make it serve as a fully functional coffee table. It also has a detachable shelf to use to store books and magazines or maybe show off your marine collection of shells and other antique curio.
17. Fiocco Glass Coffee Table
Fiocco Glass Coffee Table is a best combination of function and style. It sports a lustrous sheet of curved Italian glass, and is an excellent option for any living room. Also, you can use the glass bends as a magazine holder.
18. Aquarium coffee table designs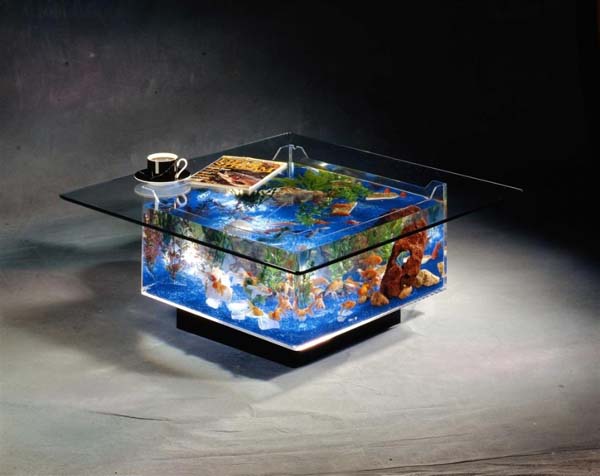 Space shortage has given rise to multi-utility furniture, and one of these endeavors has been the Aquarium-cum-Coffee Table. This table will give your guests with this most relaxing option of watching fishes in water. You can also use this table like a normal one since it comes with a sturdy glass top. Without a doubt, such a novel and luxurious living room accessory comes in various shapes and sizes to suit your requirement.
19. Aqua Square Aquarium Coffee Table
The innovative Aqua Square coffee table is a perfect example of a fusion between function and innovation. Around 25 gallon aquarium is added to your boring coffee table to give it a new interesting look.
20. Futaba Coffee Table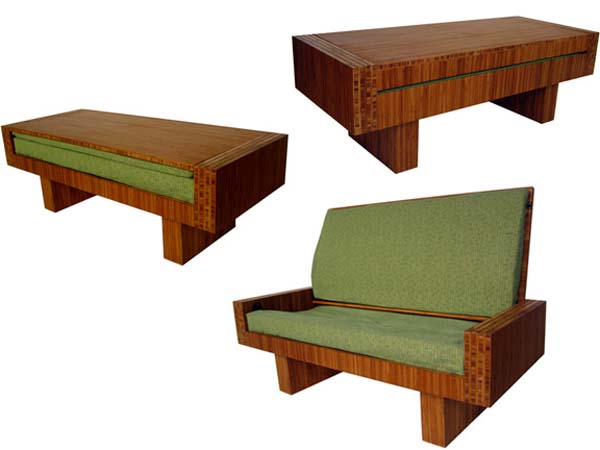 Crafted by hand from bamboo plywood, the Futaba coffee table from the Delta Quadrant designers unfold to turn into a sofa seat for you, which otherwise can be used as a normal coffee table at home. Designed to save space and also provide extra seating situations, this table is extremely useful for people living in small modern apartments. Luxuriously priced at $4,750.00, the Futaba comes in your preferred color of upholstery.
21. Kat Designer Glass Coffee Table
Kat Designer Glass Coffee Table is one more stylish coffee table and a creative work by  Karim Rashid for Tonelli. This all-glass coffee table has three irregularly shaped glass sheets that are faintly skewing each other.
22. iPhone coffee table designs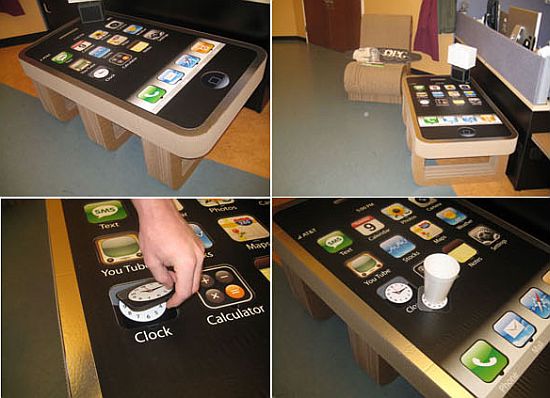 Truly inspired by the iPhone 3G, this is truly chic and gorgeous addition to your living area. Designed by recycled products by iLounge designers Tuan Nguyen and Ken Thomas; the design is ideal for Apple fans whose enthusiasm never ends when it comes to the i-products.
Summery
Coffee is a refreshing and energizing drink. It makes your day more dynamic and helps in staying awake for a longer time. Enjoying a cup of coffee with someone special is one of the most common romantic things to do. Also, it is an excellent way to exchange opinions, make new friends and get some information. It helps you to enjoy a nice conversation. All the lovely moments you spend at you home and especially around the coffee table. Whether you prefer style over function or vice versa, there are regular coffee table and then there is one unique and unusual coffee table.