The Sofa is the cynosure of every home space. It is almost a point of convergence of everything that defines the spirit of a comfortable home. The ultimate cradle, the vantage point for tele-viewing and highest home decor icon, The sofa represents all this and more. Here is a list of 12 extremely interesting and avant garde sofa designs for you to ponder upon.
1. Flexible and Cozy Sofa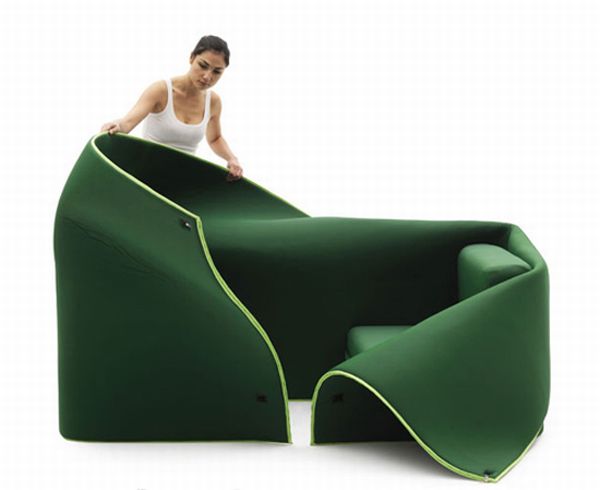 A shape shifter and a free spirit, the Sosia sofa by Milan-based designer Emanuele Magini accommodates a variety of different seating arrangements. Use your creativity and create new seating spaces with its adaptive form. Give it shapes or just turn it into a bed, its totally your call with this one.
2. Model Three Dimensional Sofa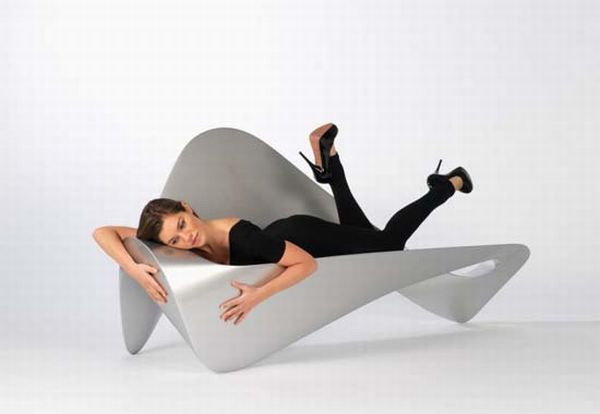 It has been created with the help of a computer program and is actually a uni-piece structure. Simple and unconventional, the three flaps it flaunts can be virtually unfolded. Dutch designer Daan Mulder has aptly called it a 'form follows function' innovation.
3. The Fardos Sofa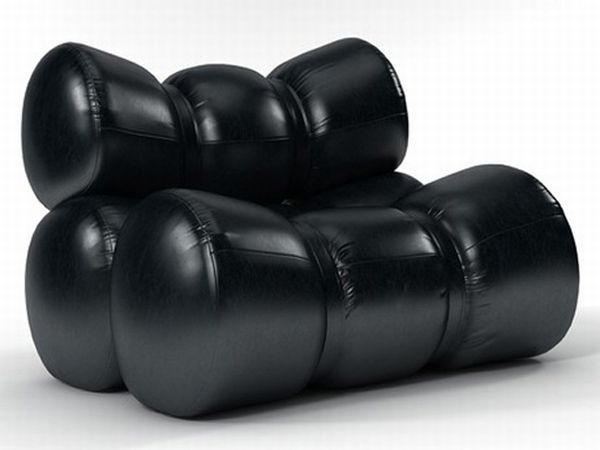 Visually projecting the look of rolling barrels, this comfy sofa design from Brazilian furniture designer Ricardo Fasanello is the ultimate blend of Brazilian culture with design value. The designer has in the past shown great artistic thought and influence. This creation again is a product of deep regard for comfort and a keen sense of home styling.
4. Retro Modern Sofa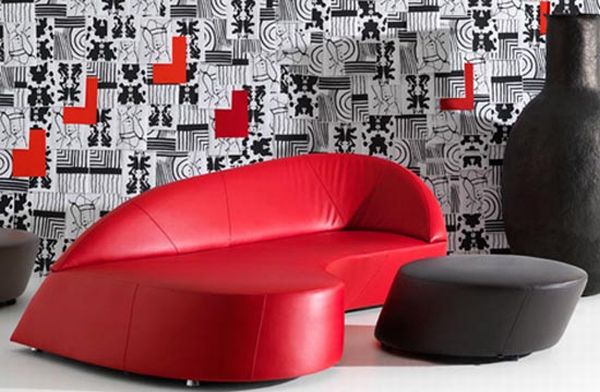 Go Retro with this striking sofa, set in bold hues of red and black. The shape screams of the unparalleled style of the retro age. Designed by Leolux, this sofa set also comes in leather or fabric upholstery, set in the boldest colors.
5. Round Sofa for Modern Living Room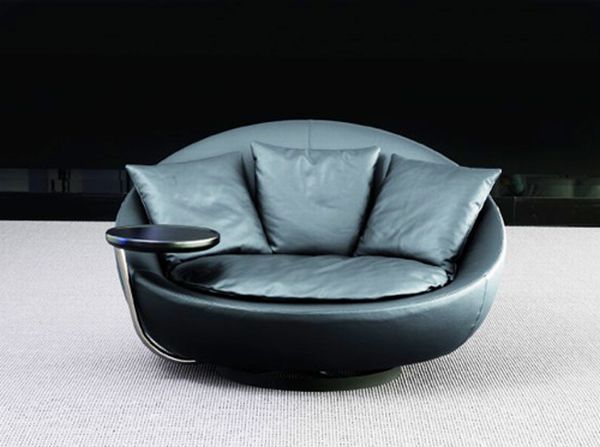 A round compact module which takes up less space and provides maximum comfort is what The Round sofa by Desiree Divano Lacon stands for. Extending from the base is a small table which can be used to rest your laptop or food/tea or glasses etc while you are spending some quality time with your designer comfort buddy.
6. Unique Sofa Design Modern Home Interior Furniture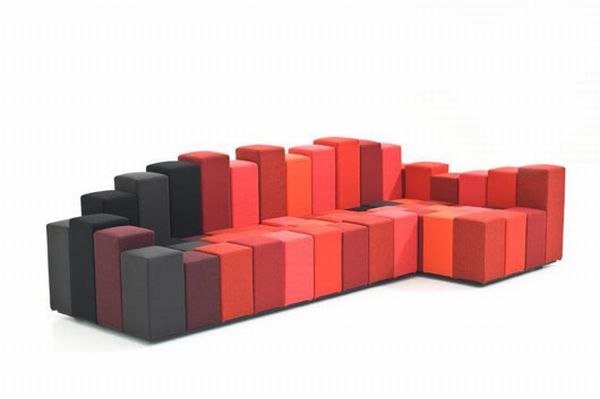 This sofa can literally be defined as building blocks of fun. Made of different-density polyurethane foam, with stiff foam at the base and softer foam in the body, it can be used to create such a blast of creative compositions and shapes. It is appealing to any creative eye and comfortable to any lazy body. Parents will no longer mind their kids tampering with expensive furniture, will they?
7. Sofa Bed Design Comfortable Furniture with Fabric Cover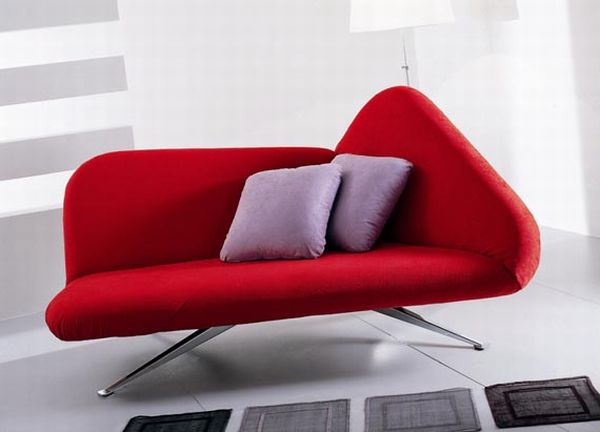 A sofa bed design by Bonaldo in Italy, this simplistic piece of furniture comes in two color pallets i.e red and white. It has legs made of sturdy steel which also comes in a host of colors like silver lacquer, black or chrome. Anywhere you place it, it gives out a bold statement and reeks of comfort with its ultra sheek and comfy fabric cover.
8. Pixel Sofa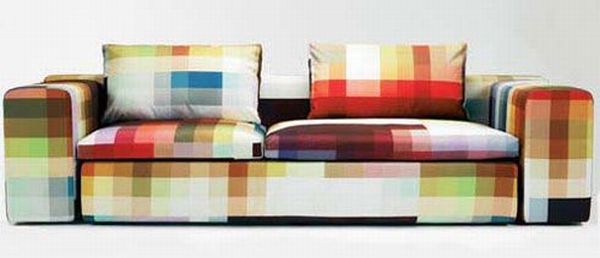 This sofa design only plays with color and patterns by creating a kaleidoscopic view of hues and checks. Resembling a colorful image which has pix-elated, It is a great add-on to any funky and playful home. Cristian Zuzunaga, a Royal College of Art graduate holds credit for this innovative design.
9. Molecular Sofa

Remember the molecular structure diagrams you used to sketch in school? This sofa is just a model resembling the same. Made of 120 sofa balls covered with elastic fabric, one can just sink into these fuzzy lumpkins and relax.
10. Sitscape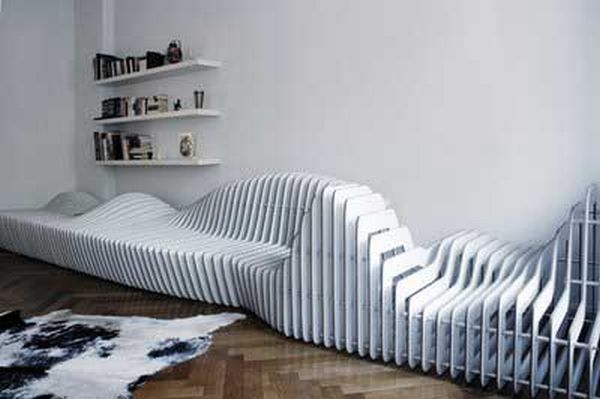 The Sitscape sofa looks like an unending stretch of stacked boards. Doesn't sound too comfortable? Well, the design does not compromise on comfort over style, so it comes with six transitional positions withing the sprawl where you can find comfort spots.
11. Accelerator Sofa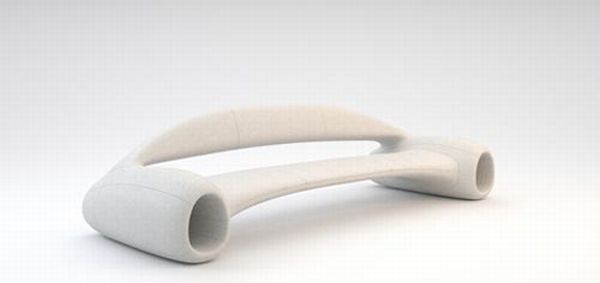 Designer Phillip Grass has managed to embed the thrill of acceleration in this piece of highly sedentary structure. With armrests in the shape of jet engines, this designer sofa can make one feel like a crusader of the skies. We are loving the concept, so come out with the product already.
12. Skin Sofa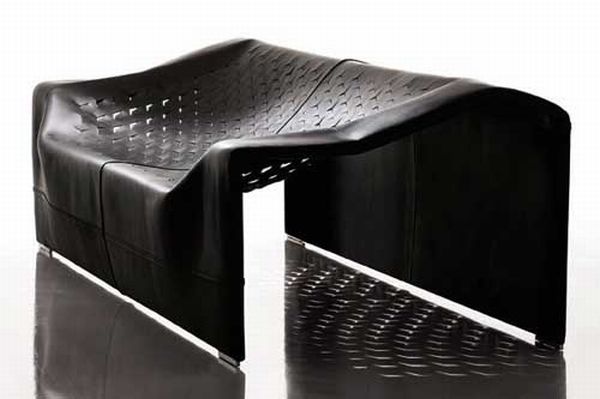 The Skin sofa looks like just what its nomenclature suggests, a thin skin of leather standing upright and ready to take on some weight (I wont say too much weight though). Designed by Jean Nouve a French architect, the support area is made of tubular pretensioned steel which is in turn covered with double sided leather. Technical precision is what defines this structure and the look only attracts a lot of doubtful yet curious eyes.