There are few things as enjoyable as sitting in the garden, alone or with someone. The fresh air and sunshine outside are beneficial for your health in many ways. As a child, you must have spent hours swinging in the backyard or in the park. Bring back the same carefree feeling of your childhood by creating your very own swing, with an adult twist. Check out these great DIY garden swing chair ideas and we're sure you will raid your garage and home to find the things to make your garden swing.
14 DIY garden swing chair ideas 
1. Headboard Swing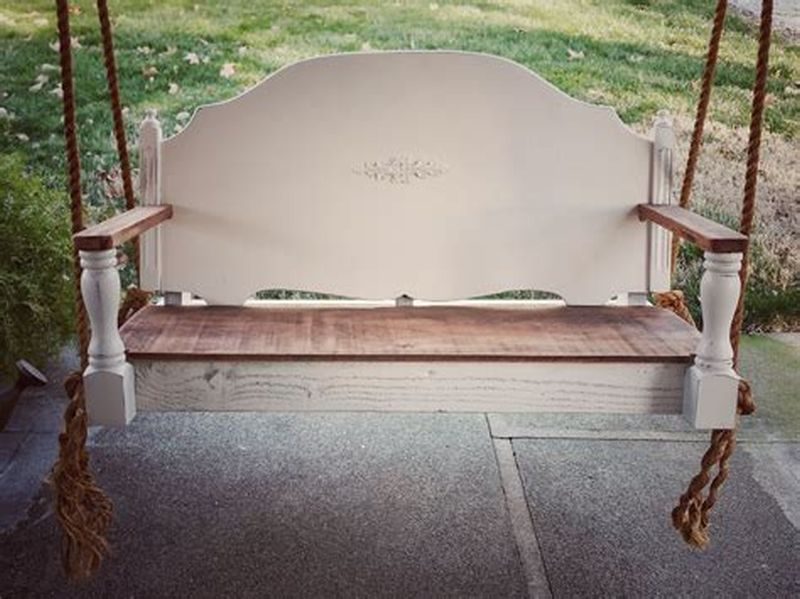 Image Source : plain2013.org
Your old headboard might be gathering dust in your store, which may not be making you feel that great about it. Put your pretty old headboard to good use by using it to make a swing, and give it a new lease of life. It can make a great back for adults swing. Throw on some pillows, color the wood in a new, fresh color and enjoy swinging in your garden on the lovely days which just beckon you outdoors.
2. Book lovers swing
Transform your swing to a reading nook outdoors, adding a slatted back to support your back. Sit back and read your favourite book in the midst of greenery, enjoying the breeze outdoors and relaxing in your pretty garden.
3. Wooden beaded swing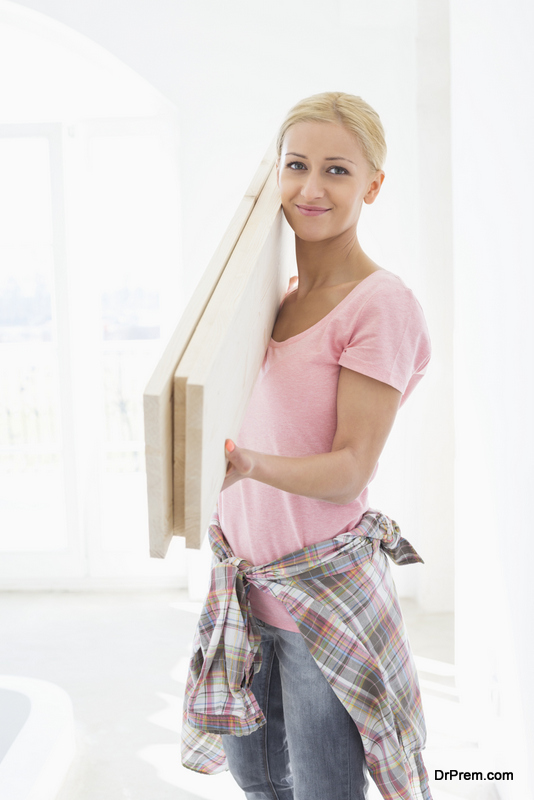 Make a beautiful swing out of wooden planks which are joined with some wooden beads. It's a very unique DIY garden swing chair ideas which you and your kids will love for sure. It's a variation of the hanging chair for gardens. First, paint some old planks and let them dry. After the paint has dried, drill holes into it and connect them together beads, nylon rope (braided), sandpaper, metal rings, a sealer and also a hanging apparatus for swings. It can be a nice weekend project for you and the end result is one which looks like a designer swing.
4. Glamorous patio swing
DIY garden swing chair ideas like this one will show off your crafting skills. The porch swing is strong enough to hold two adults and will not break even if kids play on it. The design is perfect for the backyard as well as the patio. Make it attractive and glamorous with a white and blue color combination. Sit in style on your porch or patio in the evenings and watch the beautiful sunset.
5. Easy pallet swing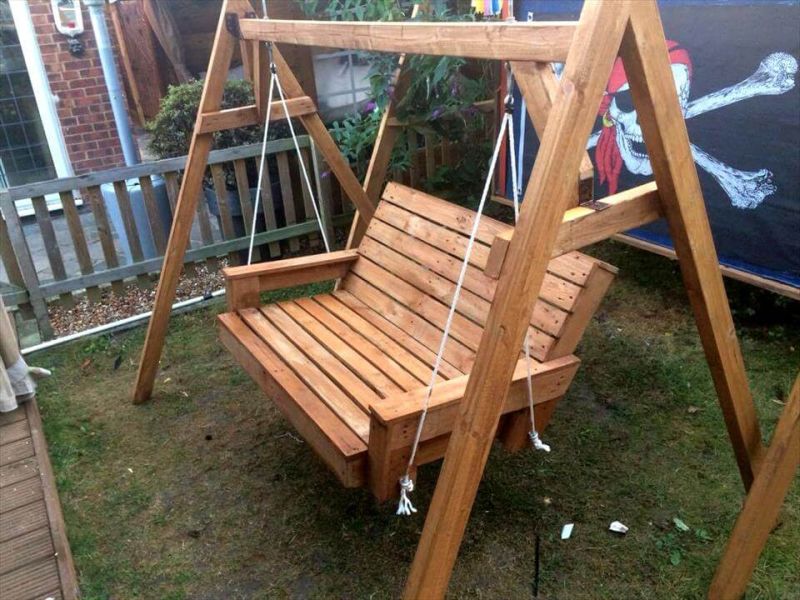 Image Source : cdn.easypalletideas.com
The pallet swing is one of the easiest swings which can be constructed at home for adults. Repurpose your old pallets you might be having, by joining them with chains to form the seat and back of your swing. Paint the swing in a vibrant color, and pile on some comfy cushions. Personalize the swing with the colors and fabrics you love, and transform this pallet swing into a lovely outdoor decor element.
6. Romantic getaway
Create a romantic oasis right in your backyard. Make a swing with long planks attaching then with para cord. It's a wonderful DIY garden swing chair ideas as a porch swing or backyard swing. Dress it up with some sheer drapes and twinkle lights – your simple swing will become a romantic getaway right in your backyard!
7. Hanging bench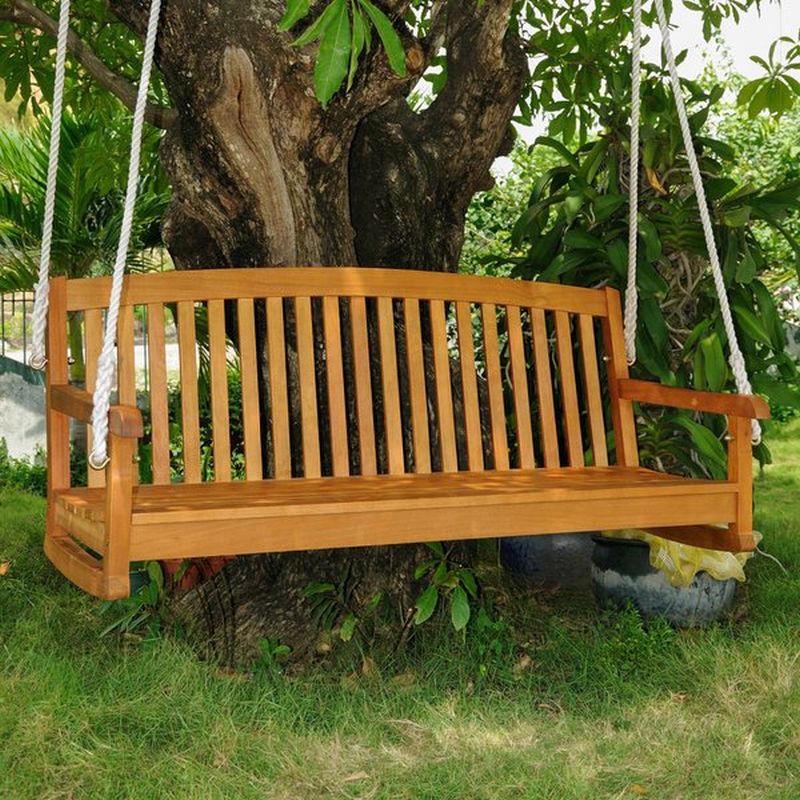 Image Source :  ak1.ostkcdn.com
If you don't want to construct a back for the swing, you can go with this marvellous idea. Just attach a thick rope or chains to a piece of long plank and hang it on the patio, porch or from a tree. It will be strong enough to support a couple of adults. Kids would love to swing from it too, with their siblings and friends.
8. Fabric hanging swing
If you're not great in constructing things out of wood, then this idea for a swing made out of a strong fabric is just right for you. You don't need any cushions or anything, just relax in the sweet comfort of the fabric chair.
9. Colorful swing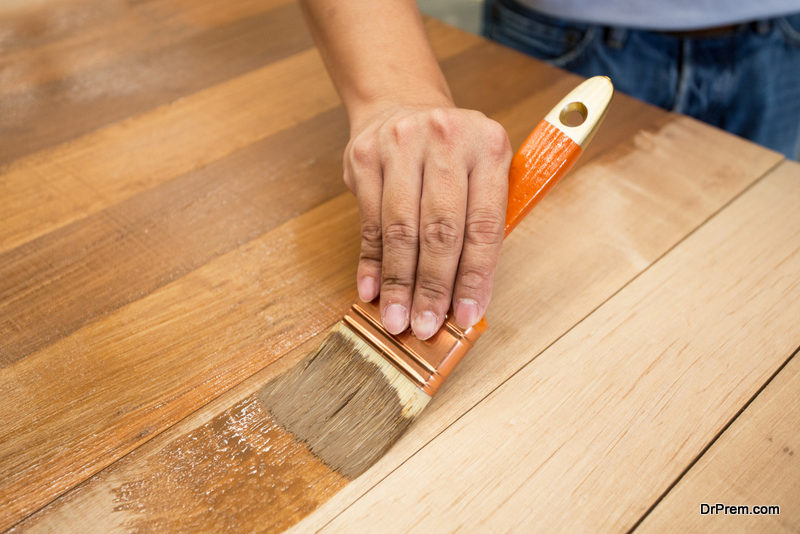 This DIY garden swing chair ideas will enhance your interior or exterior with a splash of color. Use a chip plank, rope and fabric in beautiful, bright colors to make it. The swing will be a gorgeous DIY project – all you have to do is make the swing and cover the rope with the fabrics of your choice.
10. Minimalistic bench/loveseat swing
So what if you don't have a large porch – this designer minimalistic swing is just right for small spaces. It looks great too!
Or else, make a small swing just big enough for the two of you to snuggle into!
11. Hanging chair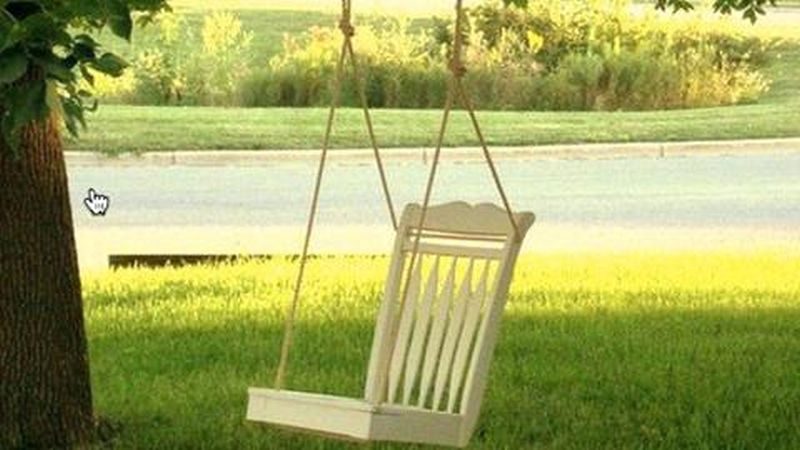 Image Source :  filiformwart.org
Construct a hanging chair for the garden. Put a back cushion as well as a seat cushion and enjoy swinging in the comfy comfort of your chair.
12. Boho chic swing
Introduce an element of boho chic and convert your outdoor space into a wonderful space for entertaining. A colourful mattress color and a variety of bright pillows will create the chic and trendy effect.
13. Double layered tire swing
Have a fun time with your kids and do some actually swinging, with this great idea. It can be made in no time at all, and the rustic look will give a new appeal to your outdoor space. But it's only possible if you have a huge, sturdy tree in the backyard. Better not make it as there could be a chance of mishappening.
You will have to get hold of some tractor tires, smaller tires, metal chains and some bolts, which you have to join in a double layer. Small children can swing from the smaller tires, while you can get on the larger one. It's a perfect DIY garden swing chair ideas for some solid fun in the yard.
14. Leather swing
Leather is sturdy to use for a swing. You'll need wooden handles and rope to make this unique swing.  It is sleek and sturdy and beautiful and will fit into a small porch and patio.
These unique garden swing ideas will add a touch of personal taste and grace to your garden and outdoor area. And making a swing yourself will give the added satisfaction of accomplishing a beautiful project for your home.