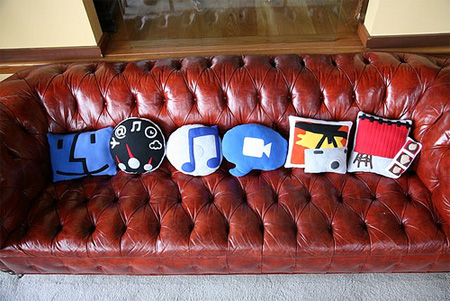 Sleep is scientifically defined as the state of reduced consciousness and suspended sensory activity when an individual takes a temporary leap away from the conscious world. It is the most desired relaxing activity of all individuals, and it becomes even more enjoyable one when we have creative, trendy and more comfortable pillows with us.
Following are some unique and creative pillows available in the market:
1. Morning Message Pillow
London-based designer James McAdam introduced this message Pillows which help keep all the grumpy morning wishes aside. It is undoubtedly charming and sensuous to start the day by finding "Good Morning Sweetheart" imprinted on the cheek well-rested on the pillow case.
2. Mac OS X Icon Pillow
These Creative Pillows are specially designed for those who consider their Mac laptops as their all-time companions rather than work stations to execute their jobs only. These Mac iconic pillows are perfect to carry on the obsession of being in touch with the graphical symbols of the Macs even when the device is out of reach.
3. iSleep Laptop Pillow
Till now we all have been using different types of comfy pillows or sometimes even the laptop bag while working on a laptop. But Ivonne Dippmann has brought out an innovative iSleep pillow to serve this purpose. If one gets sleepy, he or she can simply close the laptop to get the pillow filled with warm air. In the meantime, music starts to be played and an alarm rings after 10 minutes to wake you up.
4. Hamburger Pillow
It is a super pillow with wonderful features. Its super size and a super soft feature welcome you anytime, anywhere with perfect comfort and excellent convenience. Pets, kids and sometimes adults also get obsessed to these.
5. Stone Pillow
This is an innovative pillow which is shaped as well as colored absolutely like stones. You can easily keep this indoors as well as outdoors to give your guests an unexpected experience. It is manufactured by a French company called Livingstone and is a source of fun for kids and nature lovers.
6. Pillows for singles
Cecilia, renowned designer and illustrator, introduced these amazing pillows for lonely, depressed singles. These easily caught the attention of people and were sold in millions in the market.
7. Pizza Pillow
It is a Velcro attached pillow with cheese beans and some other nice pizza decorations. There are removable slices and other attractive features too. This is mainly designed for toddlers.
8. Book Pillow
When reading is a habit then one should catch hold of this book pillow. Now reading has become easier at the breakfast table or at the time of working with keeping hands free and also in a lied down posture.
9. MP3 Player Pillow
iPod freaks who can't bear the pain of being parted from their iPods even during sleep must have this MP3 player pillow with specially incorporated speakers. By using this exclusive large cushion, one can listen to his favorite tunes even while dozing off.
10. Alarm Clock Pillow
This creative one is a LED fabric glow pillow that helps the user wake up by using light. It also displays light on the pillow surface.
11. iDream Pillow
Ukraine based design firm Studio Psycho designed this special type of pillow named iDream pillow for those who love to dream while sleeping. However, this is just an illustrative creation rather than being a special one to help you in dreaming.
12. Bacon Pillow
It is a product of Bacon Today. This hand-made bacon pillow is made from red and white soft fleece and uniquely designed to entertain specially the bacon lovers. .
13. Blood Puddle Pillow
Those who love to make their near and dear ones fool while actually sleeping, can opt for this blood-red colored, blood-puddle shaped pillows.
14. DOS Pillow
This is just another type of creative pillow for those obsessed with DOS. It flaunts a blacked out DOS screen with DOS commands embroidered on it.
15. Pillowig Pillow
People with the policy of 'sleep whenever and wherever ', usually use these pillows to settle just into a cozy nap when the time is out there. This can be tied to the head as a wig and can be carried around easily. No doubt, this seems really wild at times.
Now, you have a wide range of unique and creative designs to choose from. So what are you waiting for? Just make a choice and go trendy!