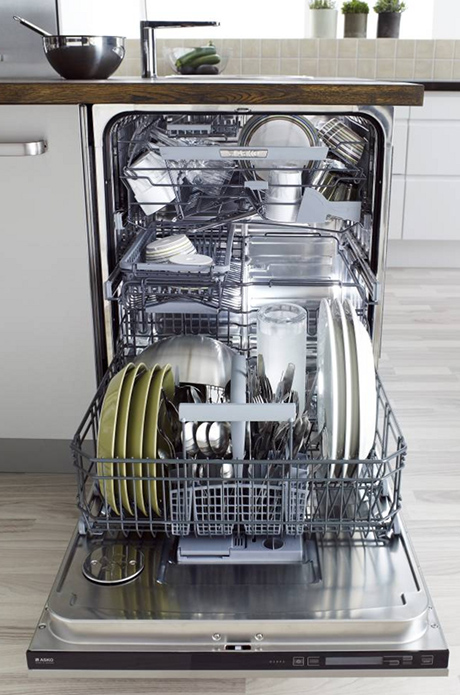 Technology has become an indispensable part of our lives. We have come a long way from the Stone Age and it would be practically impossible for us to get through the day without the help of technology. Whether you are single or are living with your family, I am sure there is one image that must haunt you through the day. The image of dirty dishes piled up in your sink. Yes, I know, you would hardly feel like washing the dishes after a day's hard work. But we have technology to rescue us again. What follows is a list of seven dishwashers, that would not only help you clean your dishes in no time but also help you conserve energy and water.
1. The ASKO Tall Tank dishwasher from designer series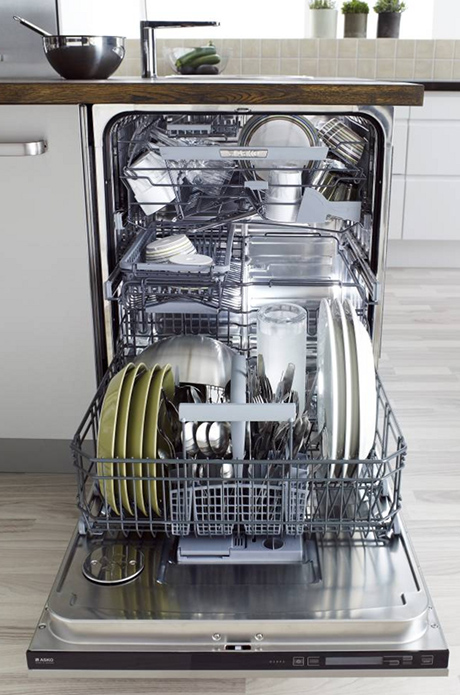 The ASKO D5122aXXL is a part of the ASKO XXL series and is meant for people with budget constraints looking for a built-in dishwasher. This washer has the four very basic wash and dry programs – normal, quick, heavy and rinse and hold. You will have five options to set the temperature at, with the highest being 160 degrees Fahrenheit. This dishwasher should suffice if it is only very basic washing and drying that you need to do. This piece of technology uses the TurboDry drying system. The ASKO Tall Tank dishwasher comes with adjustable racks, hardly makes any noise and is energy efficient. For those of you who are thinking of buying this product , please note that there is no interior light, no delicate or light wash option and there is no way that this dishwasher could signal that the program has ended.
2. A regular sink and a dishwasher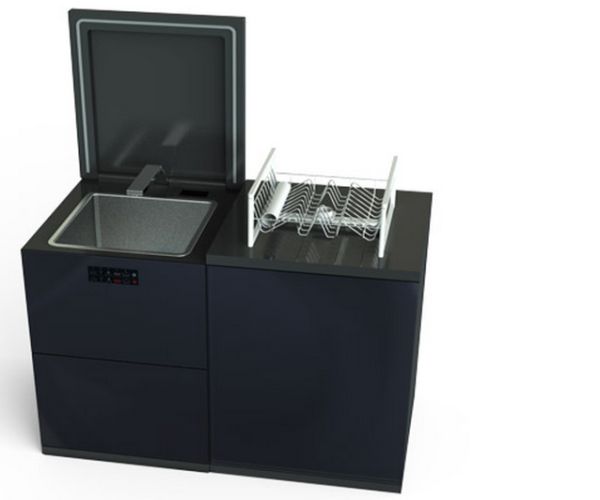 In most houses, the place buzzing with a lot of activity is the kitchen and hence it calls for the installation of advanced appliances in top condition. Since you need to accommodate a range of appliances in your kitchen , it becomes imperative that they are space saving. One such device is the Dishmaster, a product of 'Design by Goci', which also happens to be a multitasking appliance. Let us see how. The Dishmaster is a dishwasher cum washing sink cum counter top all rolled into one. If You are a regular host/hostess and are left with an intimidating pile of dirty dishes often, then this the right choice for you. Even though this dishwasher is built to handle huge load, you can effectively use it when you have a small number of dishes too. All you have to do is use it like a washing sink and clean the dishes manually, like you would normally do. Finally, when not in use you can simply use this as a counter top or a small table.
3. Neff Inline Dishwasher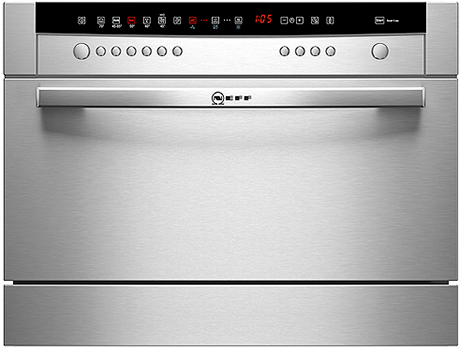 The Neff Inline Dishwasher a series 4 dishwasher and is the kind of sleek, smooth dishwasher that you always dreamt of. It boasts of six effective functions and program – Pre rinse, Auto daily 45-65 Degree Celsius, Quick wash 45 Degree Celcius, delicate 40 Degree Celcius, Eco 50 Degree Celcius and Intensive 70 Degree Celcius. Designed with Bevelled glass fascia, it has a Polinox/stainless steel interior and includes silver baskets with foldable palte racks and a tastefully curved beveled bar handle. You can direct the functions on this dishwasher through push button controls and tamperproof controls.
4. Miele Futura: The Wi-Fi enabled dishwasher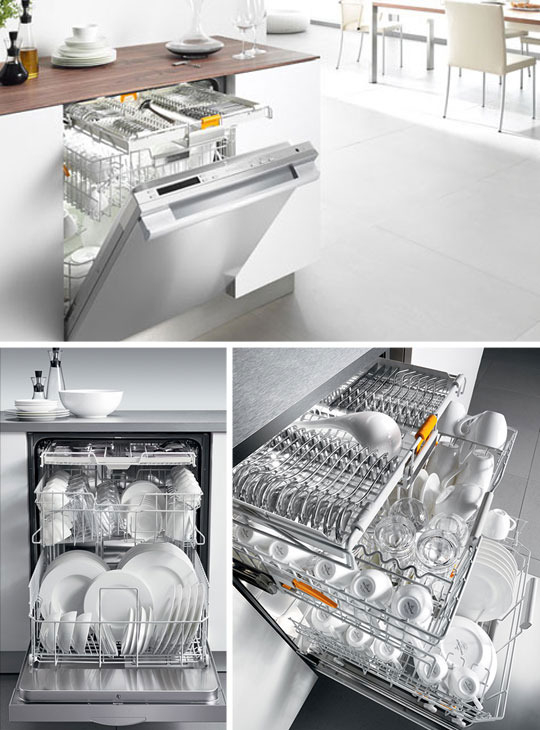 If you think that computers are the only thing that use Wi-Fi, you are in for a big surprise. Miele Futura, the world renowned German appliance company, has come up with a new Wi-Fi enabled dishwasher, a part of their Futura series dishwashers.
The water consumption of Futura is 35 percent less than what other models use. The interiors of this dishwasher is unbelievably flexible, so that you can conveniently place all your dishes (big, small and wide). You can fit in anything ranging from your precious delicate silverware to heavy and bulky pots and pans. It features a bright Light emitting diode (LED) in its interiors and offers a variety of cleaning programs .The Turbo mode is meant for quick washes and the Intensive mode to take care of grimy tasks. The Wi-Fi option connects the appliance directly to a Miele service centre for better and effective troubleshooting. The Miele Dishwashers would cost you anywhere between USD 1, 249 to USD 2,849.
5. Kalamazoo Outdoor Gourmet Dishwasher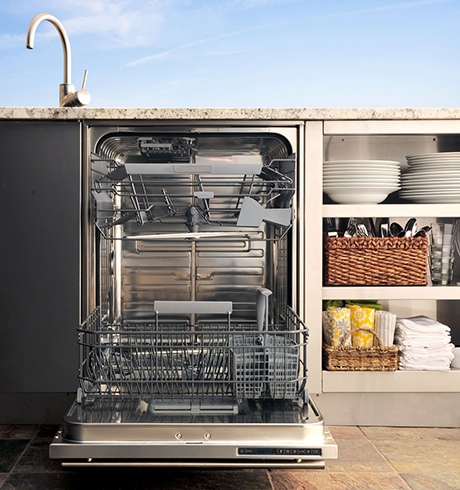 Kalamazoo is one of the most renowned brands. It has come up with the new Outdoor Gourmet Dishwasher, which has been tailor made to work outdoors and withstand the roughness of elements. This particular dishwasher offers many technologies that makes cleaning the dishes following a cookout extremely fast, easy and convenient. The dishwasher has an extra large receptacle or tub that handles the demands which come with cooking and serving meals out-of-doors. Its height can be adjusted which is what makes it very flexible.
There is a space of 15.25 inches between shelves, which gives it ample space to fit the largest of pans and pots. There is absolutely no need to prerinse the dishes as the dishwasher has highly focused spray areas, which cleans your dishes thoroughly. Its carefully designed and planned spray nozzles target water to distinct areas , in order to maximize spray on tough to clean items like pans, cutlery and pots. This dishwasher makes use of technology that saves water. It has a durable stainless steel exterior and highly protected and very safe wiring and electronics that withstand the most inclement weather.
6. ASKO Classic Dishwasher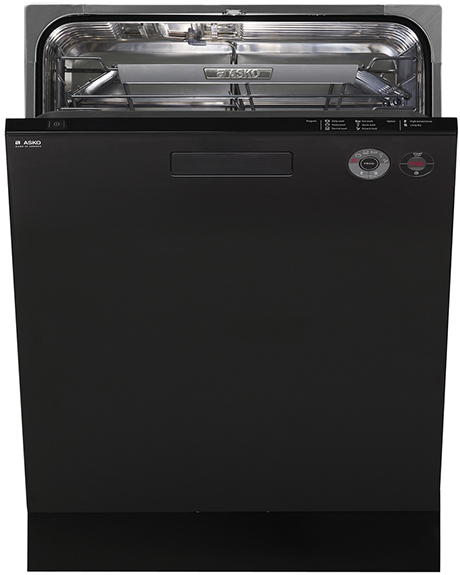 The ASKO Classic dishwasher is the winner of the Red Dot Design 2011 award. What defines this dishwasher is its Scandinavian design that unites functionality, form and eco friendliness. The tastefully done minimalistic frontal face of the dishwasher enhances the user interface, which happens to be the point of contact between the machine and you. The round touch interface gives the dishwasher a sharp and clean look. Available in two colors, black and white, the dishwasher has a touch-proof and sturdy exterior of stainless steel. There are six wash programs available – heavy, normal, daily, eco, quick and rinse and hold. There are 6 temperatures and 14 possible place settings. Its cleaning system resembles that of the ASKO Tall Tank dishwasher and can easily accommodate the largest of pans, pots and dishes.The upper rack has a clearance space of 9 inches and the lower rack has a clearance space of 13.75 inches.
7. Compact Dishwasher from Gorenje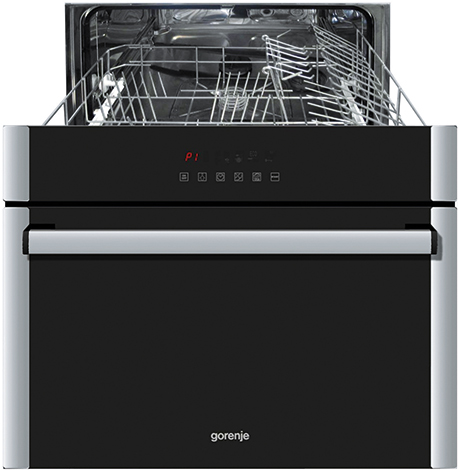 This exclusive collection from Gorenje has an integrated, compact and neat dishwasher with 5 wash programs: normal, super, quick,ECO and intensive. There are 6 possible place settings. This particular dishwasher has received 'AAA' ratings for washing, drying and conserving energy. It has a variable start delay of upto 9 hours, service diagnostics and partial Aqua Stop feature. It also includes a tub made of stainless steel, automatic water softner dispenser, light and sound indicator to indicate the end of the process, rinse aid indicator, salt refill indicator, sprinkle hand and self cleaning filter etc. This product is sold with a manufacturing warranty of 2 years and is available at 750 pounds.