The kitchen is one of the most important rooms in your home, and it is important to ensure you follow the latest trends to make it as modern as possible. One of the best ways to keep your kitchen modern is with the latest color trends. Read below for the colors to use in your kitchen in 2021.
1. Browns and Reds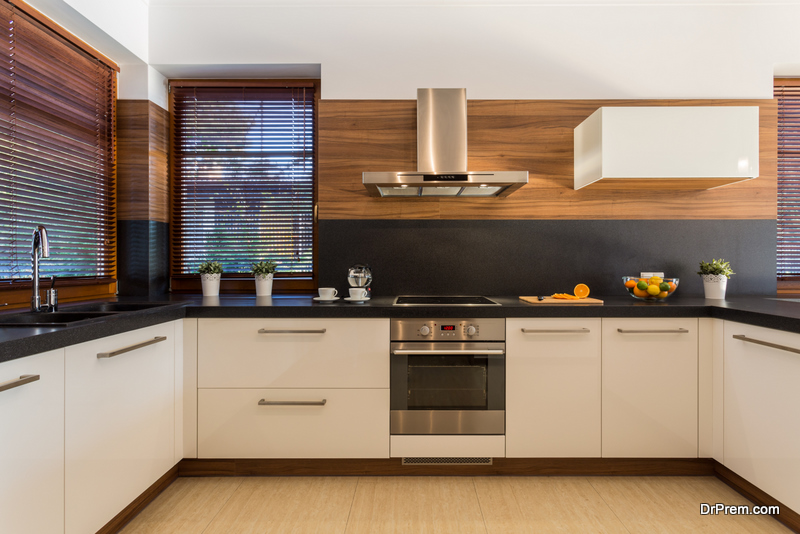 Browns and reds give off a certain rustic vibe which works well if you have a farmhouse style kitchen. The colors are rich, but they also give off a sense of relaxation and loss of time. You can even pair the color schemes with farmhouse style features such as barn doors with a barn door lock. However you style your brown or red kitchen, you are sure to make people hungry with the rich colors and give off a sense of warmth to make others feel welcome in your home.
2. Greens and Blues
Greens and blues have been popular in kitchens for the last few years, and the trend only continues. A color like mint green or turquoise offers a certain vintage vibe, especially when paired with white detailing and retro appliances. Olive green is a great color for a minimalistic space which may even work for a manly kitchen, especially if you use darker shades and industrial features. Navy blue is a great color for a beach house or for a home that you enjoy decorating in a nautical manner.
3. Whites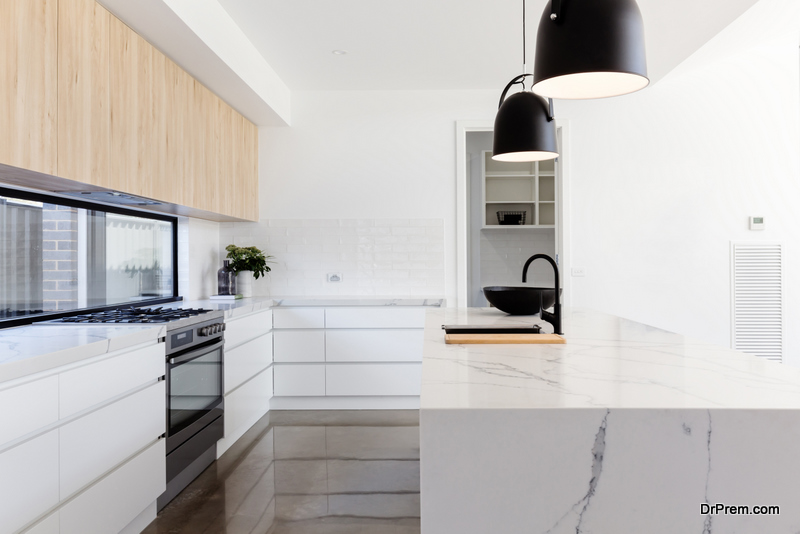 Whites and creams are especially popular in kitchens right now as they offer a clean and sophisticated vibe. Individuals are painting their cabinets and walls white, then are choosing to purchase white appliances, seats, and lighting. If you do not want a stark white, choose a light cream color. With a cream, you could even give a pop of color such as blue or green as mentioned above. However, you use white though, it gives off the monochromatic vibe that is ever popular in many rooms of the home for 2021 as it seems orderly.
4. Black
Black can offer something that is totally and completely different in your kitchen in the year 2021. You can even offer a stark contrast by painting your cabinets and walls black while leaving your backsplash and accessories white. This brings out a certain sense of elegance among the unique vibes that you are portraying in your kitchen. This color scheme would work for a home that is industrial, an elegant home, a man cave, or any other style of home. You could even consider using gold features such as drawer pulls and faucets to really up that level of sophistication and cleanliness.
5. Yellow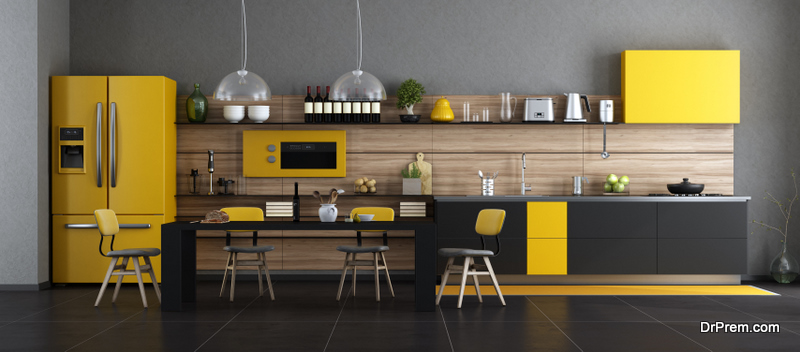 Yellow is a fun and vibrant color for your kitchen that is definitely a trend in interior design for 2021. You can get a country kitchen feel by selecting creams, light blues, and light yellows throughout your kitchen which feels inviting and a bit antique. If you want to use a bright yellow, consider using the color as an accent color by painting one wall of your kitchen or by only painting the cabinets. This will still bring the joy of the color yellow, but it will not feel as overwhelming when you walk into your kitchen.
6. Gray and Pink
A final color combination that is being used in many design features currently, including kitchens, is that of gray and pink. This is especially true for light or medium-toned gray and dusty or light pink as it provides some sophistication. A rose-colored pink is especially nice for accents such as walls, cabinets, and even decorations in your kitchen, especially when it is paired against a wall that is painted gray. The kitchen will feel light, airy, happy, elegant, and can even bring up your energy and increase your spirits.
Final Thoughts
The kitchen should feel just as enjoyable to be in as any other room that is in your house. One way to make your kitchen more enjoyable is to give it a color scheme. Consider one of those above depending on the vibe that you are going for. If you want something more industrial, go for a dark green. Something more rustic, however, go for warm tones like red and brown.
Article Submitted By Community Writer