Put up a wall decal in your home and you add beauty, life and colour to your space. Gorgeous to look at, these pieces have the surprising ability to transform the feel of any home.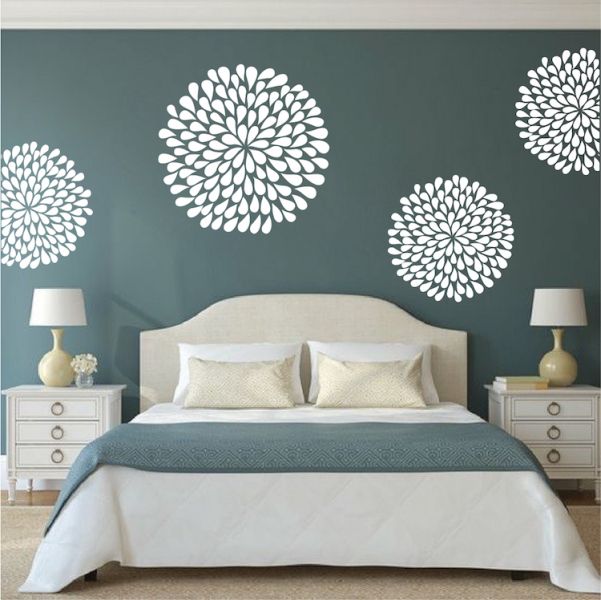 What you may not know is that there are more than one way to use a wall decal. Employ them strategically and they can open you space and add dimension to your rooms.
Not just for walls, decals can be applied to areas of your home commonly overlooked. If design is all about the details, wall art is the way to create a truly unique space. Maximize the design potential of your home with these five new ways to use wall decals:
Transform your Stairs
Typically, when interior decorating, the stairs rarely receive any attention. Since you climb your stairs multiple times a day, it makes sense to take some time to make them beautiful.
Under each step is a riser that's just begging for graphic prints or even words. Turn this lost space into the design lynchpin of your home with decals or wall paper. 
Graphic Wallpaper on Risers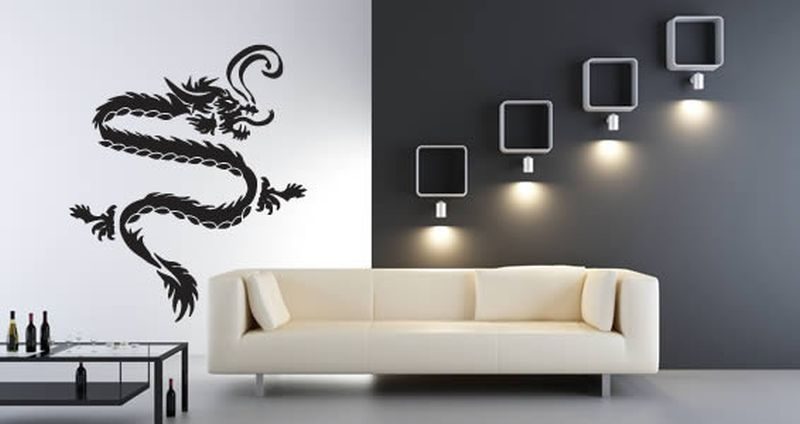 With graphic print risers, you can create a solid visual line that runs between the two floors of your home. This style is especially effective on spiral staircases and spaces with neutral tones.  A little eclectic and little eccentric, graphic risers are for the wild at heart!
Add Text to Risers
Decaling text onto your risers is a sweet way of welcoming guests who enter your home and continually inspiring yourself.
If you're feeling especially creative, cut out your own decals or use wall stickers to spell out words on your risers. With one or two words on each riser, guests will get a full message as they climb up the stairs.
Both poetic and simple, reading words like "laugh more," "worry less," and "love often" never gets old.
Separate Rooms with Wall Decals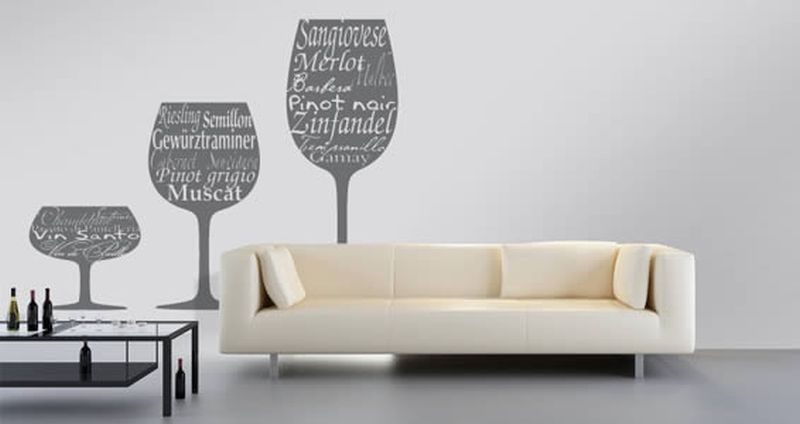 If you live in a bachelor pad or one-room loft, it's easy for your space to feel cramped. With a combined kitchen and living room or living room and bedroom, clutter can migrate from one area to the next.
When you're working with limited space, it's essential that you maximize what you have. Fortunately, there are design solutions to make your space seem much bigger than it is.
In lieu of doors, opt for visual cues to denote different areas in your one-room home.
Place a strip of degraded wallpaper between the living room and the kitchen, and you'll create the feel of two separate rooms.
Colourful Separators
Featuring beautiful gradients, degraded wallpaper stays combines multiple shades, while staying within a pastel color palette.
Not only practical, these beautiful swatches of color add life to walls that are otherwise neutral. Easy to apply, you can simply peel and stick degraded wallpaper wherever you choose.
Versatile Wallpaper Art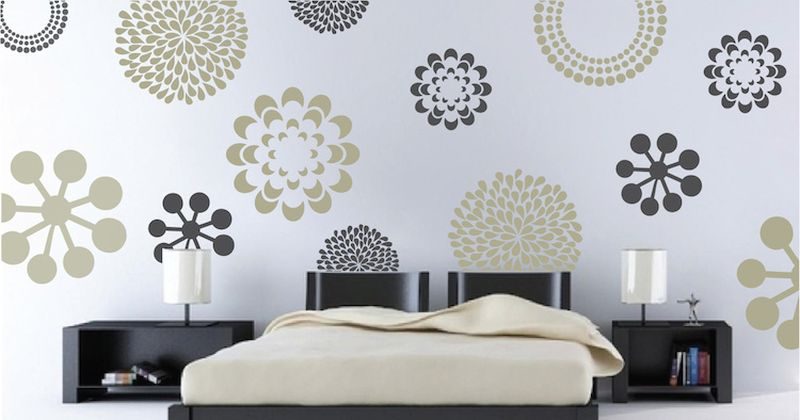 Change your mind? Just lift and re-stick. This versatile material retains its adhesive properties, giving you the option of redecorating your home as you like! 
Create a Headboard with Decals
Buying a headboard can be a hefty purchase. If you're a student or millennial just starting out life on your own, finding the cash for a headboard is probably not your first priority.
Until you're interested in investing in a great piece, create the illusion of a headboard with decals! Using strips of wall stickers, it's easy to create a unique design that mirrors the shape of a headboard.
With a colorful headboard at the top of your bed, your bedroom will feel more complete, polished and cozy! 
Wallpaper your Appliances
Your beaten and stained appliances may be what's aging your kitchen. If your refrigerator is chugging along just fine, but looks older than it is, wall paper is an effective solution!
Not just for walls, it's easier than you think to cover you fridge in your favorite graphic-print paper.
Get out your tape measure, pencil and scissors and with a few snips, you can DIY a new trendy fridge.
Totally unique, a wall-papered fridge stands out in any kitchen, and creates a quirky point of interest.
Made of durable materials, this wallpaper adheres closely to any surface and is washable.
Since the kitchen is where everyone loves to hang out, make yours gorgeous!
Create a Mural on your Kitchen Wall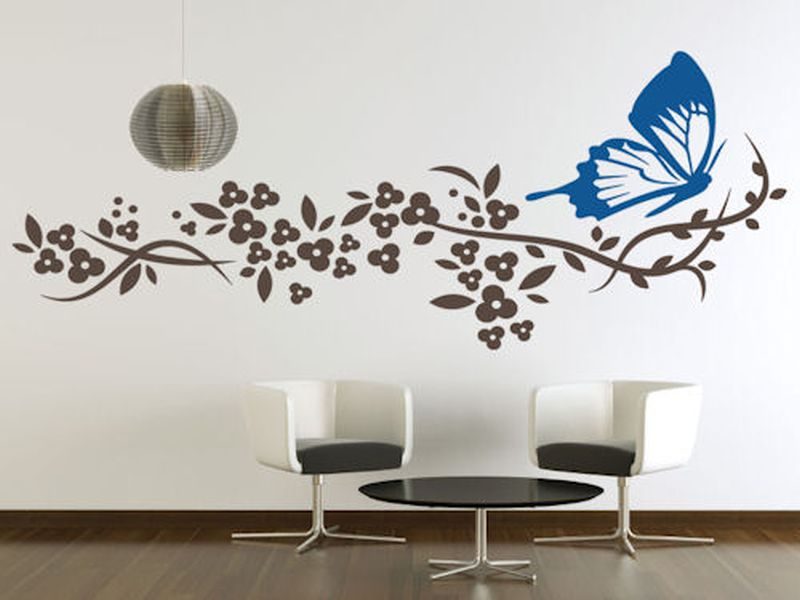 If your fridge isn't in need of wallpapering, create a different focal point for your kitchen: a stunning mural.
With graphic print wall paper in hand, choose a wall in your kitchen, then simply cut and stick prints that reflect your design sensibilities.
Combine different prints or stay true to one single aesthetic.
With one solid graphic print, you have the chance to keep things minimal and clean. If you choose to combine prints, you'll achieve a quirkier and more unconventional design look and feel.
As we said before, since the kitchen is where everyone's favorite things are kept (food), it's a high traffic area in the home. If there's one room that should always feel fun, it's this space.
With easy-to-use wall stickers, it's simple to create a stunning mural that will make your guests feel at-ease!
Decorate with Decals!
These are just five simple ways to use decals, but there are hundreds of other ways that you can use them to create the space you've always dreamed of having.
Whether it's the bedroom, kitchen, bathroom or living room, decals add aesthetic value, open up your space and change the feel of your space. By adding a swatch of color, or a strip of gradient, lofts can feel more spacious and large spaces can feel welcoming.
Article Submitted By Community Writer